Susan Silas
Brooklyn, NY
USA
Susan Silas is a dual American and Hungarian national who has built a diverse career as an artist during the past two decades. Her work includes video, photography, performance and writing as a means to express and integrate an artistic practice concerned with historical material, with rhythms of decay and the transformation of matter and more recently with the boundaries that define public and private selves. Her work has been exhibited in the United States and in Europe. It has been the subject of scholarly investigations in books, magazines and dissertation papers. She has received residential fellowships from the Ucross Foundation, Virginia Center for the Creative Arts, The Corporation of Yaddo and the MacDowell Colony. Her most recent solo exhibition was at CB1 Gallery in Los Angeles. Silas received her B.A. in History at Reed College in Portland, Oregon and her M.F.A. in Fine Art at California Institute of the Arts in Valencia, California. She currently lives and works in Brooklyn, New York.
Feminist Artist Statement
Empowerment for women is not going to be bestowed but rather wrested. But that is always the case with shifts in visibility. I think identity politics have been very important but I would like to see us thinking beyond those strategies at some point. What has irritated me in the recent past is seeing feminism appear on a long list of movements or minority groups looking for recognition and equality from the larger society. Feminism is neither an interest group nor an overlooked minority. It represents the rights and concerns of 50% (actually, I think it's 51% statistically) of the world population. It is the most threatening of these movements to the status quo and it is lumped with many other movements representing the rights of smaller groups to diminish its claims on all of us. I have argued and would still argue that if women had equal rights and equal access the world would be so changed as to be unrecognizable to us.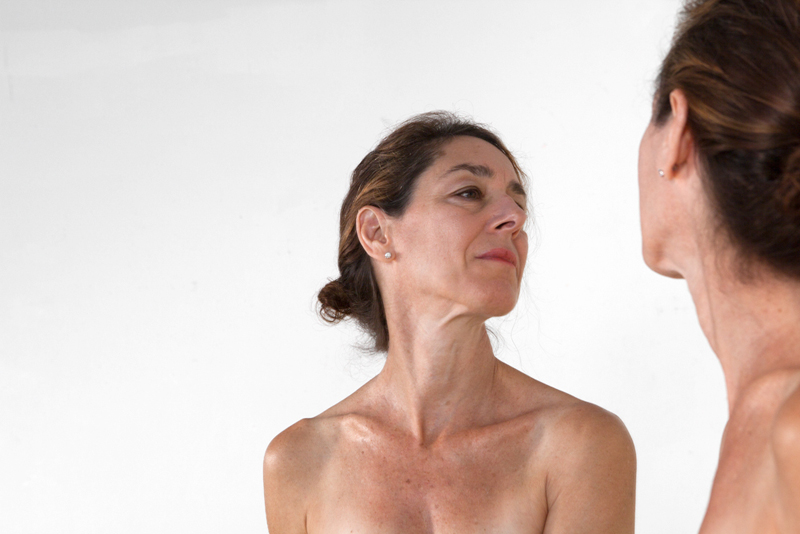 the self-portrait sessions are suites of self-portraits in which my two selves inhabit the same frame. Each image juxtaposes a stark self-portrait in the foreground against a softer idealized portrait reflected in the mirror; a literal reminder of the divide between one's self and one's self-perception.
Contact
Brooklyn, NY
USA
Email
Text, images, audio, and/or video in the Feminist Art Base are copyrighted by the contributing artists unless otherwise noted. All rights reserved.