Sylvia Sleigh
New York,
USA
(b. Llandudno, Gwynedd, c. 1935). Welsh painter and draughtswoman. She studied at the Brighton School of Art in Sussex. Her first solo exhibition was in London at the Kensington Art Gallery in March 1953. It featured still-lifes, landscapes and portraits, in oil or watercolour, painted from 1949. After marrying the art critic Lawrence Alloway (b 1926), she moved in the 1960s to the USA, where she became known for a series of feminized portraits of friends and associates living in New York's SoHo and East Side, made during the 1970s. Felicity Raimnie Reclining (1972) and the Turkish Bath (1973; priv. col., see Rubinstein, p. 402), both portraits in oil, are realist works that allude to well-known paintings by such masters as Giorgione, Titian and Manet, who all treated the theme of Reclining Venus, and Ingres, who treated that of the Turkish Bath. Using the device of stereotypical role reversal, Sleigh used these works to explore the question of values attached to the traditional representations of women and men, and the absence in Western art of erotic portraits of men. In her many portraits of Paul Rosano, a model she painted many times in the 1970s, Sleigh satirically juxtaposed the idealized stances traditionally given to gods or figure-heads with commonplace contemporary settings. These portraits are also characterized by an almost obsessional attention to detail—body hair, for example, being elaborated in all its various peculiarities (e.g. Paul Reclining, 1974). Sleigh's Goddess series took a similar approach: the goddesses are modelled by friends, portrayed in real-life situations, often facing forward in a challenging attitude (e.g. Isis: Pamela Mailman, 1982). A later work, Invitation to a Voyage: The Hudson River at Fishkill (1990), was more experiential, presenting as its subject panoramic views of a casual outing near a railway line and the Hudson River, with groups of people in repose or recreation. -Grove Dictonary of Art
Feminist Artist Statement
It has always been difficult for women to do creative work or indeed to have any profession that endows prestige in our chauvinist patriarchal society. It was particularly hard for ambitious women painters who wished to paint the most highly regarded subjects—history pictures. This was because it was impossible for them to do drawings and paintings from nude models, female or male, so that figure compositions would be most difficult for them. Once I became aware of this situation in the '60s, I made a point of finding male models and I painted them as portraits, not as sex objects, but sympathetically as intelligent and admired people, not as women had so often been depicted as unindividuated houris. I had noted from my childhood that there were always pictures of beautiful women but very few pictures of handsome men so I thought that it would be truly fair to paint handsome men for women.
I have also painted many paintings of women, both nude and clothed, including two large group portraits of women's cooperatives, and a series of 18 portraits of women artists (all 36 x 24").
Sylvia Sleigh
©1995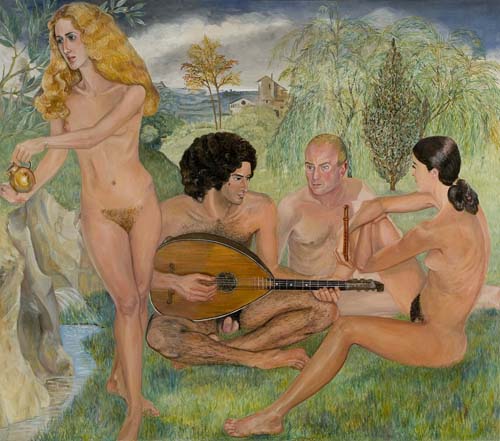 Contact
330 West 20th Street
New York, 10011
USA
Email
Text, images, audio, and/or video in the Feminist Art Base are copyrighted by the contributing artists unless otherwise noted. All rights reserved.