Tanja Ostojic
Berlin,
Germany
Tanja Ostojic was born in Yugoslavia in 1972 and studied art in Belgrade and Nantes. She is an independent artist and cultural activist based in Berlin. She has been active in the art scene in the former Yugoslavia since 1994 and internationally since 1997. Ostojic includes herself as a character in situationist performances and uses diverse media in artistic research, thereby examining social configurations and relations of power. She works from the migrant woman's perspective and the approach in her works is predominantly defined by political and feminist position, humor and integration of the recipient.
Solo Performances/ Selection:
2002 "Venice Diary", Museum of Contemporary Art, Zagreb; Croatia.
"Confrontation", Lindart – women art center, Tirana, Albania.
2003 "Integration Project: Sprachschule", Halle fur Kunst, Lüneburg; Germany.
"Strategies of Success/Curator Series", La Box, Bourges, France.
2004 "Salon for Body&Soul", Salon MSU, Museum of Contemporary Art, Belgrade, Serbia.
2005 "Integration Project Office" and "Divorce Party", Gallery 35, Berlin, Germany
2005-06 "Geobodies: A Question of Boundaries" with Ursula Biemann, Kniznik Gallery, Brendeis University, Boston, USA.
2006 "O.t. / after Courbet", fasade of the Forum Stadtpark Graz, Austria.
Group exhibitions /Selection
2001 "Plato of Humankind", 49th Venice Biennale, Venice, Italy.
2003 "In Transit", Haus der Kulturen der Welt, Berlin, Germany.
2nd Tirana Biennale, National Gallery, Tirana, Albania.
2004 "Privatisations", KW Institute for contemporary art, Berlin, Germany."Values" 11th Biennale of visual arts", Pancevo, Serbia.
2005 "e-flux, video rental", e-flux space, New York, USA.; KW Institute for Contemporary Art, Berlin; "Xenopolis", Rathaus Gallery, Munich, Germany. "Shrinking Cities, Interventions", GfZK, Museum of Contemporary Art, Leipzig
2006 "Normalisation", Rooseum, Malmö, Sweden
Feminist Artist Statement
Contemporary arts I see in the first line as an interesting field of research, reflection, communication, exchange and criticism within the contemporary society.
I think that an openness towards the usage of diverse media in contemporary arts is one of the crucial tactics that allows the artist to be more precise, more specific and to really grasp the topic the way it deserves to be approached regarding the specific context and targeted audiences. Merging the different disciplines and different layers of reality together with arts helps to cross the borders of strict professionalism, that could as well happen to be counterproductive, and that enables further developments of new models…
For my art practice, I have consciously decided to abandon the production of "one-off" artworks in favor of developing a series of strategic projects that span a period of several years. This position gives me the opportunity to engage in a much more consistent and deeper analysis and development on the issues of concern in my work.
Regarding this stance, I came to realize, that in order to attain relevant content, one has to keep actively trying to overcome the given limits by the rules of production and exhibition format within the art system. The exhibition space, transformed naturally and with a particular intention, is just one space, where just one part of the targeted audience is to be found.
Furthermore, because the art field is a fertile ground for the exploration of different methodologies, in recent years one has been able to observe visual and performance arts, philosophy and political activism informing each other and adapting concepts — especially with regard to the use of public media and/or guerrilla strategies. The whole concept of tactical media is rooted in a mutual learning process involving different disciplines.
Still, the sector of visual arts, even beyond the white cube, is quite limited when it comes to direct efficiency through action. If not for a strain of influential theory in the arts and philosophy that enduringly pushes the syntax towards issues of social concern, these strategies might not result in any achievement.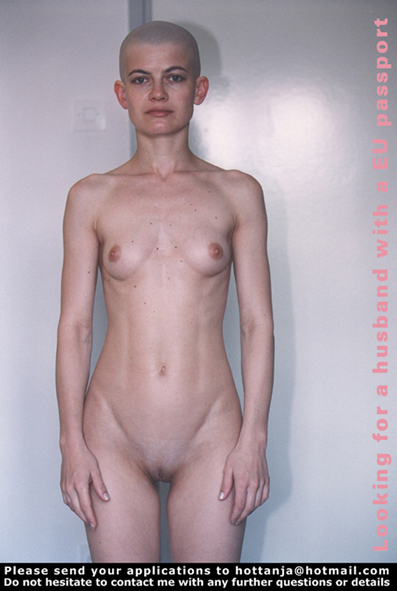 In August 2000 I started "Looking for a Husband with EU Passport" project: www.cac.org.mk/capital/ostojic. After publishing an ad with this title, I exchanged over 500 letters with numerous applicants from around the world.
After a correspondence of six months with a German man Klemens G. I arranged our first meeting as a public performance in the field in front of the Museum of Contemporary Art in Belgrade, 2001. One month later we officially married in New Belgrade. With the international marriage certificate and other required documents I applied for a visa. After two months I got one entrance family unification visa for Germany, limited to three months, so I moved to Düsseldorf where I was officially living for three and a half years.
In spring 2005 my three-year permit expired, and instead of granting me a permanent residence permit, the authorities granted me only a two-year visa. After that K. G. and I got divorced, and on the occasion of my "Integration Project Office" installation opening in Gallery 35 in Berlin (July 1, 2005), I organized the "Divorce Party."
Contact
Borsigstr.29
Berlin,
Germany
Email
Text, images, audio, and/or video in the Feminist Art Base are copyrighted by the contributing artists unless otherwise noted. All rights reserved.