Tejal Shah
Bombay,
India
Shah is a visual artist who works with video, photography, sound, installation and performance. Her interests lie in the areas of sexuality, gender, disabilities and the interrelation between humans and nature. In 2003, she co-founded Larzish—India's first international film festival of sexuality and gender plurality and in 2006, she had her first solo show "What are You?" in India and the USA.
Shah was born in Bhilai (central India), graduated with a B.A. in commercial and illustrative photography from Royal Melbourne Institute of Technology (2000), and was a visiting scholar at The School of the Art Institute of Chicago (1999-2000). Currently, she lives and works in Bombay, India.
Shah is a featured artist in Global Feminisms at the Brooklyn Museum, curated by Maura Reilly and Linda Nochlin.
Feminist Artist Statement
Feminism changed my life.
It opened up many different worlds to me, giving me the ability to question truth and history.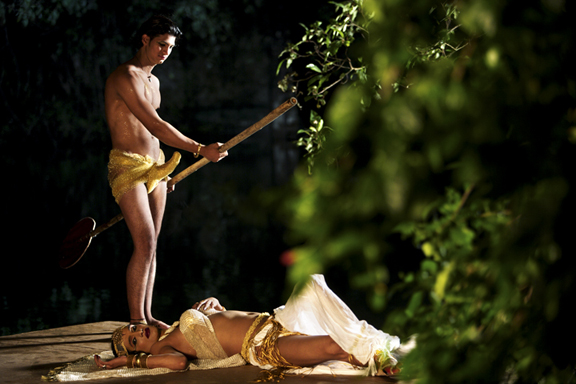 I started this body of work thinking about queer lives in the Indian context. For the last two years I have been working with the hijra (MTF transsexual) community from Bombay and Bangalore. In some sense, for many of us (LGBTQ people), our desires are lived in the realm of fantasy or hidden from the public eye. I wanted to breathe life into some of these fantasies. I started to speak with individuals, with whom i had developed a close relationship, about their desires and how they saw themselves in a fantastic world. What would they be if they had the choice to be whatever they wished to be? This is a photograph of Laxmi, a very well known hijra, human rights activist based in Bombay. Laxmi is obsessed with Cleopatra and expressed the wish to become her. Extended conversations and research preceded the conceiving of this image. I have tired to retain as much of Laxmi's personality in this contemporary, queer and Indian version of Cleopatra.
Text, images, audio, and/or video in the Feminist Art Base are copyrighted by the contributing artists unless otherwise noted. All rights reserved.