Ursula Biemann
Zurich,
Switzerland
Ursula Biemann is an artist, theorist and curator who has in recent years produced a considerable body of work on migration, mobility, technology and gender. In a series of video projects that are widely exhibited internationally, as well as in several important books—Been There and Back to Nowhere: Gender in transnational spaces (2000) and Geography and the Politics of Mobility (2003)—she has focused on the gendered dimension of migrant labor, from smuggling on the Spanish-Moroccan border to migrant sex workers moving from the East to the West. She has initiated various collaborative projects with women migrants. "Kültür" (1996-97), a group project on migration, urban politics, and Istanbul's plan to become a "global city," carried out together with Turkish women sociologists and media scientists, was created in this context for the 1997 Biennial in Istanbul. Her first video essay Performing the Border (1999) looks at the border as both a discursive and a material space of migration and globalisation processes constituted through the performance and management of gender relations. This was followed by Writing Desire (2000) on the "bride market" in cyberspace, Remote Sensing (2001), a topography of the global sex trade in the age of geographic information systems developing a visual language on the worldwide trafficking and migration of women; and Europlex (2003), an experimental ethnographic video created in collaboration with visual anthropologist Angela Sanders, on the Spanish-Moroccan borderlands making visible the obscure paths, both literal and figurative, taken by the back and forth movements around the border between the Spanish enclaves on the African continent. These video essays have been shown at international festivals and art exhibitions, and have received several awards. Based on dozens of interviews made with women around the world on global sex work and trafficking, Biemann has compiled a World Sex Work Archive (WSWA). Her theoretical texts are regularly published in feminist media, film, and art journals. All of her projects are carried out in complex forms of collaboration including anthropologists, cultural theorists, NGO members, architects, as well as scholars of sonic culture.
Ursula Biemann studied first at the Bellas Artes in Mexico, then in New York at the School of Visual Arts (BFA, 1986), and the Whitney Independent Study Program (1988); she is based in Zurich.
Feminist Artist Statement
My ongoing investigation into the role of gender and migration in the logic of global capitalism has prompted me to visit several sites that are pertinent to the project: border areas, free trade zones, entertainment cities catering to military camps, and resorts for sex tourists. These places tell us the repetitive, standardized stories of how capitalism addresses women and their labor, but they also narrate the fresh, inventive, personal worlds women develop within and around them. My art and video work insists that location is spatially produced rather than pre-determined by governance and in trying to assess what precariously inhabited environments operate. In a series of video projects, collaborative exhibitions and in several important books, I have focused on the gendered dimension of migrant labour from smuggling on the Spanish-Moroccan border to migrant sex workers moving from the East to the West. In all of my work, there are 3 interlinked dimensions; an understanding of how complex geographical location is to identify, the degree to which new technologies are shifting our understanding of the relations between places and the dimension of gendered subjectivities through which these movements are lived out. Beyond focusing on the conditions of women's lives within shifting borders and movements between places, I'm using these conditions to be able to read other, less considered aspects of the experience of movement both material and virtual. This attention to the gendered dimension of migration and border crossings allows me to incorporate a complex body politics into a discussion that often lacks it; the Mexican workers on the Ciudad Juarez/El Paso border in Performing the Border are an embodied work force whose many obligations also determine how and where they can work and how they experience their dual lives between Mexico and the US, the Moroccan women in Europlex use their expanded bodies as the vehicles for the smuggled goods while the sex workers in Remote Sensing are the manifestation of both labour and subjectivity in one human body.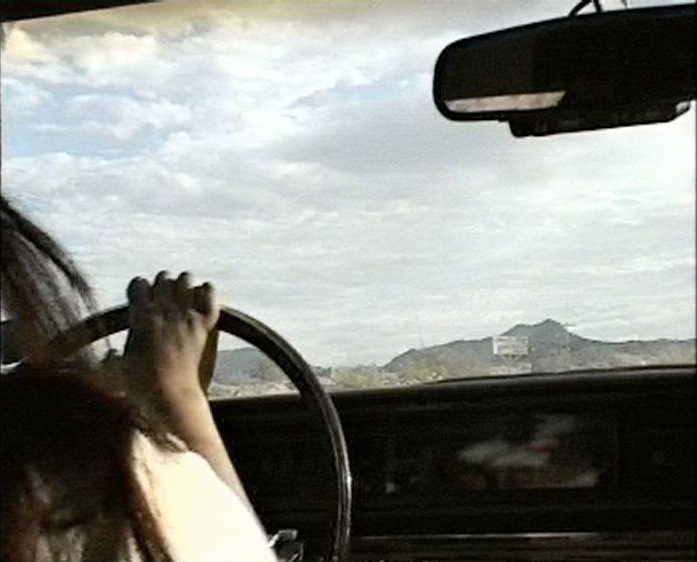 A video essay set in the Mexican-US border town of Ciudad Juarez, where the U.S. industries assemble their electronic and digital equipment, located right across from El Paso, Texas. "Performing the Border" looks at the border as both a discursive and a material space constituted through the performance and management of gender relations. The video discusses the sexualization of the border region through labor division, prostitution, the expression of female desires in the entertainment industry, and sexual violence in the public sphere. Interviews, scripted voice over, quoted text on the screen, scenes and sounds recorded on site, as well as found footage are combined to give an insight into the gendered conditions inscribed in the border region.
Contact
Roentgenstrasse 48
Zurich,
Switzerland
Email
Text, images, audio, and/or video in the Feminist Art Base are copyrighted by the contributing artists unless otherwise noted. All rights reserved.