Virginia Maksymowicz
Philadelphia,
USA
Virginia Maksymowicz (b. 1952, New York City) is a sculptor currently living in Philadelphia, PA. She received a B.A. in Fine Arts from Brooklyn College of the City University of New York and an M.F.A. in Visual Arts from the University of California, San Diego. She has exhibited her work at the Franklin Furnace, Alternative Museum, the Elizabeth Foundation and Grey Gallery in New York City, as well as in college, university and nonprofit galleries throughout the U.S. and abroad. Her work was included in Reconstructing the Feminist Past: Art World Critique, 1960 to Now at the Museum of Modern Art.
She is a past recipient of a National Endowment for the Arts fellowship in sculpture and over the years has been honored with numerous other grants and awards. Her artwork has been reviewed in Sculpture Magazine, The New York Times, New York Newsday, The New Art Examiner and The Philadelphia Inquirer. Her series The History of Art, appears on the cover of The Female Body, published by the University of Michigan Press. The late feminist critic, Arlene Raven, wrote an essay, Yes, Virginia, for the catalog that accompanied Maksymowicz's exhibit, Alternating Figures, at the Phillips Museum in Lancaster, Pennsylvania. A feature article, Following the Caryatid: Engagements with Antiquity by Dr. Sarah Archino appears in the July/August 2016 issue of Sculpture Magazine.
She has been a visiting artist at the American Academy in Rome and a fellow at the Vermont Studio Center. Maksymowicz has taught at a variety of colleges and universities and is currently Associate Professor of Art at Franklin & Marshall College in Lancaster, Pennsylvania.
She has been a member of the Women's Caucus for Art for over 35 years and was a writer for Women Artists News and New Directions for Women.
Feminist Artist Statement
My coming of age as an artist occurred the 1970s, the decade that gave rise to "Womanhouse" and second-wave feminism. I attended graduate school at the University of California, San Diego, where I worked with Martha Rosler, Eleanor Antin, Suzanne Lacy, Mary Beth Edelson, Linda Montano, and Miriam Shapiro. Having completed undergraduate art studies at modernist, male-dominated Brooklyn College, where female students were routinely denied A-grades, this new environment was exhilarating.
When I arrived in California, I already had an interest in the human figure. But I soon realized that the female form offered great metaphoric potential for communicating political and social ideas.
Between 1975 and 1977, I created a series of figures cast or impressed into clay, sometimes fired, sometimes not, and left them in various locations to decompose.
In the 1980s, I began to use handmade paper. My work became overtly political, tackling issues from a feminist standpoint. Home of Model T (1983) was made while I lived in Detroit. It juxtaposed bronze-painted female breasts and hubcaps with a text cast directly from the historical plaque at the original Model T Ford factory; it addressed the selling of women, cars, and the American dream. The Bottom Line (1985) combined paper rear ends, bureaucratic forms, and institutional flooring to talk about art, lotteries, and unemployment. Pennies from Heaven (1987) used gold-painted body fragments and text to address the feminization of poverty. Lily of the Mohawks (1995) commented upon the life of Kateri Tekawitha and the complications that arise when historical events and private lives collide.
With the Garden of Earthly Delights (1998), I began to link women's bodies with architecture. The installation encircled women's faces with architectural wreaths. Fruits or vegetables were forced into their mouths with words underneath describing the characteristics of those fruits or allegorically used the characteristics ascribed to women. This led to Peripheral Vision, The Physical Boundaries of This World and Pediment, all of which were metaphors for the structural but often unrecognized role of women in the social architecture.
In recent years, my artwork has been following a complex visual trail of architecture and figurative/representational elements: caryatids, columns, canephorae, baskets of produce, Corinthian capitals, acanthus, bodies, bones, bread and water. Caryatids and canephorae are, in many ways, the visual summation of human life and women's fundamental role in supporting it. Caryatid, Caryatids in Five Books and Comparisons are all part of this investigation.
At one of my exhibitions, a viewer commented that she considered the devaluation of women a non-issue in the modern world. How someone could listen to the nightly news and continue to hold such an opinion astounds me. It has been well documented that women and girls comprise 98% of victims trafficked for sexual exploitation. In fact, human trafficking is the fastest growing criminal enterprise in the world. In response, members of the Philadelphia Chapter of the Women's Caucus for Art began The Ragdoll Project in 2011, as an ongoing artistic effort to educate the public about this problem.
This is why there is a need for a Feminist Art Base.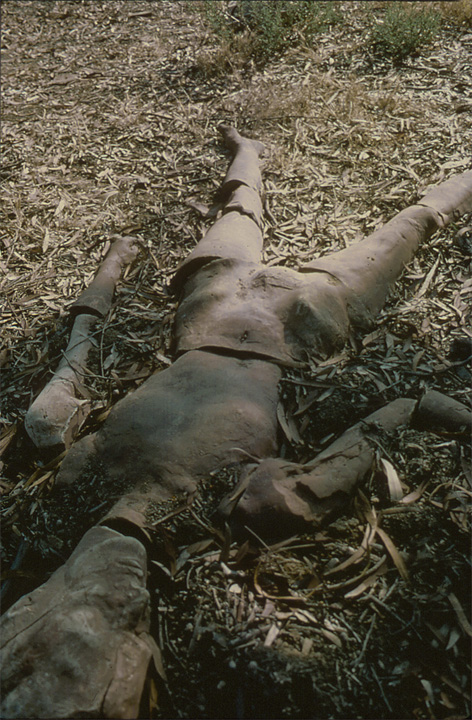 A sample of early work: a female figure cast from life, situated in a field at UC San Diego and left to crumble back into the ground.
Contact
3719 Lancaster Avenue
Philadelphia, 19104
USA
Email
Text, images, audio, and/or video in the Feminist Art Base are copyrighted by the contributing artists unless otherwise noted. All rights reserved.