Wangechi Mutu
New York,
United States
A native of Nairobi, Kenya, Wangechi Mutu received her MFA degree from Yale University in 2000 and her BFA at Cooper Union College, New York. She has had solo exhibitions at the Miami Art Museum and at the San Francisco Museum of Modern Art. Mutu recently participated in the SITE Santa Fe Biennial, Still Points in the Turning World: SITE Santa Fe's Sixth Annual Biennial, curated by Klaus Ottmann, in July 2006, as well as USA Today at the Royal Academy of the Arts, London UK and 2nd Biennial Contemporary Art in Seville, Centro Andaluz de Arte Contemporaneo, Sevilla, Spain. She has had solo exhibitions at institutions including the San Francisco Museum of Modern Art; the Miami Art Museum; and ArtPace, San Antonio. Mutu's work is in public collections including the Museum of Modern Art, New York; The Whitney Museum of American Art; The Studio Museum in Harlem; The Museum of Contemporary Art, Chicago; and the Museum of Contemporary Art, Los Angeles. She lives and works in New York.
Feminist Artist Statement
To me the female figure is enchanting and power-filled, it astounds me, it baffles me. When I was nineteen I saw middle-aged women in Nairobi protesting their children's detention at a notorious torture prison. They slowly put a curse out- by disrobing and exposing their bodies- causing the riot police to freak out and flee. I'm interested in how the female body is enhanced and contorted for historical and cultural purposes. Wangechi Mutu, interview by Kirsten Fricke, "Sex Sells," Beautiful Decay, December 2005 issue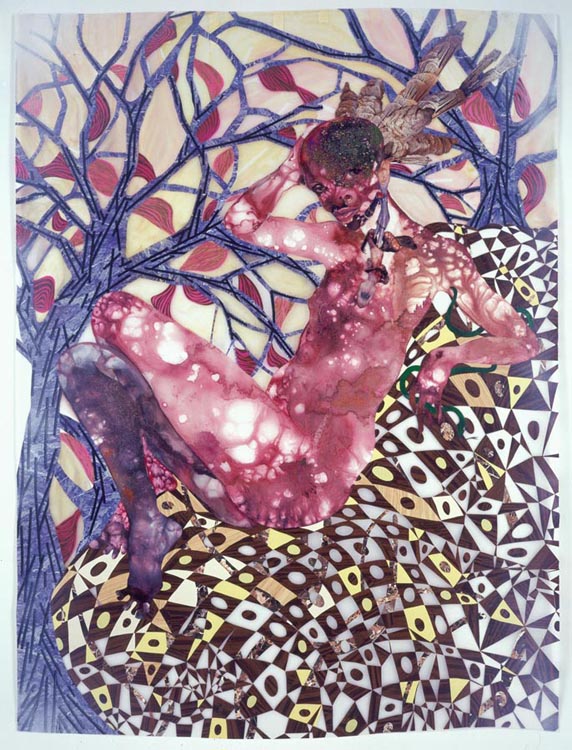 Contact
c/o Sikkema Jenkins & Co. 530 W. 22nd St.
New York, 10011
United States
Email
Text, images, audio, and/or video in the Feminist Art Base are copyrighted by the contributing artists unless otherwise noted. All rights reserved.