Yun Bai
Los Angeles,
USA
Yun Bai was born in Beijing, China and migrated with her parents to the United States at age five. Although she grew up in a traditional Chinese setting—complete with extracurricular activities, strict discipline, and high expectations, she was also heavily influenced by Southern American culture, due to her Southern upbringing. Consistent themes found in Yun's work include explorations in identity, social stimulus/ experiments, a fascination with science, a feminine comment, sarcasm/mockery, and sometimes, influence from urban culture. Yun also creates artwork under her alter ego, "Yunny Bunny."
As she reached adolescence, Yun began to embrace her artistic abilities and pursue art seriously. Thirteen years since this decision, Yun remains committed to exploring her artistic voice, while pushing the edge in creating innovative, progressive ideas.
Bai sees the world as her medium, thus exploring with porn magazines, ping pong balls, and machetes, besides traditional mediums (oil paints, watercolors, etc). Identity, social experiments and stereotypes, playfulness/ mockery, feminism, and scientific references are reoccurring elements found in her work.
She graduated from Agnes Scott College, a private women's college in Atlanta, Georgia in 2001. She has shown both nationally and internationally, and has been reviewed by the Atlanta Journal Constitution, ART PAPERS Magazine, Pittsburgh Pulp, Pittsburgh Post-Gazette, Pittsburgh City Paper, Creative Loafing Atlanta, Art Asia Pacific, LA Weekly (Top 10 Emerging Artists, 2006), and was recently included in New American Paintings, Pacific Edition, No. 67.
Yun's favorite past time is laying on the nude beach with a coconut rum pina colada slurpee. She lives and works in Los Angeles.
Feminist Artist Statement
After researching and participating in the adult entertainment industry during college, I explored the contrasting perspectives concerning the branding of its participants by the public, and who these women actually were, by becoming one of "them." Following a painful breakup with my boyfriend, my mother was diagnosed with cancer; forcing my parents to file for bankruptcy. I was determined to finish college, and needed to come up with money—fast.
Some of these women, like myself, were driven to this point of desperation. From one perspective we were mothers, college students, marketing consultants, and gym teachers. From another perspective, we were sex objects, outcasts, drug addicts, and women of ill repute. I had a difficult time labeling myself finally settling on the idea that I was a flower; that all women are flowers. My work evolves around the elements of feminism, identity and social commentary often presented within the context of paradox, mockery and opposition.
Flowers therefore came to symbolize the essence of the woman. From afar one sees the plant silhouettes of these fleshy colored flowers, beautiful and innocent. However, upon closer inspection, the leaves and petals are actually female body parts that evolved from a collage of imagery found in pornographic magazines. While pornography is a classic example of women's objectification and exploitation, I use the imagery as a form of empowerment, thereby celebrating the spirit of all women. The work has grown to symbolize triumph from difficult times, with a focus on healing, strength, courage, and enthusiasm for the future.
The works range between 10" x 10" up to 4' x 4', and are made from porn magazines, acrylic, graphite, origami paper, sharpie, and resin on wood.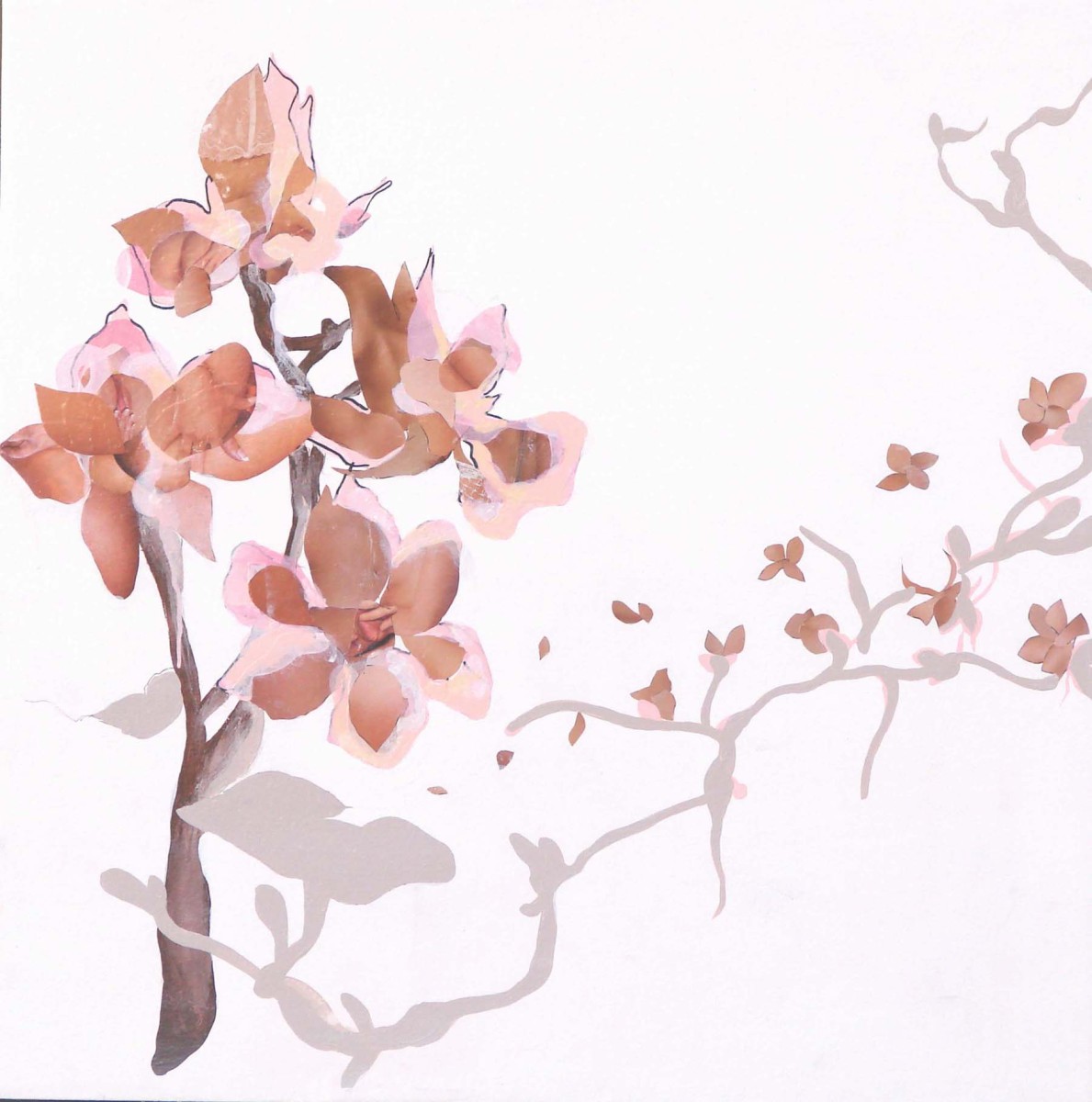 White healing porn flower
Text, images, audio, and/or video in the Feminist Art Base are copyrighted by the contributing artists unless otherwise noted. All rights reserved.