Zarina Bhimji
Camden,
United Kingdom
Zarina Bhimji was born in Uganda in 1963 and lives in London. She works across a wide range of media including installation, photography, film and sound.
Zarina studied at Goldsmiths' College and the Slade School of Fine Art, London.
Zarina's work has been shown extensively both in the UK and abroad. In 2007, she was nominated for the Turner Prize. Solo shows include Galerie Lumen Travo, Amsterdam (2007); Haunch of Venison, London (2006); Matrix, Wadsworth Athenium, Museum of Art, Hartford, Connecticut (2003); Art Now, Tate Britain, London (2003); Talwar Gallery, New York (2001); and I will always be here, Ikon Gallery, Birmingham (1992). Her work has also been shown at How to Improve the World: 60 Years of British Art, Hayward Gallery, London (2006); Zones of Contact, Biennale of Sydney, Australia (2006); Snap Judgments: New Positions in Contemporary African Photography, ICP, New York (2006); British Art Show 6, Baltic Centre for Contemporary Art, Gateshead (2005); Documenta XI, Kassel, Germany (2002); Fault Lines, Venice Biennale (2003); Poetic Justice, Istanbul Biennale (2003); The Short Century, Museum Villa Stuck, Munich (2001), which toured Berlin, Chicago and New York, and No Place (Like Home), Walker Art Center, Minneapolis (1997).
Feminist Artist Statement
Although the starting point for Bhimji is research, the resulting works are at a distance from specific historical facts. Rather than interpreting or documenting history, the emphasis is on creating new images from which different ways of seeing and understanding can emerge. Investigations into official records, legal documents and personal narratives are undertaken but left behind in an attempt to instead make sense through the medium of aesthetics. Working intuitively, Bhimji approaches the landscape through concerns such as composition, color, light and texture to create carefully constructed, intensely beautiful and poetically resonant images.
Bhimji is interested in the spaces, the microdetails and the light of distant interiors. The location of light is a significant element of her composition and becomes just as intricate and important as the presence of a figure. Atmosphere comes from a tactile, moist light. The stillness of the image implies a suspension of everyday life, yet the narrative is deferred by mood, mystery and the feeling of incompleteness and belatedness.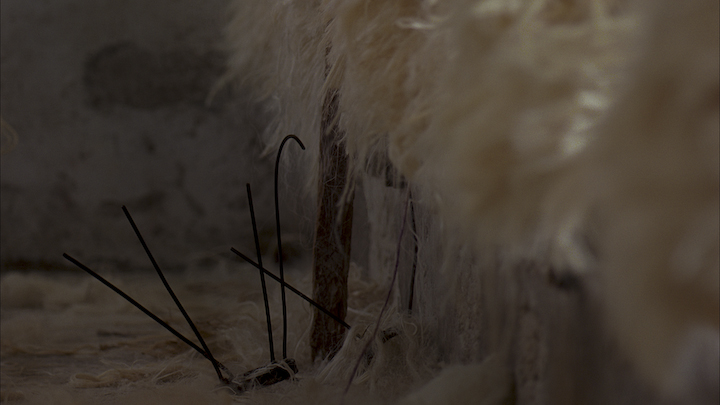 Text, images, audio, and/or video in the Feminist Art Base are copyrighted by the contributing artists unless otherwise noted. All rights reserved.