Zuzanna Janin
Warsaw,
Poland
Selected Solo Exhibitions:
2007 Just Before. The Ideal Museum, MoMA (under contruction); Warsaw televiZJon_studio; Galeria Entropia, Wroclaw;
In Between, Piekary Gallery, Poznan
2006 _televiZJon_studio, lokal_30, Warszawa
2005 Interventions, Lehnin Kloster, Lehnin (D)
2004 ILoveYouToo, CAC Confluence, Paris;
I've Seen My Death, Galeria Manhattan, Lódz; Galeria Entropia, Wroclaw
2003 I've Seen My Death, (Z.JaninA), Galeria Foksal, Warszawa + artist studio
2002 ILoveYouToo, Mois de la photo, Instytut Polski, Paris 2001; ILoveYouToo, Galeria Zacheta, Warszawa;
2000 homefuckingiskillingprostitution, A.v. Scholz Galerie, Berlin
1999 What Hell, What Heaven, CCA, Warszawa SYNAGOGUE, CCA, Trnava
1998 What Hell, Galeria Foksal, Warszawa
1995 UNTITLED, Salzburger Kunstverein, Salzburg Area, Galeria Foksal, Warszawa
1991 Works, Galeria Wschodnia, Lódz
Selected Group Exhibitions
2007 Skin & Bones, XX1 Gallery, Warszawa
2006 You Cannot Come Closer, Cell Project, London;
Six Feet Under, Kunstmuseum, Bern(CH);
Come Into My World, II Lodz Biennale, Lodz ,Poland; Fighting, Christine Koenig Galerie, Wien;
Love and Democracy, CCA, Laznia, Gdansk;
Between Architecture and Catastrophe, (lokal_30 best gallery prize winner), ViennAfair, Wien;
Family First, Skestos Gabriele Gallery, Chicago,
2005 Exposition2005/06, Sammlung Hoffmann, Berlin; Beyond Red Horizon, NCCA, Moskow;
Light and Matter, (finalist of Adi Prize), Izrael Museum, Jerusalem
2004 BODY, Nicosia Municipal Art Center, Cyprus
2003 The View From Here, City Gallery, Prague;
Riffe Gallery, Columbus/Ohio;
Minesota Center for Photography, Minneapolis;
Erie Art Museum, Erie
2002 Vom Monument zum Markt, Kunstahalle Wien, Wien
2001 CSW Collection, CCA, Warszawa;
In Between, Chicago Cultural Center
2000 After the Wall, HamburgerBahnhof, Berlin;
Art a Centreeuropa 1949-1999, Fundacio Joan Miro, Barcelona;
L'autre moitie de l'Europe, Jeu de Paume, Paris
1999 Aspekte Positionen, Museum moderner Kunst; Wien After the Wall, Moderna Museet, Stockholm;
Trace, The Liverpool Biennial, Liverpool
1998 Genius Loci, Kunsthalle Bern, Bern
1996 Contact Prints, Galeria Foksal, Warszawa;
Beyond Belief, Allen Memorial Art Museum, Oberlin College, Oberlin;
The Palace of Good Luck, Burnett Miller Gallery, Los Angeles
1995 Beyond Belief, Museum of Contemporary Art, Chicago; Institute of Contemporary Art, Philadelphia
1994 Der Riss im Raum, Martin Gropius Bau, Berlin; Galeria Zacheta, Warszawa
1993 Sonsbeek '93, Arnhem
1992 The 9th Biennale of Sydney, Sydney ;
The 3rd International Istanbul Biennal, Istanbul
Feminist Artist Statement
Zuzanna Janin (1963 Warszawa, lives in Warsaw). She creates sculptures, installations, videos, photography, actions and performances. She was the finalist of the Adi Prize for Art in 2003. The central theme of her works is: space (soft sculptures from silk – Covers), memory (installation Memory) and time (photo-sculptures Follow Me, Change Me it's Time).
She is an author of Sweet Girl, sculpture from cotton-candy and What A Hell, What A Paradise installation from artificial fog. Janin incarnates into the figures and situations and explores the experiences making a quasi -documentation video out of them. Her video FIGHT shows a never-ending boxing match that she participates in with a heavy-weight boxing champion.
The very famous multimedia installation, I've Seen My Death, 2003, is based on her performative simulation of her own total absence – by fictitious death and observing herselves simulating burial. She created Pasigraphy: a series of sculptural objects made of articles of clothing, which she uses as a global / international language understood all over the world. Pasigraphy, invites a reflection on the arbitrariness of social roles, their fluid boundaries, and the place of individual freedom within the workings of state and society.
In parallel, from 2003 on, Janin has created a fictitious television studio, ART_TALK_SHOW, an art-action which takes place irregularly in lokal_30, a new gallery / art space in Warsaw. (Foksal17 b / 30, lokal30@home.pl)
Janin took a part in the Sydney Biennal, the Instanbul Biennal, Soonsbeek, and the Liverpool Biennal. Her works were presented in Kunstverein Salzburg (1995); Museum of Contemporary Art, Chicago(1998); Kunsthalle Bern (1998); National Gallery Zacheta, Warszawa (1995, 2001, 2003, 2004, 2005); Modernamuset, Sztokholm (1999); Jeu de Pomme, Paris (2000); Ludwig Museum, Aaachen(1991); Center for Contemporary Art, Warsaw (1999, 2000, 2001, 2005); Izrael Muzem, Jerusalem (2004); Hamburgerbanhof, Berlin (1999, 2005); Kunstmusem Bern (2006); Foksal Gallery (1996, 1998, 2003); and lokal_30 Gallery (2005, 2006)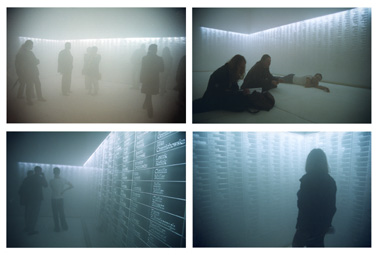 Text, images, audio, and/or video in the Feminist Art Base are copyrighted by the contributing artists unless otherwise noted. All rights reserved.