Central Core Imagery
[T]o be a woman is to be an object of contempt, and the vagina, stamp of femaleness, is devalued. The woman artist, seeing herself as loathed, takes that very mark of her otherness and by asserting it as the hallmark of her iconography, establishes a vehicle by which to state the truth and beauty of her identity.9
—Judy Chicago and Miriam Schapiro, 1972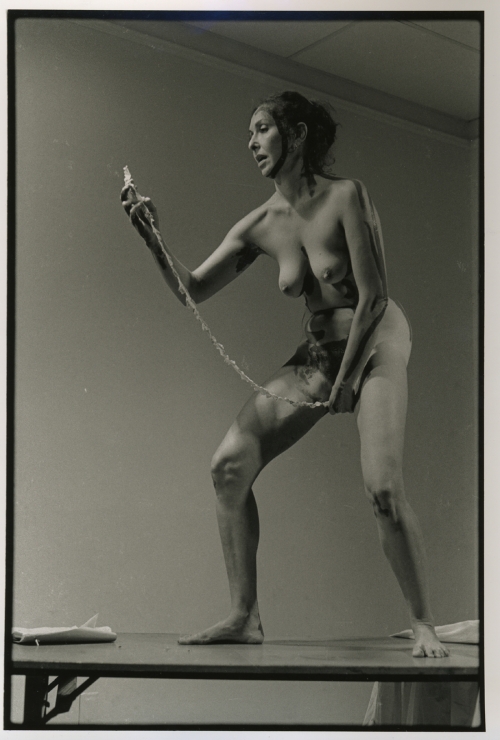 Carolee Schneemann (American, b. 1939). Interior Scroll, 1975. Ilfachrome print. © Carolee Schneemann. Photograph by Anthony McCall
Another feminist strategy encountered in The Dinner Party is the celebration of vaginal iconography, which is, of course, the most controversial of its components. Chicago specifically chose to use vaginal or "central core" imagery for each of the plates in order to demonstrate that the one thing that united these forgotten historical subjects at the table was that they all had the same genitalia. Her aim was to reclaim and celebrate that mark of women's "otherness," replacing connotations of inferiority with those of pride, and to create a "new visual language" with which to express women's experience.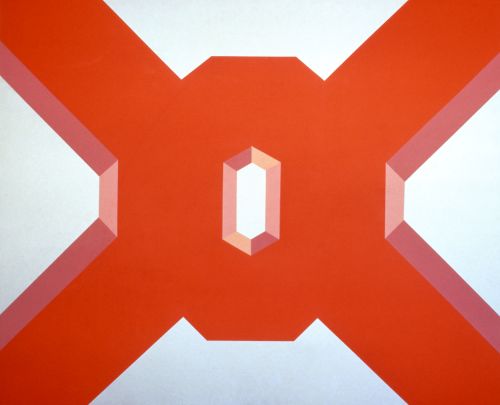 Miriam Schapiro (American, b. 1923). Big Ox No 2, 1968. Acrylic on canvas. Museum of Contemporary Art, San Diego, Gift of Harry Kahn. © Miriam Schapiro
Chicago began experimenting with "central core" imagery in the late 1960s, along with other artists, including Hannah Wilke, Carolee Schneemann, and Miriam Schapiro. Each of these artists, in her own way, sought to give women's bodies back to them, to assert a positive female sexuality by claiming her sex. Wilke's miniature gum vagina sculptures that she stuck on her naked body; Schneemann's interior origami scroll pulled from within her vagina that she read out loud to an audience; and Schapiro's luscious red Big Ox with its central cavity void all speak to feminist artists' reclamation of their bodies. The integration and celebration of vaginal imagery at that time was therefore a political gesture, not an erotic one.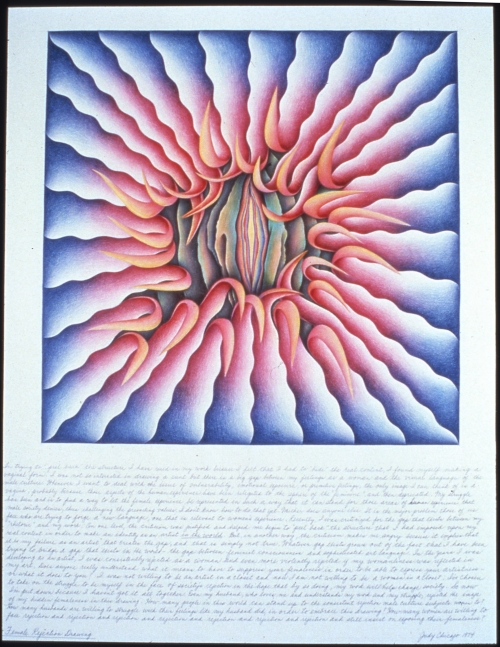 Judy Chicago (American, b. 1939). Female Rejection Drawing. From the Rejection Quintet, 1974. Colored pencil and graphite on paper. San Francisco Museum of Modern Art, Gift of Tracy O'Kates. © Judy Chicago/Artists Rights Society (ARS) New York
Chicago, too, insists that her vaginal imagery be read not literally, but metaphorically, as an active and powerful symbol of female identity. Long before she began work on The Dinner Party, Chicago had been attempting to anthropomorphize the vulvae form, transforming it into numerous motifs suggesting caves and flowers. She eventually fused those abstract "core" images with the butterfly, an ancient symbol of liberation and resurrection, producing "a metaphor for an assertive female identity."10 She had finally arrived at her signature "central core" form: an active vaginal form, or her equivalent to the flying phallus from Greek art. The imagery of The Dinner Party plates incorporates this butterfly-vulvae motif. Each plate fuses an abstract portrait with an (active) butterfly form. As the visitor circumnavigates the table, the butterfly form surges up dimensionally, symbolizing women's increased strides toward liberation from prehistory to the modern era.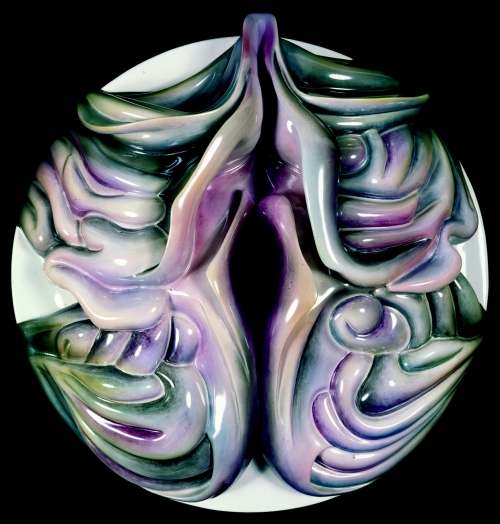 Judy Chicago (American, b. 1939). The Dinner Party (Georgia O'Keeffe plate), 1974–79. Porcelain with overglaze enamel (China paint). Brooklyn Museum, Gift of the Elizabeth A. Sackler Foundation, 2002.10. © Judy Chicago
Notes
9. Judy Chicago and Miriam Schapiro, "Female Imagery," Womanspace Journal (1973), 14. (The authors wrote the essay in March 1972.)
10. Chicago, The Dinner Party (New York: Penguin, 1996), 6.