Eleanor of Aquitaine
(b. 1122, Aquitaine, France; d. 1204, Anjou, France)
Eleanor of Aquitaine served as queen of both France and England in the twelfth century, making her one of the most powerful women of the time. Eleanor and her court were also responsible for the development of courtly love, ideals and etiquette governing the courtship of knights and ladies, which became the accepted mode of behavior for the nobility throughout medieval Europe.
Eleanor was born to William X, Duke of Aquitaine, in the largest and richest province in medieval France. Upon her father's death in 1137, she inherited Aquitaine along with seven other countries; her brother had died as a baby and her only other sibling was a younger sister. She was placed under the guardianship of King Louis VI and married his son Louis VII at the age of fifteen. In 1146, Louis VII embarked on a crusade, a military campaign carried out in the name of Christianity, in Jerusalem and Damascus; he was joined by Eleanor, her ladies in waiting, and many of their subjects, who weren't part of the nobility. Legend suggests that during the crusade, Eleanor and her ladies dressed as Amazons, or mythical warrior women of ancient Greece, to pay tribute to women as warriors and to mark the presence of women in Louis VII's military actions. The French armies were largely unsuccessful during the crusade, and Eleanor was partially blamed for poor strategic decisions one of her subordinates had made. This association further sullied her reputation, which was already tainted by rumors of affairs with one of her subjects as well as with her uncle, the Prince of Antioch.
Eleanor's marriage to Louis VII was annulled in 1152 on the grounds of consanguinity, or relationship by blood or common ancestor; consanguinity was often used as the case for annulment, if the familial relationship was unknown at the time of marriage and the degree of relation was close. To protect herself and her lands from political enemies that would have taken advantage of her vulnerability as a single female ruler, Eleanor was married six weeks later to Henry II, Count of Anjou, Duke of Normandy (in modern-day France), and her cousin to the same degree that Louis had been. Henry II became king of England two years after his marriage to Eleanor.
In 1173, Eleanor and Henry's son, also named Henry, launched a revolt against the king; she instructed some of her other sons to join in. Learning of it, Henry II imprisoned his wife, first in France, and then in various locations throughout England. Her imprisonment lasted 16 years, until the day of Henry's death in 1189. Her son Richard I became King of England, but due to his age, Eleanor ruled in his name. She outlived Richard and also became important in the reign of the next king, her youngest son, John.
At the age of seventy-seven, Eleanor traveled to Castile, France, where she chose one of her granddaughters to become a wife to Louis VIII, heir to King Philip II of France. During the return trip, their escort, a famous warrior, was slain by a rival; afterwards Eleanor fell ill from the emotional trauma of the event. She entrusted her charge to the Archbishop of Bordeaux and went to rest at Fontevrault, her castle in France, where her health remained poor. Eleanor took the veil and lived as a nun at Fontevrault until her death in 1204, having outlived nearly all of her children. She was buried at Fontevrault Abbey where her second husband, Henry II, and son Richard were also entombed.
Eleanor of Aquitaine at The Dinner Party
Eleanor of Aquitaine is represented by a fleur-de-lis, repeated on the front and back of her runner, as well as in the illuminated letter "E" at the beginning of her name. The fleur-de-lis is a symbol of France and was commonly found in the art of the Middle Ages. It is also related to the iris, and both the iris and the fleur-de-lis are symbols of the Virgin Mary. Their deep blue color represents her fidelity; the blade-like shape of the leaves denotes her heart being pierced by sorrow for her son, which refers to Mary's conversation with Simeon in Luke 2:35. The Virgin Mary, Queen of Heaven, was increasingly worshipped in the Middle Ages; the allusions to her in the runner also signify Eleanor's power as queen.
Eleanor of Aquitaine's runner is modeled after tapestries made by noble women to hang as decoration in feudal castles or to use during ceremonial parades. The imagery is taken from the famous Unicorn Tapestries, circa 1495–1505, in which mystical unicorns appear within the corrals. The corral on the runner surrounds Eleanor's plate. It symbolizes Eleanor's imprisonment by her second husband, Henry II, and compares her power as queen with that of the mystical unicorn. The flower patterns on the runner are derived from the tapestries of the Middle Ages, which were covered with mille fleurs, also seen in the Unicorn Tapestries.
Primary Sources
The Anglo-Saxon Chronicles, especially the Peterborough Chronicle, MS. Laud 636. Archived at the Bodleian Library, Oxford, UK.
Translations, Editions, and Secondary Sources
Bartlett, Robert. England Under the Norman and Angevin Kings (1075–1225). Oxford, UK and New York: Oxford University Press, 2000.
Hallam, Elizabeth. The Plantagenet Chronicles. New York: Grove, 1986.
Kelly, Amy R. Eleanor of Aquitaine and the Four Kings.Cambridge, Mass.: Harvard University Press, 1950.
Kibler, William W., ed. Eleanor of Aquitaine, Patron or Politician? Austin: University of Texas Press, 1976.
Meade, Marion. Eleanor of Aquitaine: A Biography. New York: Penguin, 1991.
Owen, D. D. R. Eleanor of Aquitaine: Queen and Legend. 1993; 2nd ed., Oxford, UK: Blackwell Publishing, 1996.
Seward, Desmond. Eleanor of Aquitaine. New York: Penguin, 2001.
Swabey, Ffiona. Eleanor of Aquitaine, Courtly Love, and the Troubadours. Westport, Conn.: Greenwood Press, 2004.
Weir, Alison. Eleanor of Aquitaine: A Life. New York: Ballantine, 2001.
Wheeler, Bonnie, and John Carmi Parsons, eds. Eleanor of Aquitaine: Lord and Lady. London and New York: Palgrave Macmillan, 2003.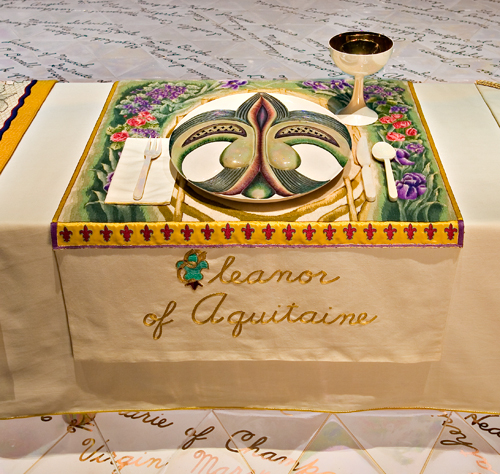 Related Heritage Floor Entries
Web Resources
Medieval Sourcebook: Peter of Blois: Letter 154 to Queen Eleanor, 1173 Peter of Blois' Letter 154 from the Latin text in Chartres Ms #208 translated by M. Markowski
Kings College-Women's History : Eleanor of Aquitaine
Lynn Abbey—Eleanor of Aquitaine