Elizabeth R.
(b. 1533, London, England; d. 1603, London, England)
Queen Elizabeth I, or Elizabeth R, as she referred to herself, was a revered English queen, and a member of the Tudor family, who ruled over a period of English history often referred to as "The Golden Age." Ascending the throne at a time when England was in religious conflict and economic hardship, Elizabeth earned her country's respect as a bold and independently minded ruler, who successfully lifted England out of its troubled state.
Born in 1533, to King Henry VIII and his second wife, Anne Boleyn, Elizabeth was the king's second child and his second daughter. After King Henry's first wife, Catherine of Aragon, bore his eldest child Mary, the king had hoped his next child would be a son to succeed him on the throne. King Henry regarded the birth of another daughter to be a critical failure of Elizabeth's mother, who he accused of adultery and incest. She was executed, although there is no evidence that these accusations were true.
King Henry's next child with Jane Seymour was a son, and a nine-year-old Edward VI succeeded the throne after his father's death. When Edward died in 1553, Elizabeth's sister Mary assumed the throne; her tumultuous reign was similarly short-lived and ended with her death in 1558. After Mary's death, Elizabeth ascended the throne to begin what would become a long and enormously successful reign that would redefine the expectations of women in power.
As queen, Elizabeth quickly set out a plan to stabilize England following years of conflict under turbulent and controversial rulers. Religion quickly became one of the new queen's primary concerns. Years earlier, King Henry had severed England's ties with the Catholic Church so that he could obtain a divorce. Following, Mary I, a Catholic, also known as "Bloody Mary," re-established Catholicism as the state religion and during her reign, persecuted many Protestants. The English public welcomed Elizabeth's ascension to the throne, and she reinstated Protestantism in 1559. She is heralded as a champion of religious freedom and tolerance, although there is evidence that she persecuted Catholics in an effort to establish a Protestant state.
During Elizabeth's rule, the British Empire prospered politically and economically, expanding westward as the first British colonists arrived in America in the mid sixteenth century. In 1588, England finally defeated the Spanish Armada, ending a decades-long threat from Spain, a country attempting to retain its dominance as a world power. The victory increased her popularity with her people and caused economic growth during the relative period of peace.
The literary, performing, and fine arts flourished during Elizabeth's reign as well, with countless artists, such as Nicholas Hilliard, and playwrights, such as William Shakespeare, benefiting from the court's patronage.
Although revered by her people and courted by suitors, Elizabeth never married. Despite her father's lifelong reservations about a woman occupying the throne, Elizabeth's arrival ushered in a new era in British royal history. She quickly and consistently proved herself to be a powerful and intelligent ruler and an inimitable symbol of female strength. Her nearly half-century reign ended officially with her death in 1603. Centuries afterward, Elizabeth's rise to power and her rule over England have become legendary. Her story has been retold and re-visited by scholars, artists, and, more recently, filmmakers.
Elizabeth R. at The Dinner Party
In history and in art, Elizabeth I is often characterized as a larger-than-life figure, in both her fierce independence and her extravagant tastes. The Queen's place setting at The Dinner Party evokes the grandeur of her personality, the prosperity England enjoyed during her rule, and the opulence associated with the monarchy.
An expert in determining her own representation in art, Elizabeth often commissioned artists to paint portraits of her in sumptuous costumes. Those same portraits, created while Elizabeth was at the height of her reign, inspired her place setting. The Queen's elaborate dresses are suggested in the undulating folds depicted on the plate, and the regal deep blues, purples, and reds are reminiscent of the colors typically used in her portraits. The plate is adorned with an embroidered fabric ruff, the lace edges reminiscent of the high, stiff collars Elizabeth wore. A "cloth of gold" placed over the ruff recalls the famous "Field of the Cloth of Gold," an event in which Elizabeth's father met with Francis I of France and Charles V, the Holy Roman Emperor, to negotiate a treaty. For the three weeks of the meeting, the monarchs had ostentatious tents made of gold cloth set up in a field.
The runner includes feather and floral patterns stitched in blackwork, a form of textile decoration in which outlines of flowers and leaves are interspersed with geometric patterns. This intricate embroidery was popular on costumes during Elizabeth's reign and can be seen in portraits of the queen.
Elizabeth's royal signature is the basis for the illuminated capital letters "E" and "R" in her name on the front of her runner, referring to Elizabeth as she referred to herself, "Elizabeth R." The elaborate and snaking "R" was used by the Queen after her name; it stood for "Regina," which is Latin for queen. Elizabeth's name is embroidered in her own inimitable penmanship. Just as she refused to give up any self-control during her lifetime, Elizabeth personally introduces herself to The Dinner Party guests in her own exquisite hand.
Translations, Editions, and Secondary Sources
Bassnett, Susan. Elizabeth I: A Feminist Perspective. New York: Berg, 1988.
Beem, Charles. The Lioness Roared: The Problems of Female Rule in English History. London: Palgrave Macmillan, 2006.
Bradford, Sarah. Elizabeth: A Biography of Britain's Queen. New York: Farrar, Straus & Giroux, 1996.
Doran, Susan. Queen Elizabeth I. New York: New York University Press, 2003.
Hibbert, Christopher. The Virgin Queen: Elizabeth I, Genius of the Golden Age. Reading, Pa.: Addison-Wesley, 1991.
Levin, Carole. The Heart and Stomach of a King: Elizabeth I and the Politics of Sex and Power. Philadelphia: University of Pennsylvania Press, 1994.
Marcus, Leah S., Janel Mueller, and Mary Beth Rose. Elizabeth I: Collected Works. Chicago: University of Chicago Press, 2000.
Starkey, David. Elizabeth: Apprenticeship. London: Chatto & Windus, 2000.
Watkins, Susan. In Public and in Private: Elizabeth I and Her World. London: Thames & Hudson, 1998.
Weir, Alison. The Life of Elizabeth I. New York: Ballantine, 1998.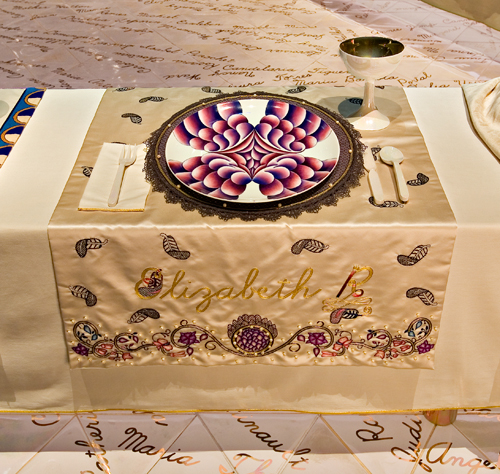 Related Heritage Floor Entries
Web Resources
The Works of Queen Elizabeth I, by Anniina Jokinen
The Official Website of the British Monarchy
Internet Modern History Sourcebook : "Queen Elizabeth I of England," Paul Halsall, ed.