Georgia O'Keeffe
(b. 1887, Sun Prairie, Wisconsin; d. 1986, Santa Fe, New Mexico)
Georgia O'Keeffe, one of the most well known American painters, is also considered by some to be the foremother of the feminist art movement. She worked in a discipline dominated by male artists, critics, gallery owners, and curators, who were critical of women artists. Despite these obstacles, O'Keeffe launched a successful career, developing a distinctive painting style that employed organic vulvar forms and floral imagery. Her life experiences influenced her art; imagery from her time in New York and New Mexico reappears in her painting.
She was raised on a farm in Wisconsin and took art lessons from a very young age. Encouraged by her teachers, she graduated high school with the goal of becoming an artist. She attended the Art Institute of Chicago for one year and studied at the Art Students League in New York City, where the dominant emphasis was on realism, an artistic method representing people, places, and things as true to their appearance. In 1908, her last year with the League, she won the William Merritt Chase still life prize for her painting Untitled (Dead Rabbit with Copper Pot). She then quit painting for four years, claiming later that it was due to her frustration with the tradition she was working in.
In 1912, at a summer course for art teachers at the University of Virginia, she discovered the theories of artist Arthur Wesley Dow, as taught by his colleague Alon Bement. Dow's belief—that the artist's goal was to express his/her own thoughts and feelings—provided O'Keeffe with an alternative to the type of realism she had been trained in. Inspired, she began painting again.
While working as an art teacher in South Carolina in 1915, O'Keeffe began a series of abstract charcoal paintings that were to launch her artistic career, including one of her most famous, Drawing XIII, 1915. She mailed them to a former classmate in New York, who brought them to Alfred Stieglitz, a celebrated photographer and owner of the well known gallery "291." Stieglitz exhibited O'Keeffe's work and within a year he had opened a one-person show for her. In 1918, with financial assistance from Stieglitz, she moved to New York; they fell in love shortly after, and married in 1924. Until 1929, they lived both in New York City and in Stieglitz's family home in Lake George, New York. In 1929, O'Keeffe began spending her summers in New Mexico, the place that would ultimately become her permanent residence and influence much of her art.
During their marriage, the well-connected Stieglitz promoted O'Keeffe's work, particularly the close-ups of flowers that she began producing in the mid 1920s. She had numerous one-woman gallery exhibitions, and her first retrospective, Paintings by Georgia O'Keeffe, opened at the Brooklyn Museum in 1927. O'Keeffe also inspired Stieglitz, and he produced several series of photographs of her, many of them nudes, and exhibited them widely. He died in 1946, and three years later O'Keeffe moved to New Mexico, drawn by its vibrant colors and the unique landscape formations, which she notoriously captured in her work. When questioned about her subject matter, O'Keeffe often said that "God promised me that I could have that mountain if I painted it often enough" (Scott, Following in the Footsteps, 20).
She was awarded the Medal of Freedom in 1977, as well as the National Medal of Arts in 1985. Although her poor eyesight forced her to stop painting in the 1970s, she continued to work in pencil, watercolor, and clay until her health worsened in 1984. She died in 1986, at the age of ninety-eight. Since the 1920s her work has become more popular, due, in part, to the feminist movement and its reclamation and rediscovery of women's history. In talking about her work, O'Keeffe said, "The men liked to put me down as the best woman painter. I think I'm one of the best painters" (Chadwick, Women, Art, and Society, 303). The Georgia O'Keeffe Museum, the first museum in the United States dedicated to a single female artist, opened in 1997 in Santa Fe, New Mexico. It houses 1,149 of her works.
Georgia O'Keeffe at The Dinner Party
Georgia O'Keeffe's is the last place setting at The Dinner Party. Her plate has the most height, signifying her artistic liberation and her success as a female artist. The imagery on O'Keeffe's plate incorporates the forms she used in her own flower paintings, such as Black Iris, 1926, with the central core (or vulvar imagery) used throughout The Dinner Party. Chicago pays tribute to both O'Keeffe's originality and the imagery in her paintings. She also acknowledges the influence O'Keefe had on later feminist artists, claiming her work as "pivotal in the development of an authentically female iconography" (Chicago, The Dinner Party, 155).
On the runner are airbrushed colors corresponding to the plate's color palette; Chicago chose these colors to represent fine art painting, and O'Keeffe's participation in that tradition. A piece of raw Belgian linen, which is used for art canvases, is attached to cherry wood stretcher bars.
On the front of the runner, the first initial of Georgia O'Keeffe's name is done in the style of her famous skull paintings, which were influenced by the American West. The embroidered letter "G" appears as an antler form, like those found in her paintings From the Faraway Nearby, 1937, and Ram's Head, White Hollyhock-Hills, 1935.
Primary Sources
Some Memories of Drawings. New York: Atlantis Editions, 1974.
Georgia O'Keeffe. New York: Viking, 1976.
Catalogue Introduction to Georgia O'Keeffe, A Portrait by Alfred Stieglitz. New York: The Metropolitan Museum of Art, 1978.
Translations, Editions, and Secondary Sources
Arrowsmith, Alexandra, and Thomas West, eds. Two Lives: Georgia O'Keeffe & Alfred Stieglitz: A Conversation in Paintings and Photographs. New York: HarperCollins and Callaway Editions, 1992.
Callaway, Nicholas, and Doris Bry, eds. Georgia O'Keeffe, In the West. New York: Alfred A. Knopf, in association with Nicholas Callaway, 1989.
Chadwick, Whitney. Women, Art, and Society. London: Thames and Hudson, 2003.
Drohojowska-Philp, Hunter. Full Bloom: The Art and Life of Georgia O'Keeffe. New York: W. W. Norton, 2004.
Goodrich, Lloyd. Georgia O'Keeffe: Drawings. New York: Atlantis Editions, 1968.
Lynes, Barbara Buhler. O'Keeffe, Stieglitz and the Critics, 1916–29. 1989; revised ed., Chicago: University of Chicago Press, 1991.
—-. Georgia O'Keeffe, Catalogue Raisonné. 2 vols. New Haven: Yale University Press; Washington, D.C.: National Gallery of Art; and Abiquiu, N.M.: The Georgia O'Keeffe Foundation, 1999.
Lynes, Barbara Buhler, Lesley Poling-Kempes, and Frederick W. Turner. Georgia O'Keeffe and New Mexico: A Sense of Place. Princeton: Princeton University Press, 2004.
Peters, Sarah Whitaker. Becoming O'Keeffe: The Early Years. 1991; 2nd ed., New York and London: Abbeville, 2001.
Robinson, Roxana. Georgia O'Keeffe: A Life. New York: Harper, 1989.
Scott, Nancy. "Following in the Footsteps: The Georgia O'Keeffe Trail." Art New England 22, no. 6 (October/November 2001).
Souter, Janet. Georgia O'Keeffe. New York: Parkstone, 2005.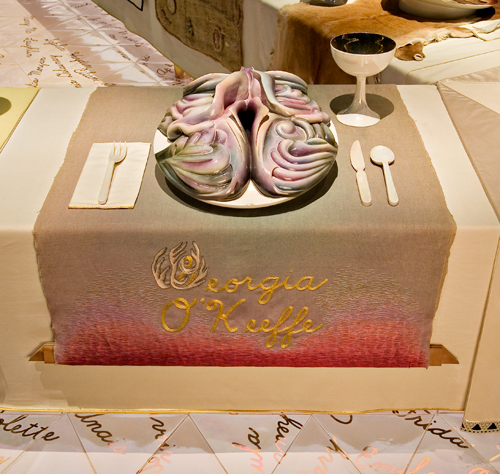 Related Heritage Floor Entries
Web Resources
Georgia O'Keeffe Museum in Santa Fe, New Mexico
PBS American Masters Series: Georgia O'Keeffe
National Women's Hall of Fame: Georgia O'Keeffe
National Gallery of Art : Inside Scoop on Georgia O'Keeffe