Hrosvitha
(b. circa 935, possibly Lower Saxony, Germany; d. circa 1000, Gandersheim, Germany)
Hrosvitha is the earliest-known woman poet in Germany, and some scholars even consider her the first dramatist, or playwright, since ancient times. The various spellings of her name include Hroswitha, Hrosvit, Hroswitha, and Roswitha, but recent research indicates the spelling she used was Hrotsvit, derived from the Saxon words that translated to Clamor Validus in Latin ("Forceful Testimony" in English), a reference to her authorship of stories about Christianity and its saints. During her lifetime, Hrosvitha divided her own works into three manuscripts: Book of Legends, Book of Drama, and Epics (dates uncertain). The legends and plays still exist, but the two works included in Epics are lost.
Very few details are known about Hrosvitha's life and those that are known are often disputed. We do know that she was a nun, or canoness, at the Benedictine monastery of Gandersheim in Saxony (modern-day Germany). Gandersheim was founded in 852 as a monastery for the nobility, and so it is assumed that Hrosvitha was of noble Saxon birth. In the introduction to her works, Hrosvitha identified Princess Gerberga II, the Abbess, or superior nun at Gandersheim, as one of her teachers. She probably entered the monastery at a relatively young age although some scholars believe she spent a good portion of her childhood at the Ottonian court, based on similarities between her work and the work of writers who frequented the Ottonian court during the early part of her lifetime.
Most of Hrosvitha's writings recount the lives of martyrs, praising those who lead ascetic lives, forgoing sumptuous meals, material possessions, and sexual pleasure in the pursuit of spiritual goals. The lost Epics comprised a history on the life of Otto I, the King of the Germans and Holy Roman Emperor who lived from 912 to 973, and a history of Gandersheim Abbey as it existed between the years of 846 and 919. Hrosvitha's works are impressive in their expository scope, referencing the works of Virgil, Ovid, and other ancient poets. A woman ahead of her time, Hrosvitha's last work was completed in 973, and not until two hundred years after her death was medieval drama again composed.
Hrosvitha at The Dinner Party
Hrosvitha's place setting, particularly her runner, recounts her life through imagery from medieval German abbeys. Her plate portrays a stylized version of a nun's cap and hands clasped in prayer, in a relief that references ivory carvings of the Ottonian dynasty (early 900s–1024). This allusion to Ottonian society situates Hrosvitha's religious life within Germany's social and political system.
The runner pays tribute to her contribution to literature as a poet and playwright. It was stitched in opus teutonicum techniques, the dominant style of needlework during her time. The roundels on the front of the runner mimic the coins frequently made by German abbesses, who had considerable power in society and counted the right of coinage among their many privileges. The four roundels portray scenes of early German history and folklore, including a scene from the household of a noble medieval family; a female servant telling Germanic tales to the lord and lady's daughter; a princess from the warring Germanic Cimbrian tribe of the second century B.C.E. with the head of an enemy soldier; and a Valkyrie, one of the minor female deities descended from Germanic mythology, who were in charge of finding the most heroic warriors to fight alongside the chief god, Odin, in the battle at the end of the world. These roundels both illustrate the roles women undertook and the activities they engaged in; they also recount tales of courageous mythical women, who are depicted in the third and fourth scenes.
On the back of the runner are three embroidered scenes from Hrosvitha's life that also illustrate the activities of medieval nuns. In the first, she is entering the abbey where two nuns are singing and playing music, demonstrating the types of education women received there. In the second panel, Hrosvitha is writing while her abbess looks on. In the third, she is asleep at her writing table, dreaming of a visit from a royal messenger, who would present her with a relic in recognition of her literary work.
On the front of the runner, the illuminated letter "H" pays tribute to Hrosvitha's work as a writer; an embroidered portrait depicts her holding a quill, engaged in the act of composition.
Primary Sources
The Codex Bayerische Staatsbibliothek, Manuscript of Hrothsvita's writings: eight metrical legends of the saints, six plays, and two historical epics.Clm 14485. Archived at the Bayerische Staatsbibliothek, Munich, Germany.
Translations, Editions, and Secondary Sources
Brown, Phyllis R., Linda A. McMillin, and Katharina M. Wilson, eds. Hrotsvit of Gandersheim: Contexts, Identities, Affinities, and Performances. Toronto: University of Toronto Press, 2004.
Butler, Mary Marguerite. Hrotsvitha: The Theatricality of her Plays. New York: Philosophical Library, 1960.
Haight, Anne Lyon, ed. Hroswitha of Gandersheim: Her Life, Times, and Works, and a Comprehensive Bibliography. New York: The Hroswitha Club, 1965.
Wailes, Stephen L. Spirituality and Politics in the Works of Hrotsvit of Gandersheim. Selinsgrove, Penn.: Susquehanna University Press, 2006.
Wilson, Katharina. Hrotsvit of Gandersheim: A Florilegium of her Works. Rochester, N.Y.: Brewer, 1998.
——, ed. Hrotsvit of Gandersheim: Rara Avis in Saxonia? Ann Arbor: Medieval and Renaissance Collegium, 1987; reprint ed., Rochester, N.Y.: Brewer, 1998.
——, trans. The Plays of Hrotsvit of Gandersheim. New York: Garland, 1989.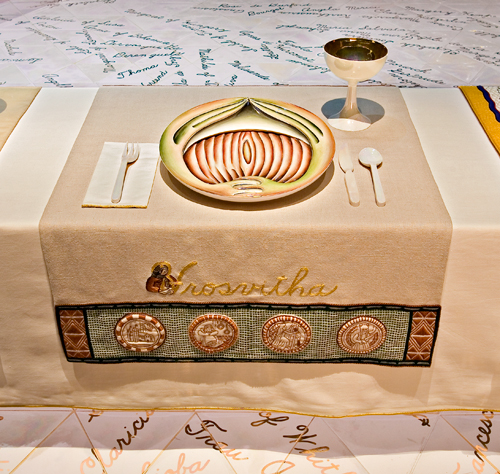 Related Heritage Floor Entries