Isabella d'Este
(b. 1474, Ferrara, Italy; d.1539, Romagna, Italy)
Isabella d'Este (Gonzaga) was a powerful and well-educated political figure, humanitarian, patron of the arts, and mother of seven. Known as "The First Lady of the Renaissance," she was related to nearly every ruler in Italy either by birth or marriage.
D'Este was the oldest of six children born into the ruling family in Ferrara, Italy. Her parents believed in schooling their daughters equally to their sons, and she received an education not frequently afforded women. At sixteen, she could speak and translate Greek and Latin and had a variety of musical talents, including singing, dancing, and playing the lute. She could also engage in intellectual debates with ambassadors.
In 1490, d'Este married Francesco Gonzaga, the fourth marquis of Mantua, and thus became the marchioness. When he was captured as a prisoner of war in 1509, d'Este became the acting regent of Mantua. She secured the loyalty of her people and was able to successfully control the military, eventually negotiating the release of the ailing Gonzaga. D'Este was known for a non-confrontational approach to foreign policy. She kept the support of her people by defending Mantua against French attacks in 1527 and offering aid and comfort to refugees. Gonzaga was often jealous of d'Este's popularity, and due to this conflict, d'Este traveled to Rome to spend time in the court of Pope Leo X, where she met and became a patron of many artists.
In 1519, Gonzaga died and their son Federigo II officially became marquis of Mantua. At age nineteen he was too young to rule, and d'Este acted as regent. Soon after he took power, he was persuaded by popular support to request that his mother return as head of Mantua. With her authority, she positioned Mantua as a duchy, or sovereign territory, which advanced her son's title to that of duke.
D'Este was a great patron of the arts, supporting painters such as Mantegna, Titian, and da Vinci, all of whom she commissioned to paint her portrait. She transformed Mantua into a cultural center by converting the ducal apartments into a museum. She invited writers, artists, and poets to her home to exchange ideas and corresponded frequently with a variety of prominent figures, letters that now provide us with a rare woman's point of view on Renaissance Italy. During her time as ruler, d'Este also funded an ongoing school for girls.
In 1529, as the result of an exchange of property during her husband's life, d'Este became the official ruler of Solarolo, a small region of Romagna that she ruled as a city-state. There, she oversaw an active government until her death in 1539.
Isabella d'Este at The Dinner Party
Isabella d'Este's place setting employs motifs and techniques that reference both her role as a ruler and the Renaissance art and decoration she supported during her lifetime.
The plate, painted in gold, white, and royal blue, is characteristic in its color palette and motifs of the popular Urbino majolica ceramicware, created in factories that d'Este supported. The gold sections of the plate are raised, providing the structural framework for the design. The plate highlights Renaissance artistic innovations, including the use of perspective, horizon lines, and vanishing points. These techniques, popular in antiquity, were revived in the Renaissance and were used to create three-dimensional and realistic works. These artistic ideals are represented by the colonnade in the center of the plate, which has a vanishing point that makes it appear to recede into space.
The runner is designed like a royal banner, complete with tassels, shields, and fleur-de-lys, patterns reserved for the ruling classes. The insignia on the back of the runner was derived from the d'Este crest. The tassels reference the similarly ornamented gowns shown in many Renaissance portraits.
Primary Sources
Letters of Isabella d'Este. 12,000 letters. Archived at the Archivio di Stato di Mantova, Mantova, Italy.
Translations, Editions, and Secondary Sources
Brown, Clifford M. Isabella d'Este in the Ducal Palace in Mantua: An Overview of Her Rooms in the Castello di San Giorgio and the Corte Vecchia. Rome: Bulzoni, 2005.
Brown, Clifford M., with Anna Maria Lorenzoni. Isabella d'Este and Lorenzo da Pavia: Documents for the History of Art and Culture in Renaissance Mantua. Genève: Librairie Droz, 1982.
Campbell, Stephen. The Cabinet of Eros: Renaissance Mythological Painting and the Studiolo of Isabella d'Este. New Haven: Yale University Press, 2004.
Chambers, David S. Patrons and Artists in the Italian Renaissance. London: Macmillan, 1970.
Couchman, Jane, and Ann Crabb, eds. Women's Letters Across Europe, 1400–1700: Form and Persuasion. Aldershot, UK and Burlington, Vt.: Ashgate, 2005.
Looney, Dennis, and Deanna Shemek. Phaethon's Children: The Este Court and its Culture in Early Modern Italy. Tempe, Ariz.: Medieval and Renaissance Texts and Studies, 2005.
Marek, George R. The Bed and the Throne: The Life of Isabella d'Este. New York: Harper & Row, 1976.
Meyer, Edith Patterson. First Lady of the Renaissance: A Biography of Isabella d'Este. Boston: Little, Brown, 1970.
Shemek, Deanna. Ladies Errant: Wayward Women and Social Order in Early Modern Italy. Durham, N.C.: Duke University Press, 1998.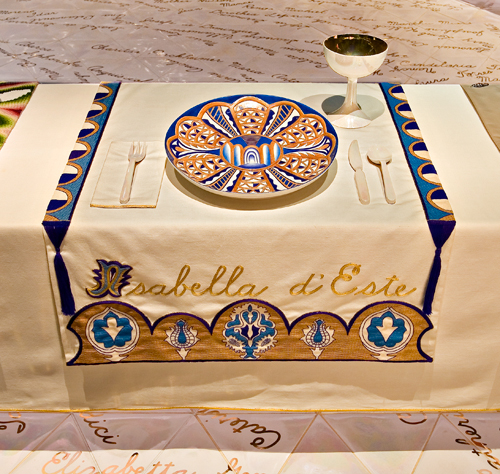 Related Heritage Floor Entries
Web Resources
Universal Leonardo: Leonardo da Vinci online—Portrait drawing of Isabella d'Este