Margaret Sanger
(b. 1879, Corning, New York; d. 1966, Tucson, Arizona)
Margaret Sanger was an activist who pioneered the fight for American reproductive freedom in the early 20th century.
She was born Margaret Louise Higgins, in Corning, New York, to a large Catholic working-class family. One of eleven children, Sanger was profoundly affected by her mother's death from cervical cancer and tuberculosis in 1899. In addition to eleven live births, Sanger's mother experienced seven additional pregnancies, which Sanger believed were the cause of her mother's ill health.
Prior to her mother's death, Sanger attended nursing school but did not graduate. In 1910, she married architect William Sanger and the two moved to New York City with their children. There they became involved with a circle of New York intellectuals and liberals, including socialist writer, Max Eastman; writer and activist, Upton Sinclair; patron of the arts, Mable Dodge; and feminist, Emma Goldman. During this time she became an activist for women's labor unions, participating in strikes aimed at bettering women's working conditions in factories.
Soon after her separation from William Sanger in 1913, she move to New York City and began working in poverty-stricken neighborhoods, where she learned that the majority of women were not afforded access to education about their reproductive systems. With the help of Emma Goldman, renowned anarchist and activist, Sanger began to see reproductive freedom as a class issue and sought to educate working-class women about these topics.
In 1912, she began writing the column "What Every Girl Should Know" in the New York Call. The government immediately censored the column in 1913 because of an article about syphilis. In 1914, Sanger began publishing her own paper called The Woman Rebel where she first coined the term "birth control." The Woman Rebel was a radical feminist monthly, which encouraged women to think freely and take control of their lives, and advocated birth control and disease prevention. The first issue was censored by the U.S. Postal Service, and Sanger was charged with nine counts of breaking obscenity law. She fled to Europe to escape prosecution, returning to the U.S. in 1915.
Upon her return, Sanger became involved in court battles to challenge New York's Comstock laws, which banned the dissemination of information about contraception to women. She won the right to open the first birth control clinic in Brooklyn in 1916. There, nurses distributed her famous pamphlet "What Every Girl Should Know," which covered such topics as puberty, sexual diseases, and pregnancy, in a variety of languages including Yiddish and Italian.
Later that same year, Sanger founded the American Birth Control League, which eventually evolved into the Planned Parenthood Federation of America. She became president of the International Planned Parenthood Federation and held this position until 1959. Sanger remained active in the reproductive rights movement, working on the development of the birth control pill and the legalization of birth control up until her death in 1966.
Margaret Sanger at The Dinner Party
Margaret Sanger's plate at The Dinner Party is painted with bright red glazes that evoke the female reproductive organs and the blood that is involved in the reproductive process, as well as the battle for reproductive freedom. This red hue serves as a reminder of the bloodshed of many women who died during childbirth or as a result of illegal and unsafe abortions. It also signifies the struggle of early reproductive rights activists, who risked arrest and jail time for their participation in the movement.
Chicago purposefully added a sculptural third dimension to plates on the last wing of the table to represent those women who became more active in their struggles to escape the confines of womanhood. The bodily form on Sanger's plate lifts up and reaches around the plate's edges, a symbol of "Sanger's efforts to lift up her sex" (Chicago, The Dinner Party, 93). The delicate sections of the form were made in a series of ceramic casts and connected with slip to the white plate underneath.
The runner for Sanger's place setting was created with pink satin and embroidered with tones of pale pink, reds, and purples to correspond with the intense colors of the plate. The form of the runner was fashioned to suggest a butterfly, a symbol of personal freedom achieved not only by Sanger, but by all women who benefited from her fight for reproductive choice (Chicago, The Dinner Party,142).
Stitched into the runner is imagery from medical drawings of the female reproductive system, which mirror the depth and texture of the plate. The artists used a long-and-short stitch to create the "illusion that the forms swelled and tapered, overlapped, and moved from shadow into light" (Chicago, Embroidering Our Heritage, 246).
On the front of the runner, stitched in silk within the illuminated letter "M," is a fettered mother and baby inspired by a quote from Sanger that reproductive freedom would free women from "motherhood in chains" (Chicago, The Dinner Party, 142).
Primary Sources
What Every Mother Should Know: Or How Six Little Children Were Taught the Truth. New York: The Rabelais Press, 1914.
The Case for Birth Control: A Supplementary Brief and Statement of the Facts. New York: Modern Art Printing Company, 1917.
What Every Girl Should Know. New York: Maisel, 1920.
Woman and the New Race. New York: Brentano's, 1920.
Appeals from American Mothers. New York: New York Women's Publishing Co., 1921.
Sayings of Others on Birth Control. New York: New York Women's Publishing Co., 1921.
Pivot of Civilization. New York: Brentano's, 1922.
Happiness in Marriage. New York: Brentano's, 1926.
Motherhood in Bondage. New York: Brentano's, 1928.
My Fight for Birth Control. New York: Farrar & Rinehart, 1931.
Autobiography. New York: W. W. Norton, 1938.
Translations, Editions, and Secondary Sources
Chesler, Ellen. Woman of Valor: Margaret Sanger and the Birth Control Movement in America. New York: Simon and Schuster, 1992.
Douglas, Emily Taft. Margaret Sanger: Pioneer of the Future. New York: Holt, Rinehart and Winston, 1970.
Gordon, Linda. The Moral Property of Women: A History of Birth Control Politics in America. Champaign, Ill.: University of Illinois Press, 2002.
Katz, Esther, ed., with Cathy Moran Hajo, and Peter C. Engelman. The Selected Papers of Margaret Sanger: Volume I, The Woman Rebel, 1900–1928: Volume II, Birth Control Comes of Age, 1928–1939. Champaign, Ill.: University of Illinois Press, 2002.
Kennedy, David. Birth Control in America: The Career of Margaret Sanger. New Haven: Yale University Press, 1970.
Lader, Lawrence. The Margaret Sanger Story and the Fight for Birth Control. Garden City, N.J.: Doubleday, 1953.
McCann, Carole R. Birth Control Politics in the United States, 1916–1945. Ithaca: Cornell University Press, 1994.
McLaren, Angus. A History of Contraception: From Antiquity to the Present Day. Oxford: Blackwell, 1990.
Reed, James. The Birth Control Movement and American Society: From Private Vice to Public Virtue. Princeton: Princeton University Press, 1978.
Reed, Miriam. Margaret Sanger: Her Life in Her Words. Fort Lee, N.J.: Barricade Books, 2003.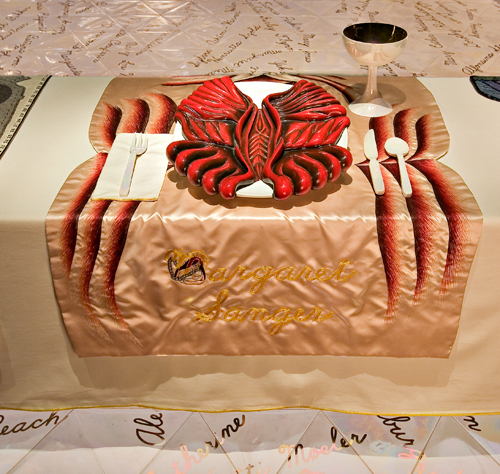 Related Heritage Floor Entries
Web Resources
New York University : The Margaret Sanger Papers Project
Sophia Smith Collection, Smith College: Electronic Finding Aid for the Margaret Sanger Papers, 1761–1995
Margaret Sanger Center International : the International Arm of Planned Parenthood of New York City