Sojourner Truth
(b. 1797, Ulster County, New York; d. 1883, Battle Creek, Michigan)
Sojourner Truth, born Isabella Baumfree, was recognized as one of the first people to identify the similarities between the struggles of black slaves and the struggles of women. As an abolitionist and suffragist, she was a powerful force in the fight for justice and equality for both African Americans and women in the United States.
Born into slavery, she was sold away from her family at age eleven and became the property of John Dumont in Ulster County, New York. As a young teenager, she was forced to marry an older slave, Thomas, from a neighboring farm, with whom she had five children. In 1826, Dumont promised her freedom. When he reneged, she took her youngest child and ran away to live with a Quaker family in New Paltz, New York. In 1827, using the newly passed emancipation law in New York State, Baumfree sued for and won her oldest son's freedom, bringing him back to New York from Alabama.
In 1829, she and her family moved to New York City. She became a Christian and worked in a Methodist perfectionist commune where she formed the basis of her beliefs in the equality of all human beings. She spent years working in several religious communities, including a utopian community in Northampton, Massachusetts, called "The Northampton Association for Education and Industry," where she met abolitionists such as Frederick Douglass. During this time, she believed she was called by God to spend her life fighting for the rights of others. In 1843, the reborn activist changed her name to Sojourner Truth, which she created by combining the words "sojourn," representing her plan to travel, and "truth," because she intended to preach the truth of God.
She became dedicated to fighting for the rights of the disenfranchised, connecting first with the abolitionist movement. After the Civil War, she worked in Washington, counseling black soldiers and teaching female slaves domestic skills. She advocated for a "Negro State" and sought jobs for African Americans left homeless and jobless from the war. Her work received much acclaim. She was written about by Harriet Beecher Stowe in numerous publications, including an 1863 essay "Sojourner Truth, The Libyan Sibyl." In 1864, she was invited to meet Abraham Lincoln to challenge the segregation of streetcars.
Truth had never learned to read or write, but with the help of a good friend and neighbor, she published the landmark book Narrative of Sojourner Truth in 1851, in which she recounts her life as a slave as well as her transformation into an activist. At this time, the now-famous abolitionist attended a rally for women's suffrage in Akron, Ohio, organized by Elizabeth Cady Stanton. Frederick Douglass had organized African American support for the rally, and Sojourner Truth traveled there as his guest. At this rally, Truth delivered what would later become one of her most famous speeches, "Ain't I a Woman." Responding to the numerous male speakers who declared that women were weak and required special treatment, a position that established women's inferiority to men and justified denying them the right to vote, Sojourner Truth stood and began with the following words:
That man over there says that women need to be helped into carriages, and lifted over ditches, and to have the best place everywhere. Nobody ever helps me into carriages, or over mud-puddles, or gives me any best place! And ain't I a woman? Look at me! Look at my arm! I have ploughed and planted, and gathered into barns, and no man could head me! And ain't I a woman? I could work as much and eat as much as a man—when I could get it—and bear the lash as well! And ain't I a woman?
Sojourner Truth at The Dinner Party
Sojourner Truth's place setting combines references to her African heritage as well as her prominent roots in American history. In this runner, Chicago connects the African origins of quilting with its history in the United States. The edging of the runner is an African strip-weave technique, traditionally used by slaves, combined with a piece-working technique imported to the United States by European women. This combination represents the "merging of these two traditions in the development of American quilts" (Chicago, Embroidering Our Heritage, 220).
Sojourner Truth's plate is one of the few whose imagery is not directly rooted in vulvar (or central core) imagery often seen in place settings of The Dinner Party. The plate instead shows three faces, one turned to the left, one facing straight ahead, and one turned to the right. The faces, which evoke African masks, share a single female body, suggested by the rounded breasts. The breast forms also reference a story in which a male member of the church congregation where Truth was speaking requested that her body be examined, not believing that a woman could be so powerful.
The face on the left, with a single tear running down her cheek, weeps for the suffering of her fellow slaves. The highly stylized face on the right, in an open-mouthed expression of outrage, represents the anger of black women in their enslavement. The central face, a mask decorated with black-and-white patterns of triangles, suggests the extent to which both black and white women were required to conceal their true selves. Finally, the raised fist on the far right of the plate commemorates Sojourner Truth's speech and powerful gesture at the Women's Rights Convention in 1851 (Chicago, The Dinner Party, 87–8).
Primary Sources
Gage, Frances Dana. "Ain't I a Woman?" The New York Independent (April 23, 1863) and The Anti-Slavery Standard (May 2, 1863).
Olive, Gilbert, ed. Narrative of Sojourner Truth: A Bondswoman of Olden Time, with a History of Her Labors and Correspondence Drawn from Her "Book of Life." Boston: independently published, 1875 and Battle Creek, Mich.: independently published, 1878.
Robinson, Marcus. "A Speech by Sojourner Truth at the Women's Rights Convention in Akron, Ohio." The Anti-Slavery Bugle (June 21, 1851).
Stowe, Harriet Beecher. "Sojourner Truth, The Libyan Sibyl." The Atlantic Monthly, Vol. XI (April, 1863).
Translations, Editions, and Secondary Sources
Bernard, Jacqueline. Journey Towards Freedom: The Story of Sojourner Truth.New York: The Feminist Press at the City University of New York, 1990.
Fitch, Suzanne Pullon, and Roseann M. Mandziuk. Sojourner Truth as Orator: Wit, Story, and Song. Westport, Conn.: Greenwood Press, 1997.
Jackson-Opoku, Sandra. In the Footsteps of Sojourner Truth. Arlington, VA: Liberty Media for Women, 2004.
Mabee, Carleton, and Susan Mabee Newhouse. Sojourner Truth, Slave, Prophet, Legend. New York: New York University Press, 1995.
Olive, Gilbert, ed. Narrative of Sojourner Truth: A Bondswoman of Olden Time, with a History of Her Labors and Correspondence Drawn from Her "Book of Life".New York: Oxford University Press, 1991.
—-.Narrative of Sojourner Truth: A Bondswoman of Olden Time, with a History of Her Labors and Correspondence Drawn from Her "Book of Life"; Also, a Memorial Chapter. Edited with an introduction and notes by Nell Irvin Painter. New York: Penguin Books, 1998.
Painter, Nell Irvin. Sojourner Truth: A Life, a Symbol. New York: W. W. Norton, 1996.
Stetson, Erlene, and Linda David. Glorying in Tribulation: The Lifework of Sojourner Truth. East Lansing: Michigan State University Press, 1994.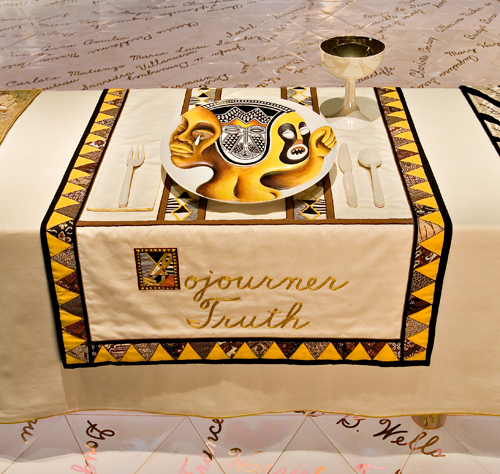 Related Heritage Floor Entries
Web Resources
The Sojourner Truth Institute of Battle Creek
C-SPAN American Writers : Teacher Resources—Sojourner Truth