Virginia Woolf
(b. 1882, London, England; d. 1941, Sussex, England)
Virginia Woolf is a renowned British novelist associated with the modernist movement in literature; her writing is characterized by experiments in language, narrative, and the treatment of time. Woolf is often considered one of the most innovative writers of the 20th century, best known for fractured narratives and writing in a stream-of-consciousness prose style, in which characters are depicted through their interior monologue; her books were sometimes called psychological novels. In her work, she also discusses the issues and prejudices surrounding women's writing in the Western world.
Born Adeline Virginia Stephen, Woolf was the daughter of Leslie Stephen, a literary critic and editor, and Julia Jackson Duckworth of the Duckworth publishing family. She was educated by her father at their home at Hyde Park Gate. Her mother passed away in 1895, while Woolf was still in her teens, and the death of her father in 1904, led Woolf into a much-documented bout of depression. Following her father's death, Woolf moved to Bloomsbury with her sister Vanessa and her two brothers. The house was integral to Woolf's burgeoning literary career as it served as the earliest meeting place for the circle of artists and writers she would join, known as the Bloomsbury group, which included Woolf's sister Vanessa (Stephen) Bell, Clive Bell, Maynard Keynes, Vita Sackville-West, and Leonard Woolf.
Woolf began writing reviews for the Times Literary Supplement in 1905. Her brother Thoby died in 1906, and in 1912, Woolf married Leonard Woolf, a literary critic and writer on economics. In 1915, she published her first novel, The Voyage Out. Woolf had worked on The Voyage Out since 1908 and had completed it in 1913, but as the result of another emotional breakdown in the early years of her marriage, publication of the novel was delayed until 1915. Two novels followed—the relatively traditional Night and Day, 1919, and the more experimental Jacob's Room, 1922, a fictional treatment of her late brother Thoby's life.
It was not until 1925, with the publication of Mrs. Dalloway, that Woolf's writing began to reveal what would become her signature modernist style. The interconnected narrative of Mrs. Dalloway, originally titled The Hours, weaves the everyday lives and interior thoughts of her characters together. Through her new literary technique, Woolf hoped to express her own experiences as a woman and a female writer in a way that was different from the male writers before her. In her later works To the Lighthouse, 1927, and The Waves, 1931, Woolf developed her literary technique, and the resulting stream-of-consciousness narrative style offers her reader unprecedented access to her characters' minds; her characters' thoughts are written as if at the moment of occurrence—free-flowing and unedited.
In 1922, Woolf began a long-standing affair with English poet Vita Sackville-West, which reportedly lasted for most of the 1920s. Her book Orlando,1928, was illustrated with images of Sackville-West as the protagonist. The reasons for the end of the affair are unknown, but the women remained friends for the remainder of Woolf's life. Though this is thought to be Woolf's first and most devoted lesbian relationship, it is believed she was romantically involved with other women during her lifetime including musician Ethel Smyth, who also has a place setting at The Dinner Party.
Perhaps Woolf's best-known non-fiction work, A Room of One's Own, 1929, developed out of two lectures she delivered at woman's colleges at Cambridge; in these lectures Woolf delves into the history of women's writing in both social and economic terms and the circumstances faced by the contemporary woman writer. In it she famously wrote: "a woman must have money and a room of her own if she is to write fiction; and that, as you will see, leaves the great problem of the true nature of woman and the true nature of fiction unsolved" (Woolf, A Room of One's Own, 1).
Though Woolf continued to live in Bloomsbury during the 1930s, the Bloomsbury group stopped meeting and she spent much of the decade working on two novels, The Years, 1937, and Three Guineas, 1938. She worried about the public reception of these novels, but The Years outsold any of her previous works. At the end of the decade, she also wrote her autobiography, A Sketch of the Past,1939–40, and began her final novel, Between the Acts, 1941, which was published posthumously by her husband. On March 28, 1941, at the age of fifty-nine, Woolf drowned herself in the Ouse River, near her home in Sussex. Two suicide notes were found in the house, one addressed to her sister Vanessa and the other to her husband Leonard.
Now one of the most revered icons of twentieth-century feminism, Woolf has been celebrated not only for her fiction and non-fiction works but also in popular culture. Her introduction of new narrative methods and her encouragement of women's writing have resulted in a wealth of still-treasured literature that continues to inspire generations of readers, writers, and scholars.
Virginia Woolf at The Dinner Party
The three-dimensionality of Virginia Woolf's plate, which Judy Chicago likens to a blooming flower, is meant to symbolize Woolf's advocacy for unrestricted expression. The imagery used in Woolf's plate, which includes seed forms in its center, harkens back to the powerful fertility imagery of the goddess plates at The Dinner Party, referencing, in this case, creative fecundity. Chicago intends the flower form to serve as a metaphor for the fruitfulness of Woolf's creative genius. The center seems to burst out from the petals, referencing Woolf as a woman who urged other women to break free from the confines of pre-existing, predominantly masculine literature and instead to write in a style reflective of themselves (Chicago, The Dinner Party, 151).
A stitched and painted light beam glows from beneath the plate, iconography from her book To the Lighthouse. It symbolizes the radiance of Woolf's literary legacy, as she "illuminated a path toward a new, woman-formed literary language" (Chicago, The Dinner Party, 151).
The delicate chiffon fabric of the runner can be interpreted as a reference to Woolf's now legendary mental fragility. On the front of the runner, her death by drowning is suggested by the wave pattern embroidered around the illuminated letter "V" in her name, a motif which also references her book The Waves.
Primary Sources
Novels and Other Fiction
The Voyage Out (1915)
Night and Day (1919)
Monday or Tuesday (1921)
Jacob's Room (1922)
Mrs. Dalloway (1925)
To the Lighthouse (1927)
The Waves (1931)
The Years (1937)
Between the Acts (1941)
Nonfiction and Essays
The Common Reader: First Series (1925)
Orlando: a Biography (1928)
A Room of One's Own (1929)
On Being Ill (1930)
The Common Reader: Second Series (1932)
Flush: a Biography (1933)
Three Guineas (1938)
Roger Fry: a Biography (1940)
The Death of the Moth and Other Essays (1942)
The Moment and Other Essays (posthumous; 1947)
The Captain's Death Bed and Other Essays (posthumous; 1950)
Translations, Editions, and Secondary Sources
Bell, Anne Olivier, ed. The Diary of Virginia Woolf. 5 vols. New York: Harcourt, 1977–84.
Bell, Quentin. Virginia Woolf: A Biography. London: Pimlico, 1996.
Black, Naomi. Virginia Woolf as Feminist. Ithaca: Cornell University Press, 2004.
Gordon, Lyndall. Virginia Woolf: A Writer's Life.New York: W. W. Norton, 1984.
King, James. Virginia Woolf. New York: W. W. Norton, 1995.
Kirkpatrick, B. J., and Stuart N. Clarke. A Bibliography of Virginia Woolf. Oxford and New York: Clarendon Press, 1997.
Leaska, Mitchell. Granite and Rainbow: The Life of Virginia Woolf. New York: Farrar, Straus & Giroux, 1998.
Lee, Hermione. Virginia Woolf. New York: Alfred A. Knopf, 1997.
Nicholson, Nigel, and Joanne Trautmann, eds. The Letters of Virginia Woolf. 6 vols. New York: Harcourt, 1975–1980.
Reid, Panthea. Art and Affection: A Life of Virginia Woolf. New York: Oxford University Press, 1996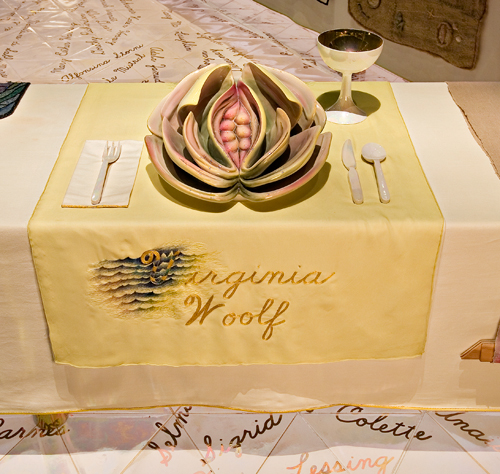 Related Heritage Floor Entries
Web Resources
The New York Public Library : Berg Collection
The International Virginia Woolf Society
Victoria University, E.J. Pratt Library : Woolf / Hogarth Press / Bloomsbury Collection