Alessandra Exposito
Queens, New York
U.S.A.
Alessandra Exposito was born in Buffalo, New York, and lives and works in Queens, New York. She received her M.F.A. from Mason Gross School of the Arts at Rutgers University in 1998. Her work has been reviewed in The New York Times, Time Out and The Village Voice. She has shown her work in numerous group exhibitions in venues including Ambrosino Gallery (Miami, FL), the Academy of Arts and Letters (NY, NY), Schroeder Romero Gallery (NY, NY), the Nathan Cummings Foundation (NY, NY), Ronald Feldman Fine Art (NY, NY) and Art in General (NY, NY). Museum exhibitions include " 21c Museum" (International Contemporary Art Foundation) in Louisville Kentucky, "Open House, Working in Brooklyn," at the Brooklyn Museum of Art, "Miniatures" at the Jersey City Museum, and "El Museo's Biennial" at El Museo del Barrio, New York.
She has been the recipient of a Marie Walsh Sharpe Studio and a MacDowell Colony residence. In 2005, she received the Richard and Hinda Rosenthal Foundation Award and a Purchase Award from the American Academy of Arts and Letters. In 2007, she received a New York Foundation for the Arts fellowship in Sculpture. She is represented by Mixed Greens Gallery in New York.
Feminist Artist Statement
I make both paintings and sculpture. My imagery is rooted in the contemporary tradition that uses symbols and the human body as a vehicle to address autobiographical and social issues.
In much of my work, animal symbolism has figured prominently. I use the hen as a symbol historically linked to Latino(a) culture, and defined and limited by its gender and status. In both paintings and sculpture, the hen and her alternately hysterical and nurturing characteristics has been a meaningful counterpart to the rooster; a Latino cultural symbol freighted with associations of rugged machismo and sexual bravado.
In much of my sculptural work I revisit traditional crafts, adding a nostalgic biographical narrative that infuses objects with a deeper connection to the human experience, and conveys the sense that time is fleeting. My work also had a decidedly feminist perspective, underscored by the contrast between my bejeweled animal skulls, and the typical mounted game, with more male connotations. I hoped to envelope the viewer in a space where kitsch and tradition evoke beauty and a pageantry of game, and play with notions of trophies that reinforce the idea that an animal is valued more in its death than in its life.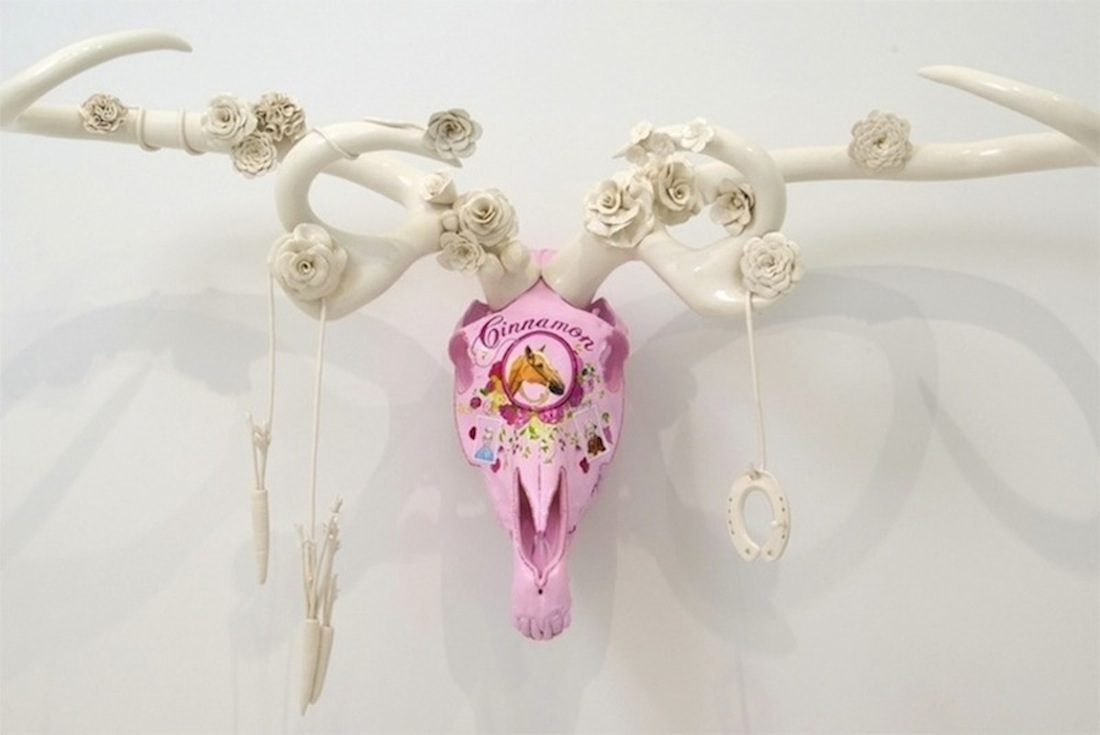 In much of my work, animal symbolism has figured prominently. In 2009, I created a number of large mounted game sculptures, a "trophy wall" of farm animals and beloved pets. These pets and farm animals are a counterpart to more traditional objects of taxidermy, cultural symbols freighted with associations of rugged masculinity.
Text, images, audio, and/or video in the Feminist Art Base are copyrighted by the contributing artists unless otherwise noted. All rights reserved.