Barbara Zucker
Burlington, VT
United States
Barbara Zucker was born in Philadelphia. She received an undergraduate degree from the University of Michigan and an MA from Hunter College in Sculpture. Zucker and Susan Williams were the co-founders of A.I.R. Gallery, the first women's art gallery in the United States. With Dotty Attie and Mary Grigoriadis, two early members, they sought out the twenty artists who joined the A.I.R. collective and gallery. A.I.R. opened its doors in 1972 at 97 Wooster Street in New York City. Thirty-five years later, the gallery still thrives. Zucker has gone on to exhibit, teach, write and lecture. She has written essays on Florine Stettheimer, Ree Morton, Ann Sperry, Leigh Burton and Wendy Hirschberg, and has contributed articles and reviews to many journals and magazines. Her work has been exhibited at such venues as Robert Miller Gallery, Artists Space, Sculpture Center, Pennsylvania Academy of Fine Arts, Tufts University, and the Museum of Arts and Design. She has been reviewed in such publications as: The New York Times, Art in America, Artforum and Art News. She has taught at Princeton, Yale, The University of the Arts (Philadelphia), the Vermont Studio Center, the Boston Museum of Fine Arts, and The Skowhegan School of Painting and Sculpture in Maine. Zucker chaired the Art Department at the University of Vermont in Burlington from 1979 - 1985, and taught there until 2001. She is now a Professor Emerita, and divides her time between Vermont and New York.
Feminist Artist Statement
"The idea of writing a feminist artist statement makes me cringe somehow. What is one anyway? Being thus defined, even though I am unsure of the definition, makes me feel trapped. Yet of course I am a feminist - just like learning to ride a bike or how to swim, one cannot unlearn being one. Once I was made aware of the universal inequities in women's lives, my world-view changed forever and there was no turning back. As I write this, Harvard has just appointed its first woman president: a confident, well- spoken woman who talks matter-of-factly about her own abilities and intelligence, without a shred of embarrassment or ingratiating subtext. I wept as I heard her speaking on the car radio. This has happened in my lifetime, and if it is happening in academia, then surely women in the major political arena in America will become a reality, and the fantasy that it could happen someday will be allowed to end. I question my intentions in my visual work, asking if, during this terrible moment in our country's history, examining society's response to women aging (one of the subjects I have recently explored in my sculpture), is too trivial. I think of Goya, Daumier, Grosz, Spero, Golub, Rosler, Kozloff, Haacke, and I think I am not asking the right questions, not digging deeply enough. But then I remember that we are many. We do not have to depend on the idea of the genius artist to guide us anymore, and our numerous subjects and sources of expression will collectively speak and cover most, if not all of the issues that confound, wound, enrage or delight us."
Barbara Zucker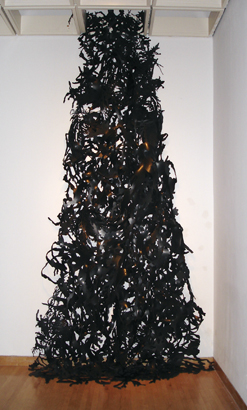 The basis for this sculpture was taken from a photograph of my friend, Lilian Baker Carlyle, who was then a ninety one year old woman. Lilian died in 2006 at the age of 94.
Contact
Burlington, VT 05401
United States
Email
Text, images, audio, and/or video in the Feminist Art Base are copyrighted by the contributing artists unless otherwise noted. All rights reserved.