Béatrice Cussol
Paris,
France
Beatrice Cussol (b. 1970) was born in Toulouse, France. She earned a DNSEP from Ecole Pilote Internationale d'Arte et de Recherche, Villa Arson, in 1993. She has had solo exhibitions at Centre d'Art, Neuchâtel, Switzerland; Galerie Beaubourg, Vence; Galerie Françoise Vigna, Nice; Galerie Rachlin-Lemarié, Paris; and Galerie Porte Avion, Marseille. Her work has been included in group exhibitions at Yerba Buena Center for the Arts, San Francisco; Beaux-arts de Toulouse; Musée des Beaux-Arts de Tourcoing; Musée d'art contemporain de Lyon; Bawag Foundation, Vienna; Envoy Gallery, NY; and La Criée, Rennes. She also participated in the Venice Biennale in 2003. Her work is included in the permanent collections of FNAC (Fonds National d'Art Contemporain); Musée d'art modern et d'art contemporain de Nice; Musée d'art moderne et montemporain, Geneva; and PACA (Provence-Alpes-Ce'te-d'Azur). She currently lives and works in Paris.
Cussol was a featured artist in Global Feminisms at the Brooklyn Museum, curated by Maura Reilly and Linda Nochlin.
Feminist Artist Statement
Feminism is my freedom. Actually, it is the right to make my place in the world and the power to affirm it as such, which for me is my artistic expression.
Feminism is in my daily thoughts as an obviousness, or Humanism. It defines me and, therefore it is present in my work, in my paintings and writing.
In my work, I try not to censor myself. I authorize myself to file all incoming images that come to me and live in me.
It's about showing these drawings, this freedom of thought, which is expressed through drawing.
The characters in my drawings have chosen their own sex. These characters are engaged and enjoy an ideal and dreamed freedom. While making their own history without using labels or generique, nothing exists apart from themselves and their mental peace. Their body is invented in the same way as a choice is made, either firmly or undecidedly. They communicate through penetration, and body mixture. Their chosen sexuality is undoubtedly feminist, but in the world of drawing, sex like any other part of the body, represents a communication link.
Nowadays, my feminist heroes are Monique Wittig, Claude Cahun, Kathy Acker, Louise Bourgeois, Sarah Lucas.
There is an important sentence that I wrote about my work and it is not easy to translate from French, but it expresses my feminist profile:
"It is about a folded world, a place in which images are added to each other, in which there are always images to invent, a world full of women, in which no freedom barriers or censorship exist, a world full of redefinitions and promises."
As it is written in an undedited text by Elisabeth Lebovici on my work, "Feminine figures and sexualities are the vehicles of my expression. In total autonomy and self-absorption, they fill and fulfill my world. My drawings, watercolors or murals use the white grounds as a space, enabling her figures to move and scenes to occur, in the sudden coalescence of fluid zones of color and lines. My compositions are sufficiently undetermined to produce narration through association or analogy, without any pre-established or stereotypical meaning, reconstructing bodies perceived from the inside or seen from their delineation.They are making the beholder the subject of their visions, not only of somebody else's ( i.e. the artist's) fantasies."
Translation by Jodie Dinapoli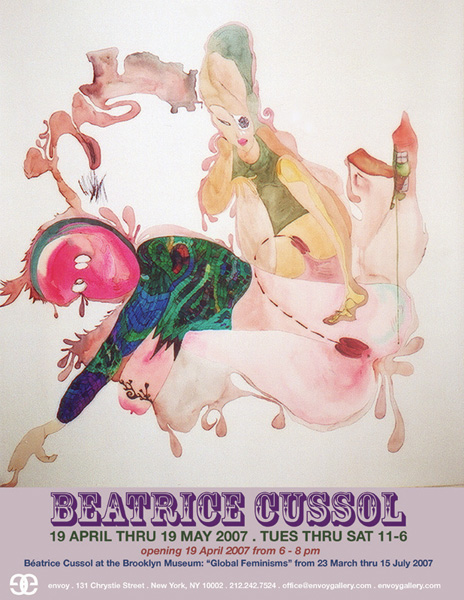 Text, images, audio, and/or video in the Feminist Art Base are copyrighted by the contributing artists unless otherwise noted. All rights reserved.