Bogna Burska
Gdansk,
Poland
Bogna Burska was born in Warsaw, Poland in 1974. In 2001 she graduated from the Painting Department of the Warsaw Academy of Fine Arts. In 2006 she moved from Warsaw to Gdansk to work at Intermedia Faculty of Gdansk Academy of Fine Arts where she completed a PhD in 2009.
She works in diverse media, such as painting, mixed-media installation, photography, video. In recent years her art practice has been dedicated especially to the technique of found footage video.
Bogna Burska's work was exhibited across Poland and internationally. She presented solo shows in, among others, National Gallery of Art Zacheta in Warsaw, Gallery of Contemporary Art Bunkier Sztuki in Cracow, Wyspa Art Institute in Gdansk, City Gallery Arsenal in Bialystok, Kronika Art Center in Bytom, Biala Gallery in Lublin, Platan Galerie in Budapest, Mistecki Arsenal in Kiev, PL Gallery in Rome. Her work was a part of group exhibitions held by CAIXA Cultural Brasilia, Latvia National Museum of Art in Riga, Galerie fur Zeitgenossische Kunst in Lipsk, Neuer Berliner Kunstverein in Berlin, National Center for Contemporary Arts in Moscow, The Contemporary Art Center in Vilnius, Estonian Art Museum Exhibition Hall in Tallin, Thessaloniki Museum of Photography, La Centrale Electrique European Center for Conteporary Art in Brussels, Museo Arte Nuoro, O Museu Nacional do Conjunto Cutural da Republica in Brasilia. She was a nominee for national art prizes including Views 2009 - Deutche Bank Foundation Award (Competition for the Most Interesting Young Artists on the Polish Art Scene) and received numerous scholarships and grants, most recently Pro Helvetia Swiss Foundation for Culture artist in residence scholarship in Zurich.
Bogna Burska was a co-founder of Warsaw Artist Action in 2002. From 2002 to 2005 she also co-edited (together with Izabela Kowalczyk) Internet Feminist and Gender Art Magazine Artmix - the first Polish art magazine dedicated to feminist and gender issues.
Feminist Artist Statement
I'm an artist, woman and feminist.
I work on variety of subjects including femininity and its' faces. But whatever I'm preoccupied with at any moment, feminist issues are always of great importance to me.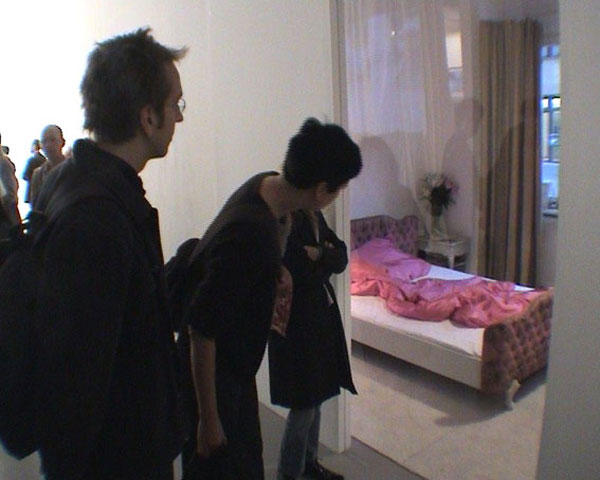 Video-installation, Neuer Berliner Kunstverein
Text, images, audio, and/or video in the Feminist Art Base are copyrighted by the contributing artists unless otherwise noted. All rights reserved.