Cair Crawford
New York, NY
USA
Cair Crawford, born in 1944 in Syracuse, New York, received a BFA from the University of Buffalo in 1965 and a PhD in philosophy from Columbia University in 2006. She began her art career as a painter in the 1970s producing work informed by Abstract Expressionism, Pop Art, and Indian philosophy. By the 1980s she engaged with Conceptual art practices and the debate about the influence of philosophy on literary and political culture. In the 1990s the work became more searchingly personal, bringing to light beliefs acquired from acculturation and teaching, and deeply internalized beliefs hidden from view. Thereafter, her interest has been drawn to questions about her own attitudes toward the cultural context of fear, love, and anger, and how specific social conditions shape emotion, desire, and thought.
Feminist Artist Statement
My paintings reference romantic notions about what is psychically feminine and symbolize the fear of being seen or being seen looking. More recent works convey a sense of drama, movement, and tension between two separate orientations: masking-out and looking-in.
Hems & Folds, the Knitting Books, and Skirts draw attention to the perpetual overlapping and linkage that bind things together. Folds are mediators that produce creases or seams recognizable in textiles and clothing. Hems are borders, rims, or margins that confine or stitch things down. The 'text' inscribed in borders attached to Hems & Folds are added to supplement 'readings' of the paintings.
In the history of knitting, early fragments have writing inserted in them. For example, Madame DeFarge, the vengeful tricoteuse in A Tale of Two Cities, records the names of enemies of the revolution in her stitches. The Knitting Books reflect upon this tradition by fabricating stories about time and place in which the concept becomes the narrative. Iterations of a thousand-thousand folds produce ironic commentary on the subversive nature of knitting/writing.
Folds that flare in billowing waves are not simply decorative effects; they create shadows that imitate something in partial darkness. Shadows provide shelter from danger within a part of space for which a source of light or knowledge is cut off. My attention is focused on folds as loopholes, gaps, and errors that come between points of time or events. These small openings are sights of omission that permit observation and provide a means of escape.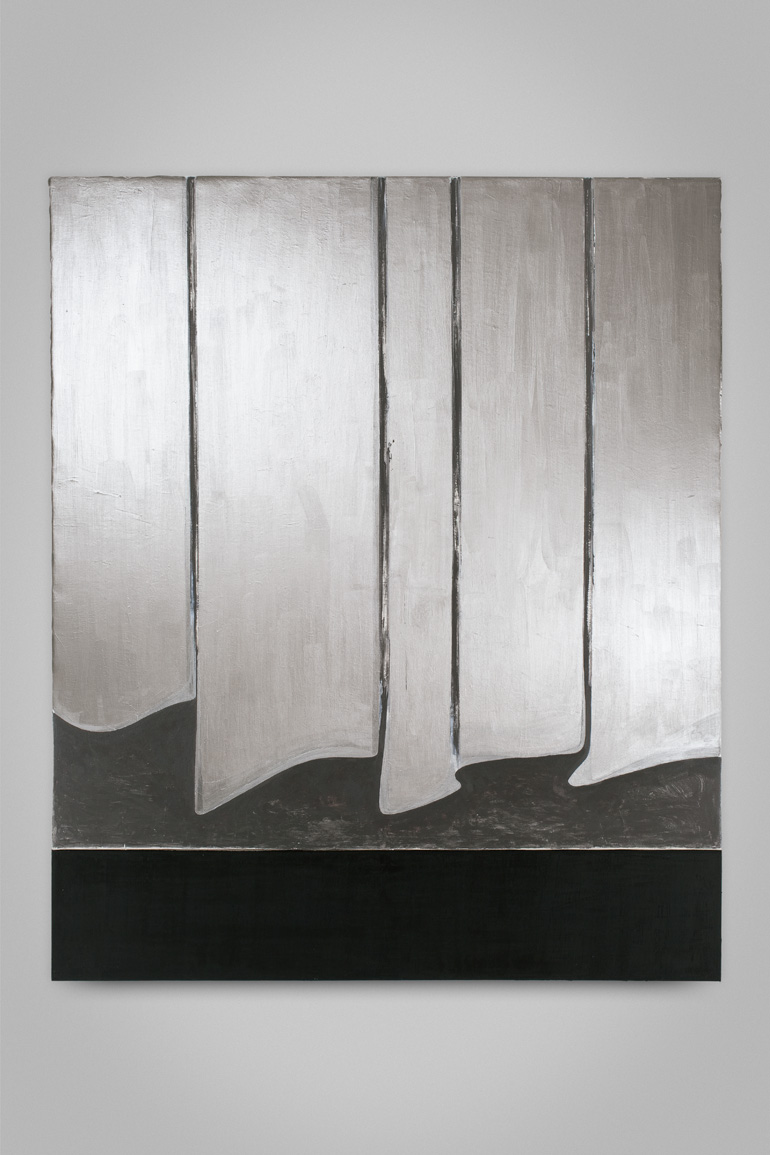 Hems & Folds, Diptych: Fold - acrylic/canvas (60"x60"); Hem - oil/wax/canvas (12"x60").
Folds bind the appearance of a succession of intervals together; hems double back to stitch them down. Like prosceniums, borders set the stage for making things visible, whether real or imaginary.
The palette for this series has been reduced to black and white, matte, and luminescent mediums, to build upon changes of light and shadow that unfold through slits and a variety of inflections.
Borders supplement a textual element characteristic of folds, writing, and weaving to reflect the over all theme that binds the composite pieces together.
The paintings are to be hung six inches off the floor to facilitate a point of view that extends the act of painting to the viewer and makes the the visible legible as it unfolds.
Contact
139 East 94th Street
New York, NY 10128
USA
Email
Text, images, audio, and/or video in the Feminist Art Base are copyrighted by the contributing artists unless otherwise noted. All rights reserved.