Carmelita Tropicana
New York, NY
United States
Carmelita Tropicana, the Cuban-born writer/performance artist and actress received an Obie award in 1999 for "Sustained Excellence in Performance" and was named "One of the Most Notable Women of 1998" by the Spanish-language daily, El Diario. She and director Ela Troyano won the best short at the Berlin Film Festival in 1994 for their collaboration on Carmelita Tropicana: Your Kunst is Your Waffen. Most recently, her collaboration with Marga Gomez, Single Wet Female, earned a 2002 nomination for the GLAAD Award in Outstanding Theater. Her latest solo With What Ass Does the Cockroach Sit hit the Off Broadway Intar Theater in 2004. In 2000, Beacon Press published the first comprehensive collection of plays and scripts I, Carmelita Tropicana—Performing Between Cultures, a Lambda Award nominee in theatre. As a veteran performer her work has been presented at venues including the ICA in London, Centre de Cultura Contemporanea in Barcelona, Thalia Theater in Hamburg. In the U.S. she has been seen at Joe's Pub in New York City, the Walker Arts Center in Minneapolis, the Brava Theater in San Francisco. She translated as well as starred (in Spanish) in the critically acclaimed Off Broadway solo Late Nite Catechism. Ms. Tropicana has received numerous writing and performance awards from groups including the New York Foundation for the Arts, and the Mark Taper Forum's Latino Initiative. She is represented by Judy Boals.
Feminist Artist Statement
I confess, in the beginning I shunned the word feminism. For years I was in the dark, blinded by a chiarascuro, lost. Until 1982 when I stepped into the WOW Café (Women's One World) the door flung open and there was light. I stepped into the spotlight and became a thespian feminist. Finally I could see feminism was full of choices: you could be a fashionista or not, shave or be naturally hirsute. It was abundant, colorful and for women of color, fun, funny, sexually transgressive. I suffered an ecstasy greater than that of St. Teresa in the statue by Bernini. I had found my tribe — the feminists; I'd found my calling: Kunst is my waffen — art is my weapon. As an enlightened being I began to make mama and dada art dedicating myself to Kunst.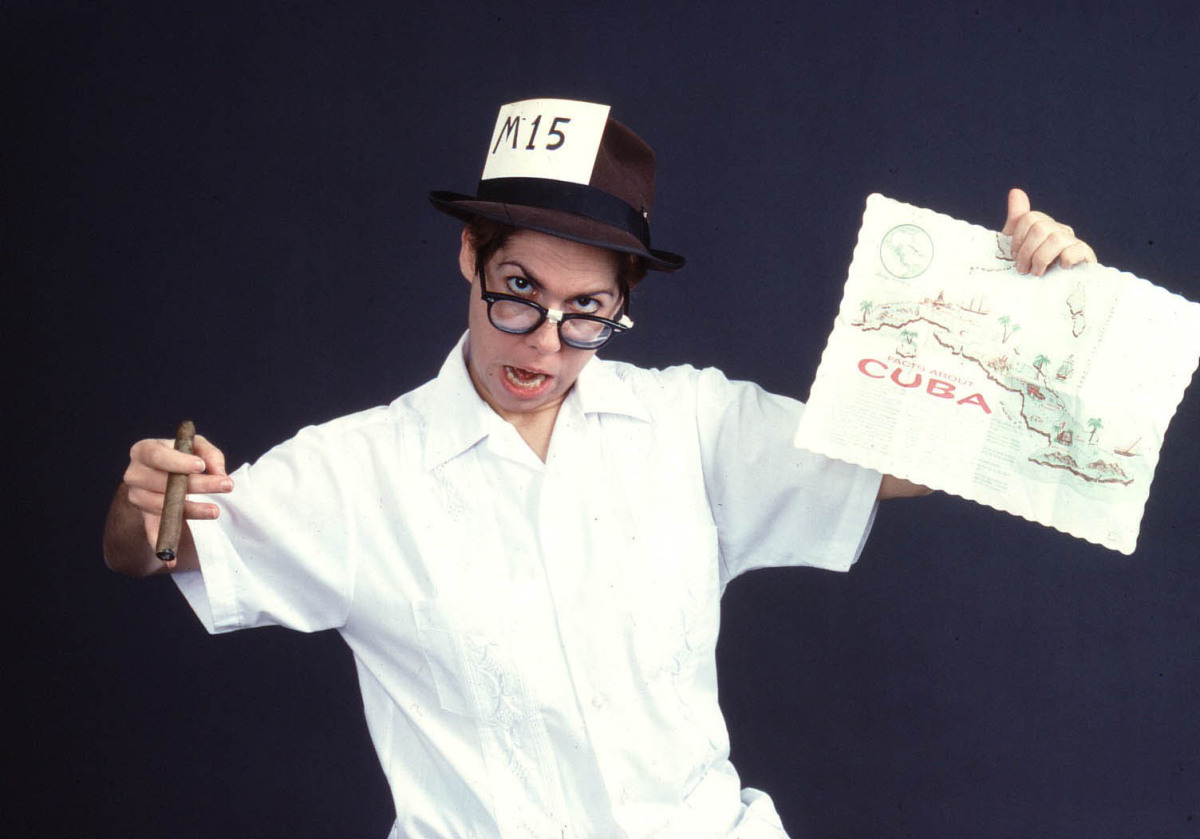 Carmelita Tropicana in male drag as Pingalito Betancourt from "Memories of the Revolution," co-written and directed by Uzi Parnes. Play with music, film, slides. Photo credit: Dona Ann McAdams.
Cast: Carmelita Tropicana, Annie Iobst, Alison Rooney, Maureen Angelos, Kate Stafford, Peggy Healey, Quinn, Lisa Kron, Diane Jeep Ries, Uzi Parnes.
In "Memories of the Revolution" Carmelita re-enacts her memoirs as the daughter of the Cuban Revolution (pre-Castro) aided by the Tropicanettes and Pingalito Betancourt, a bus conductor, who acts as narrator giving us his own historical, geographical and cultural perspective of Cuba using a restaurant place mat.
Laurie Stone in the "Village Voice" writes about the drag performance in "Memories of the Revolution":
"Uzi Parnes guides the performers handily, letting the women playing men exult in the pleasures of cross-dressing, while steering them from the kind of approval-hungry camping that makes drag wearying."
José Esteban Muñoz in his book "Disidentifications, Queers of Color and the Performance of Politics" writes about the use of drag through the character of Pingalito Betancourt:
"Carmelita's drag performance operates on an axis concerned with more than biological or gender difference. In this instance, the drag is calibrated also to represent and parody identities across class, national, and generational lines. Pingalito's monologue represents a national character that is recognizable as a Cuban form of male jingoism."
Contact
15 Avenue C, #3
New York, NY 10003
United States
Email
Text, images, audio, and/or video in the Feminist Art Base are copyrighted by the contributing artists unless otherwise noted. All rights reserved.