Carrie Yury
Long Beach,
usa
Carrie Yury is an artist living and working in Southern California. She is interested in issues surrounding the body, vulnerability, and empathy. Yury works in various media, including photography, drawing, sculpture, and music. She has had solo shows in Chicago, and in Los Angeles, where she is represented by Sam Lee Gallery. In addition to her solo shows, her work has been shown in Miami, Atlanta, Chicago, Los Angeles, and New York in group exhibitions, including Twisted Selves at The California Museum of Photography, Veronica at Pitzer Art Galleries, and The Wight Biennial at UCLA. Yury holds two Masters degrees: an A.M. in English from the University of Chicago (1996), and an M.F.A in Studio Art from the University of California at Irvine (2006). Her work is in the permanent collection at the Los Angeles County Museum of Art (LACMA), as well as in numerous private collections. Yury's work has been reviewed in The Los Angeles Times, The Chicago Reader, The OC Weekly, and ArtUS. In addition to being an artist, Yury is an arts writer for arts publications including Artillery Magazine and The Huffington Post Arts Section.
Feminist Artist Statement
My goal as an artist is to expose and understand how, particularly for women, the private is political. I use a variety of media to explore the tensions between private and public acts, versions of the self, and codes of behavior.
Women who do things in public that they're not supposed to do fascinate me. I'm not that brave. In (My) Performance Anxiety drawings, I drew animal masks onto the faces of famous feminist performance artists who perform naked. These gestural drawings not only express my respect for my feminist progenitors, but also explore my own feelings of personal inadequacy and anxiety for my inability to perform without wearing a mask.
Intimate bodies are political bodies. For example, my Room series twists classic ideals of the art-historical female nude. Unlike most nudes that portray women in an anonymous space, the photographs in Room are contextual portraits. I chose to emphasize the domestic environments of each nude woman as a means to paint a rich picture of who they are as individuals.
Intimate fantasies encode and propagate power dynamics. Based on hyper-feminized comic book heroines, my Hairpieces sculptures are elaborate wall-mounted manes of horn-like phallic head wands. These sculptures create fantastical connections between sexual fantasy, power, and women's hair.
I want to understand our fascination with other people's private lives. My latest work is a series of photographic triptychs of men and women trying to make it as reality TV stars. The series explores the tensions between voyeurism and exhibitionism, dignity and shame.
Disruptive and revealing things happen when women's imagined thoughts, intimate acts, domestic spaces, and private fantasies are exposed in the public sphere. The private is a political site, rich with the potential for change.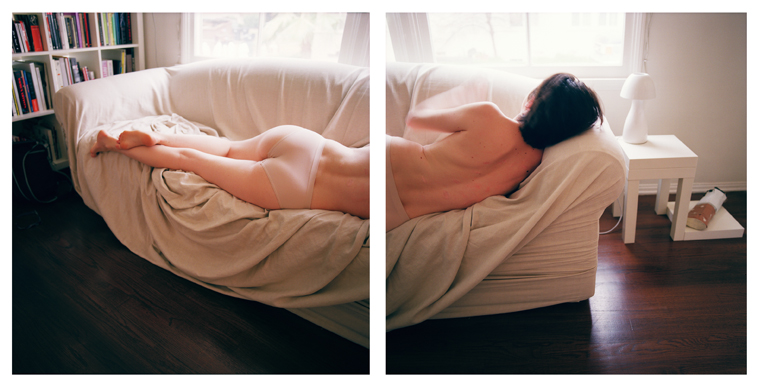 The photographic diptychs in the "Room" series are composed of women's bodies twisted and split between panels, and then reassembled in impossible ways, simultaneously displaying and disrupting the classic ideal of the female nude. Unlike most nudes, the diptychs in "Room" are contextual portraits. Part anthropology, part boudoir photography, each diptych is as much about the personal space of the domestic environment as it is about the body, leaving us wanting to know more about the woman who occupies the room. The diptychs are about a kind of refusal, an obstinate desire to make the viewer look at the fantasy of the body as a whole (the seeming möbius strip of the woman's body), and yet not have visual access to the face or the breasts.
Text, images, audio, and/or video in the Feminist Art Base are copyrighted by the contributing artists unless otherwise noted. All rights reserved.