Cecilie Dahl
Brooklyn,
USA
Cecilie Dahl was born in Oslo, Norway. She grew up in Oslo and vicinity, and Accra, Ghana. Dahl studied at Bournemouth and Poole College of Art, UK, and The Art Academy in Oslo, Norway. She had tenure at The Künstlerhaus Bethanien in Berlin, DAAD, 1989-90. Her artist book, Perspective Berlin, pubilshed with her solo show in 1991, received a price at the Frankfurter Book fair, and was purchased by MoMA New York for their artist book collection. Dahl had several solo and group shows in Berlin before moving to New York where she had tenure at the P.S.1. International Studio Program, 1993-94 and at the ISCP, (International Studio and Curatorial Program), 2003-04. Malmö Konst Museum in Sweden has been collecting her work since 1990. Their most recent acquisitions are Dahl's last video, and three photographs from her body of work: Clothes for a Summer Hotel. The Museum has the largest collection of her work.
Other solo and group shows e.g.: Malmö Konst Museum, group show, Sweden, 1994, and Gallery F-15 1997 with among others: Tom Sachs and Kristin Oppenheim. Dahl participated in a group show at Malmö Konst Museum, Sweden, 1998 and at The Wanaas Foundation, Sweden in 1999. Solo show: Gallery F-15, Norway, Velan, Torino, Italy and at Egizio's Project New York, 2001; Gallery MGM, Oslo 2002. Dahl's works were exhibited together with among others: Jana Sterback and Will Cotton, in the group show Sweet Tooth at the Copia Museum, Napa, California in 2003. She had solo shows at Galerie Andy Jllien, Zürich Switzerland , 2003, in Malmö Konst Museum, Sweden, 2004, at Blomqvist, Oslo 2005, and Gallery 21, Malmö, Sweden in 2006. Dahl particiipated in the group show Norwegian Images with Gallery Brandstrup, Olso 2006 and she is currently in the group show I Love Malmö with among others Dan Wolgers and Pertra Lindholm, in Turku Art Museum, Finland. The exhibition will travel to Vaasa, Finland to Kuntsi Museum of Modern Art from June 2nd.to August 12th. 2007. The exhibition is curated by Turku Art Museum's director Kari Immonen. Her next scheduled solo show, Cruising Paradise will open in November 2007 in Nortälje Konsthall, Sweden. Cecilie Dahl is currently working and living in New York and Oslo. For further information see resume' and website: www.ceciliedahl.com
Feminist Artist Statement
"I recall that a great philosopher found that 'To die is to lose interest.' Barely tangent to the world, why am I unable to crumble into dust at once, right here, two kilometers from the Porte Maillot? But since God the Father wants nothing to do with me in his Paradise, the same as yesterday, I must go on using objects, earthly creatures. Today, however I am not inclined to make advances. Fortunately the other is here to save me. The other feels that thinking has gone on too long. I hear: It's time to go home. It's true dawn leads to love. Let's go."
Rene' Crevel: My Body and I, 1925
Clothes for a Summer Hotel and Hard Candy, still lives and short stories explore the human condition, both psychologically and physically. Some of the oldest and most common similes and metaphors relating to the human body move along a horticultural line. The body in this context indicates the female body. The stories are works told from a feminine point of view, rather than a feminist statement. Nothing is closer to us than our bodies. This is the surface and membrane through which all our experiences is filtered. The skin, the largest body organ of all, permits tactile impulses to pass via the nerves and synapses into the brain. Our external features give an impression of permanence, but the skin is in a constant flux. The unambiguous carnal aspect touches both on the devotion and the devouring of the body. There is an aspect of gluttony, an excessive use of edible ingredients, a strong momentum of sexual excitement, but also of repulsion. Oral obsessions whether sexual or nutritional, speak of violence, despite softness and sensuality. And ultimately, they speak of death. Not necessarily in a finite sense, but as a metaphor for selflessness, a loss of control as means of reaching other layers of experience.
My interest is relations between people, how we intuitively perceive and negotiate the space between the others and ourselves, and how our experience of proximity is open to illusions. It is precisely these uncertainties in the communicative situation that my work aims at interrogating.
"Just as in love this illusion exists, this illusion of being able never to forget, so I was under the illusion that I would never forget. Just as in love."
Marguerite Duras: Hiroshima Mon Amour, 1960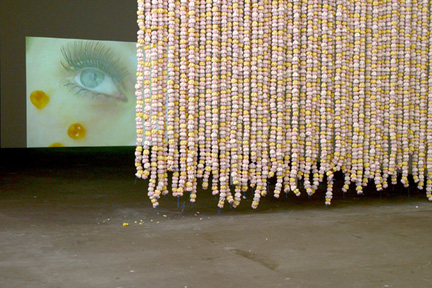 32.7 Like Pink Snowflakes
Installation, Malmö Konst Museum, Sweden, 2004
Video: Clothes for a Summer Hotel
Sculpture: Sweet Little Nothnings
12 000 Marengues, thread, metal rod
Text, images, audio, and/or video in the Feminist Art Base are copyrighted by the contributing artists unless otherwise noted. All rights reserved.