Chrysanne Stathacos
Toronto,
Canada
Chrysanne Stathacos (b. 1951, U.S.A.) lives and works in Toronto and Athens.Greece/ Originally trained as a print-maker, Stathacos brings together printmaking, photography, video, and installation in various ways, often creating participatory public art projects. She aims to make new connections between cultures, historical periods, technologies, and environmental issues, which mirror the human processes of change, hope, healing, and mortality. Stathacos has exhibited over 25 installations and art works in museums, galleries, and public venues in Canada, U.S.A., Europe, and Asia, and has received awards from Art Matters, the Japan Foundation, the Canada Council, and the Adolph and Esther Gottlieb Foundation.
"This Stocking" a durational performance was presented at the Performance Biennale, at Green Park, Athens Greece and launched the Greek India Project. Her the my one-person exhibition, Flower Power, was presented at Fiendish Plots, Lincoln, Nebraska. In 2013 The Rose Mirror Mandala was included in the award winning exhibition, "The Temptation of AA Bronson" at the Witte de With Museum, Rotterdam, Netherlands. (2013-14). her installation resulted in well-received attention, and international press from Art Forum, Hyperallergic, China Weekly Magazine, and Art in America. Subsequently The Rose Mirror Mandala were presented at Salzburger Kunstverein (AA Bronson's Garden of Earthly Delights) and Grazer Kunstverein, (AA Bronson's Sacre du Printemps). Recent Publications include "Were You Here" with xxx/888 books, and "The Wish Machine Travels".
Feminist Artist Statement
At the heart of my work is a deep commitment to examine and reconfigure the patriarchal history/ herstory of art and society. Through the"diaries" and "works" of my alter ego, Anne de Cybelle, I imagined a new history for women artists. The Hair Dresses of Anne de Cybelle was first presented in The Abortion Project (1990- 93), a collaboration with artist Kathe Burkhart. Most recently, I co-founded MOMMY with artist Susan Silas, a collaborative web site/distribution network that celebrates women artists such as Bharti Kher, Alison Knowles, Robin Kahn and Linda Montano. I am a founding Director and President of Dongyu Gatsal Ling Initiatives, an organization that works to reclaim the lost traditions of Tibetan women practitioners by supporting an emerging movement of female monastic communities in India and Tibet.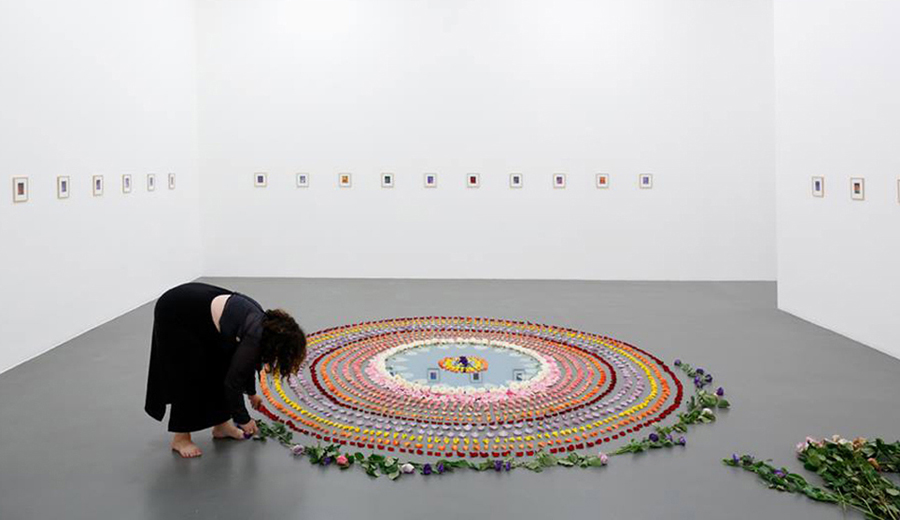 The Rose Mandala installations are created by plucking roses apart petal by petal, circling coloured mirrors to create mandalas ranging from 10 feet to 60 feet wide. The viewers' senses are touched by waves of rose scent inhabiting the space of the work. The mandalas are left to dry and although they maintain their color they gradually reduce in size. At the end of the exhibition period, the mandala is dismantled in a final performance. These installation/performances reflect the ephemeral process of change, age, decay, emptiness, and the impermanence of even the beautiful.
Text, images, audio, and/or video in the Feminist Art Base are copyrighted by the contributing artists unless otherwise noted. All rights reserved.