Elizabeth Siegfried
Toronto,
Canada
The images of Elizabeth Siegfried have increasingly become recognized for their intricacy of detail and sophistication of content. Known for her work in self portraiture and photographic narrative, Siegfried has worked with the historical process of platinum for over twenty-five years and has exhibited her images in Canada, the US, Italy, Germany, Japan and Mexico. In recent years, she has expanded her mode of presentation to include iris and other archival digital prints.
Siegfried has had her photographs reproduced and discussed in such publications as Schwarzweiss, La Fotografia Actual, The Women's Daybook, ARTNews, Shutterbug and Camera Arts Magazine. Her first book entitled LifeLines was published in 2000 and includes a literary introduction by the National Book Award Winner Andrea Barrett.
Siegfried's work is represented in many private and public collections, including the Aaron Copland House in Cortlandt Manor, New York; the Kiyosato Museum of Photographic Arts in Japan; the Canadian Museum of Contemporary Photography in Ottawa and the Peter E. Palmquest Women in Photography International Archive held at the Beinicke Rare Book and Manuscript Library at Yale University, New Haven, Connecticut. Further information on the works of Elizabeth Siegfried is available at www.elizabethsiegfried.com.
Feminist Artist Statement
Termina is a photographic installation that tells the story of a diminishing family tree and contemplates the ending of one branch of that family's lineage. As applied to my own family, Termina becomes a quintessential self-portrait. Not having children, whether or not a conscious decision, can bring with it sadness and nostalgia, perhaps guilt or regret. The reality of representing the last of the line can be poignant and have a powerful emotional impact. Termina consists of four grids of sixteen still images primarily taken from film.
Each of the four grids features, in turn, images of my great-grandmother, my grandmother, my mother and myself. The grids are positioned side by side on the wall, and beneath each grid is the name and date of the woman whose images are shown. Maiden and married names connect the women, while birth and death dates place them in their respective generations. Under each identification is a list of that woman's offspring. The graphic representation and the numbers integrated in these statistics diminish with each passing generation, creating the visual impression of a dwindling family tree.
Viewing from left to right, the images in the grids of my great-grandmother, grandmother and mother are stills from 16mm films shot by members of my family between 1922-1945, while the images in my own grid incorporate 8mm film stills taken between 1987-1992, along with three recent self-portraits. The images in each grid convey scenes and gestures that capture personality, character and spirit. The first three generations are presented similarly as grids filled completely with images; but the configuration of the final grid—my own—transforms. The images give way to empty spaces, like the sporadic frames of film at the end of a reel: I have chosen a different path.
Although it is apparent from the final grid's film stills that I, like my predecessors, have led an active life, the self-portraits acknowledge choices made: a left-facing profile looks to past generations, while a downward glance contemplates the end of the line. Finally, a steady gaze meets the present as it is. Termina addresses an issue that resonates with many women today. It asks questions and provokes dialogue about the choice to bear and raise children, the future of family in both personal and universal contexts, and the socio-economic and emotional implications of these realities.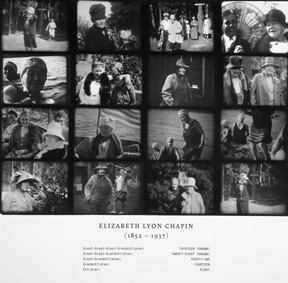 Great-Grandmother Grid is the first of four grids in Termina, a photographic installation that tells the story of a diminishing family tree and contemplates the ending of one branch of that family's lineage.
Text, images, audio, and/or video in the Feminist Art Base are copyrighted by the contributing artists unless otherwise noted. All rights reserved.