India Alexandra Evans
New York,
United States
India Evans (b. 1978) is a native New Yorker, born in the Lower East Side of Manhattan. Her training includes formidable academic work at the Lornezo de' Medici in Florence and Accademia di Belle Arti in Perugia, Italy. After earning her BFA from American University in Washington DC in 2000, she moved to Rome and lived there for almost 5 years. While exploring the Porta Portese market, she came across a box full of 19th century peep-show postcards. Ever since then these nude female figures have become a prominent feature in her artwork. Her work has been well received not only in the United States, via important exhibitions and art fairs, but in Italy as well.
Feminist Artist Statement
When I use objects I see them as a vocabulary of feelings. My work explores intuitively my various stages of feminine awareness. Through the recycling and juxtaposition of various objects (forgotten, discarded and seemingly worthless), I am attempting a transformation towards a precious recollection. Resurrecting memories, collective yet intimate, visceral yet tender….piecing together beauty as if telling a story. I am inviting viewers to explore their childhood innocence and fantasies through their adult nostalgia and sensuality. I hope to create a romantic and playful portrait of female identity with the possibility of entering dreams: my own or someone else's, as when a child plays dress up….full of the yearnings for beauty and mystery.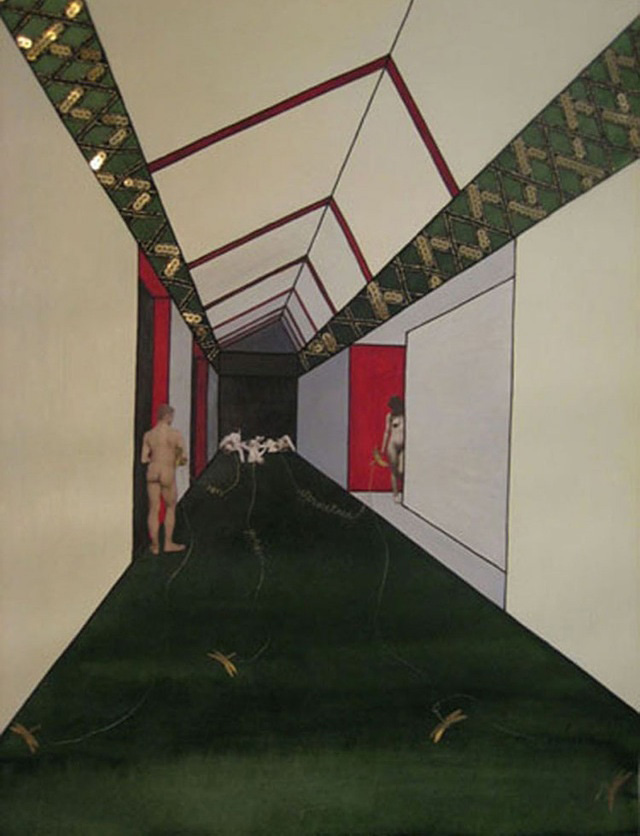 This collage casts a harsh light on sexual appetites, illustrating graphic couplings in the corridor of a modern luxury hotel.
Text, images, audio, and/or video in the Feminist Art Base are copyrighted by the contributing artists unless otherwise noted. All rights reserved.