Isabel Czerwenka-Wenkstetten
Inner City,
Austria
Isabel Czerwenka-Wenkstetten (ICW) started her motion-interaction- and aesthetic-experimental works in her childhood with glass and metalware. Her humanistic (French school in Vienna) and natural-science background (degree from the University of Natural Resources and Life Sciences, Vienna) influence her art work noticeably. Since 1999 she has been organizing and implementing art projects with exhibitions in Austria, Germany, Poland, India, Nigeria, the UK, the United States and Palestine. She is also a founding-member of fishpool- aquarium for art and social affairs since 2006.
Her art education began at the Slade, University College, London, UK ("Alternate Foundation"/ Visual Arts) followed up by studies at the Academy of Fine Arts, Vienna and a degree from the University of Applied Arts, Vienna. ICW was born in Vienna, 1969. She lives and works in Vienna, Austria and the United States.
Feminist Artist Statement
I am one of the few who believe we all are in a time in which the fourth order, even a fifth wave of feminism is operative. In my work, where these ideas are reflected, I am interested in highlighting spaces with their structures. Our spaces originated in historic times when patriarchal values were predominant. Feminist approaches are necessary to give space to other life-affirming values that have been pushed aside or dangerously forgotten.
My work explores and lets viewers explore inner, exterior, and in-between spaces and limits, boundaries, as well as different structures, grown or man-made, which mirror the patriarchal approaches we have slowly grown out of over the past century. I see myself as part of a long chain and broad field of processes and views. And yes, a break with old habits of structuring time and space is now necessary in order to really achieve a new status and generalized flow through feminist energies that are today driven by women and men.
The curiosity towards the unknown, the fear of the unknown, prejudices and their decomposition, taking up different perspectives, other points of view, processes of rapprochement and of letting go, integrations, spatial experiences, but also the sensual experiences of materials and space and the driving force longing are the main topics in my work. These topics also influence my selecting specific raw-materials for my artwork. You will see mirrors, glass and silicone, material and immaterial pictures, analog and digital photographs transformed into collage as well as my empirical studies of cultures which give rise to a new artistic statement.
I form two to four-dimensional artworks that often are interactive, inviting contemplators to get involved. "The perceived gets re-mirrored. Reflections in new contexts show new constellations and moving pictures, modulated through light and shadow with time. Everything flows, universal flux, panta rhei, and yes, dark and light flow in the same directions."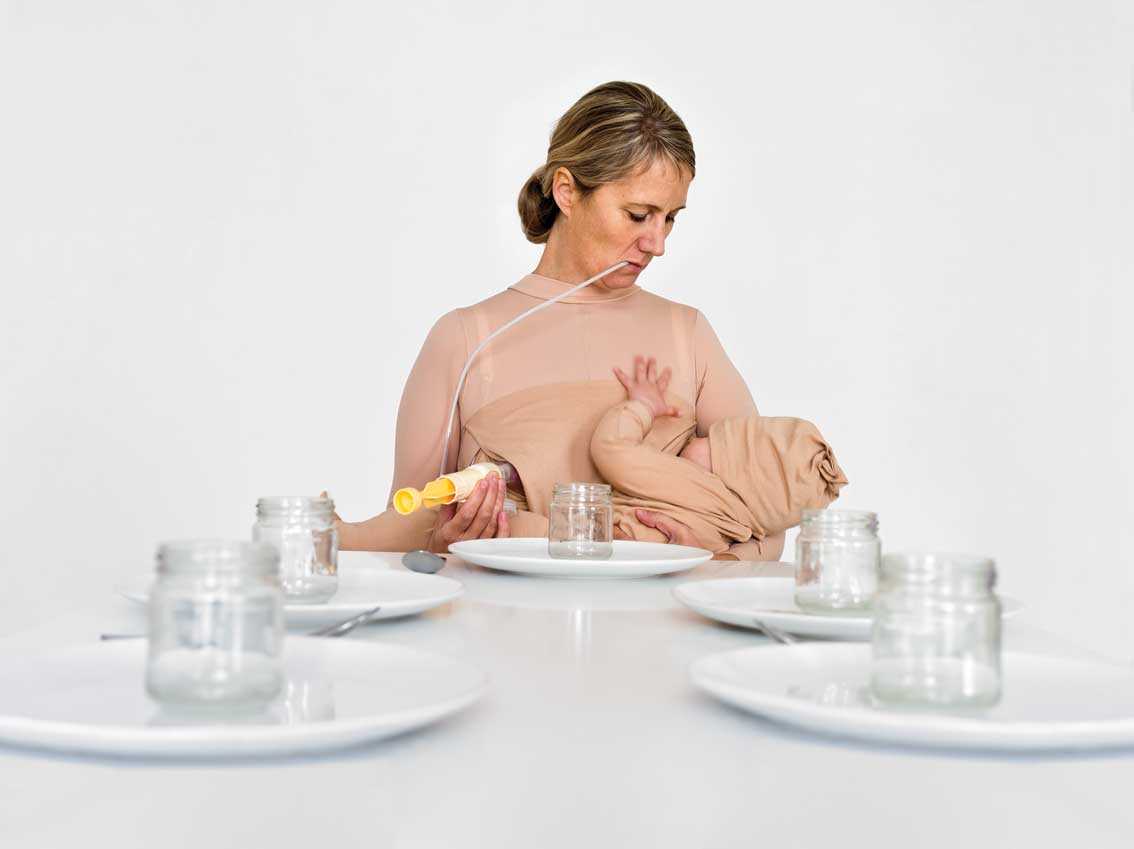 Performance about the need of nourishing ourselves from what we find in ourselves, especially in a phase of drastic change or crisis, as an artist and as a human being. Photographed by Klaus Pichler and filmed by Ilse Chlan at Sala Terrena, Vienna, 2012
Text, images, audio, and/or video in the Feminist Art Base are copyrighted by the contributing artists unless otherwise noted. All rights reserved.