Judy Chicago
Santa Fe,
USA
As an artist, author, feminist, educator and intellectual in the vanguard of the now worldwide Feminist Art movement, Judy Chicago has been a leader and model for an art that seeks to effect social change. The opening in March 2007 of the Elizabeth A. Sackler Center for Feminist Art at the Brooklyn Museum marks a key chapter in her career. Not only a milestone for the artist, the opening of this permanent housing for her foundational work, The Dinner Party (1975-79), is a major step in the institutionalization of Feminist Art as a contemporary art movement.
Over the past forty years, she has worked in an unusually wide range of media, including ephemeral pyrotechnic and atmospheric displays, live performances, painting, drawing, printmaking, sculpture, and both individual works of art and mixed media installations drawing on crafts such as china-painting, ceramics, needlework, tapestry and glass. In Los Angeles during the 1960s, she combined the chromatic luminosity and technical polish of the L.A. "finish fetish" movement with spare, minimalist forms. In the early 1970s, she pioneered Feminist Art and art education through unique programs for women at California State University-Fresno and later the California Institute of the Arts.
This work led her to The Dinner Party, a mixed media tribute to the cultural achievements of women in history, created with assistance from hundreds of volunteers during the late 1970s. She next brought a critical feminist gaze to the Birth Project (1980-85); Powerplay (1982-87); the Holocaust Project (1985-93); and Resolutions: A Stitch in Time (1995-2000). Her most recent body of work, Chicago in Glass, makes use of hand imagery to explore issues of human vulnerability and mortality and the choices we make between relationship building on the one hand and rejection or aggression on the other.
Chicago's books, including her tenth, an expanded text on The Dinner Party (Merrell, 2007), have brought her art and ideas to readers around the world. She is the recipient of numerous grants, awards and honorary degrees. Her work is frequently exhibited and is in many distinguished collections, including those of the British Museum, the Brooklyn Museum, the Getty Trust, the Los Angeles County Museum of Art, the National Gallery, the National Museum of Women in the Arts, and the San Francisco Museum of Modern Art. A retrospective of her career was presented at the National Museum of Women in the Arts in 2002-2003.
Feminist Artist Statement
I was a young woman in the seventies, a time so full of hope. Many of us shared the belief that we as women could help to transform the world, not only for women but for everyone. As an artist, I believed that I could contribute to this transformation through art. I believed that art has the power to transcend differences, to help us see the world through other people's eyes, and thereby help to create a sense of empathy with those who would otherwise be entirely unknown to us.
I have continued to create art with this goal in mind, and I have seen many positive changes, many of them brought about by the women's movement. At the same time, feminism has been turned into a dirty word. Several generations of young women—along with many of their male peers—have been persuaded that two centuries of effort by countless women and some men which brought previously unheard of rights and opportunities to these same young women was not something to be proud of, but rather to disown.
Why do I insist upon being called a Feminist artist now, in the 21st century, when many pundits insist we live in a post-feminist world? My definition of such a world involves a toppling of the hierarchy of white male dominance. Since neither our male-dominated world nor the art museums that carry its visual messages have changed enough, I see no reason to abandon the feminism which is one of the few alternative philosophies around. Also, as my underlying feminist philosophy shapes my art, I remain a Feminist artist. It is also important to note that Feminist art is an ongoing, contemporary art movement. It is practiced today by women artists—and some men—all over the globe. It is stylistically diverse yet always focused on the authentic, distinctive, personal content of each artist, a personal content mediated by culture, geography, race, religion, ethnicity, sexual orientation and all the many attributes of human individuality.
Do I still hope that Feminist Art can make a difference in the world? My answer is yes. I continue to believe that we need an art that can help us see the world through other people's eyes and thereby lead us to a future where the world will be made at least a little more whole.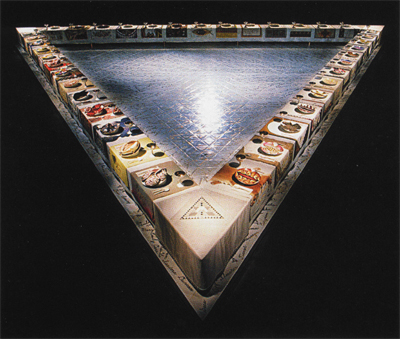 The Dinner Party elevates achievement by women in Western culture to a heroic scale traditionally reserved inequitably for men. A massive ceremonial banquet in multi-media art, laid on a triangular table measuring 48 feet on each side, The Dinner Party combines the glory of sacramental tradition with the intimate detail of a social gathering. Thirty-nine guests of honor, mythical and historic women whose accomplishments were largely erased from male-dominated histories, are represented by individually symbolic, china-painted porcelain plates and intricately needleworked table runners.
Each plate is essentially an independent work of art and features an image based on Chicago's vulvar and butterfly iconography, a symbolic representation of the female core intended by the artist as an affirmation of empowered female agency. The plates reside atop elaborate runners decorated with historically significant details associated with the women honored. The first name of each woman begins with an illuminated letter magnificently incorporating a small symbol or motif that references the subject's importance. The table itself is set upon the enormous Heritage Floor comprised of over two thousand hand-cast, gilded and lustered tiles, inscribed with the names of 999 other women of importance. The Dinner Party dominated art headlines during its early history and, though enormously popular with the more than a million viewers who saw it in a dozen cities worldwide, it bore the brunt of hostile opposition from some quarters of the art world who saw it as an assault on modernist traditions and from the political right who felt threatened by its feminist agenda. Perhaps emblematic of how much things have changed, today it is thought of as, in the words of renowned critic Arthur C. Danto, "one of the major artistic monuments of the second half of the 20th century." It has influenced the lives and work of thousands of people and has become the iconic example of how art can change the world, the expanded role for the artist in society and women's freedom of expression. Roberta Smith in The New York Times said that it has become "almost as much a part of American culture as Norman Rockwell, Walt Disney, W.RA. murals and the AIDS quilt."
The Dinner Party was conceived by Chicago and executed by 400 artisans from around the world, working under her supervision from 1974 to 1979. She intentionally chose mediums traditionally associated with women—such as weaving, china painting, ceramics and needlework—that enhanced the impact of the installation's powerful rejection of female marginalization and erasure.
Contact
c/o LewAllen Contemporary
Santa Fe,
USA
Email
Text, images, audio, and/or video in the Feminist Art Base are copyrighted by the contributing artists unless otherwise noted. All rights reserved.