June Blum
Cocoa Beach,
USA
June Blum was born in Maspeth, New York, in 1929. Her father, Henry Charles Druiett, died in December 1941 at the age of 41. She was raised by her mother, Elsie Sally Druiett (d. 1983).
Blum studied at Brooklyn College, Pratt Graphic Art Center, The Art Students League, Craft Students League, and The New School for Social Research. At the Brooklyn Museum Art School, she studied with Reuben Tam, Tom Doyle, and Ruben Kadish, among others. Her first solo art exhibition was at the Hicks Street Gallery, Brooklyn, in 1965.
Among her areas of interest are painting (figurative and black-and-white linear paintings), sculpture (fabric, wire, clay, and plaster), prints, Light Events, Happenings, jewelry (fabricating gold and silver, wax designs, casting, stone cutting, wire wrap, and cloisonne), art books, pottery, conceptual documentations, drawing, and setting a positive course for the women's movement.
Blum coordinated "Works on Paper/Women Artists" at the Brooklyn Museum (1975), an exhibition that supported women artists. Among her conceptual documentations during the 1970s were The Female Connection and A Woman's Space. She traveled with the support of the "Rent an Artist" program, which was sponsored by the American Federation of Arts. Blum demonstrated and lectured on light and light shows in Nassau County schools and elsewhere. She painted Betty Friedan for the "Sister Chapel" (premiered at P.S.1 in 1978) and sat for a portrait by Alice Neel (1972).
Her husband, Maurice C. Blum (1913-1985), was a businessman, poet, and avid photographer who documented the women's art movement. In the 1980s, the Blums moved to Cocoa Beach, Florida, and added a two-story loft and painting studio to a one-story 1950s house that was built for the space center emergence.
Blum continues her fabric sculpture, painting, jewelry making, and other artistic endeavors. Her interest in the women's movement remains.
Feminist Artist Statement
In 1968, I began writing the abstract script for the Female President, a Light Environment Event, to be presented in 1969 before an audience at the North Shore Community Art Center in Great Neck, Long Island. The art community was quiet on the subject at that time, but one critic gave it a small mention. The event had three performances, each to full audiences. I then realized that although there was little interest from the press as a whole, there was much community interest in the subject. One national critic later mentioned that it informed a local community. I continued with my light environments and paintings, always making sure that my full name was shown so there was no mistaking that my work was done by a woman artist.
In 1971, I was appointed Curator of Contemporary Art at the Suffolk Museum in Stony Brook, New York. When planning a figurative exhibition, I had trouble finding women artists to show, even though I did research and asked artists to recommend women painters. This led me to realize that there was a great imbalance in the art world and I decided to curate the all-women exhibition, "Unmanly Art," the first in-house museum exhibition of women artists. Since then, I have been the curator of many exhibitions of women artists.
As an artist, I exhibited with other New York artists in the New York Professional Women Artists Group and the "Sister Chapel," for which I painted a full-length figure of Betty Friedan. I also formed the women's group exhibitions, "Women Artists Living in Brooklyn" and "Brooklyn Women Artists." I was an original member of the all-woman Central Hall Artists Gallery in Port Washington, New York. I exhibited my paintings of other women artists, which I created in the 1970s, along with a painting of my mother, Elsie, whom I had always felt was ahead of her time with an emotional energy that had no outlet. In Florida, I formed The East Central Florida Chapter of the Women's Caucus for Art. Between my two exhibitions at SOHO2O Gallery in New York, I exhibited my portraits of the feminist Betty Friedan at the Brevard Museum of Art in Florida.
Brooklyn, Long Island, and New York City were great forces in forming the women artists' movement. Being behind the lines enabled me to contribute to and make timely changes to the history of women artists.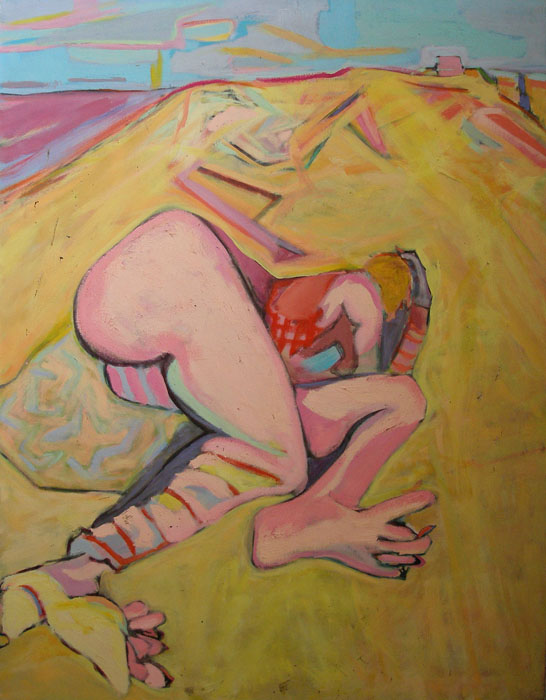 Contact
120 Boca Ciega Rd.
Cocoa Beach,
USA
Email
Text, images, audio, and/or video in the Feminist Art Base are copyrighted by the contributing artists unless otherwise noted. All rights reserved.