Kim Dingle
Los Angeles,
USA
Born in 1951 in Pomona, CA, Kim Dingle has been exploring the subversive edges of female childhood and myths of nationhood and history in lush paintings and startling sculptures for over two decades. Her characters "Fatty" and "Fudge"—known as "Priss Girls" when in sculptural form—act out, misbehave, and are gripped by a mindless and inexplicable violence against nature and each other. Dingle, who often paints in a palette of blurry beiges, sepias, and browns on vellum, creates ethereal scenes of frolic and frenzy that reference historical events and cultural norms. The artist took a hiatus from painting beginning in 2000 to open a vegetarian restaurant in Los Angeles called Fatty's & Co. Her first solo show in seven years opens at Sperone Westwater on 29 March 2007. This new body of work, entitled "Studies for the Last Supper at Fatty's," reflects Dingle's recent experiences running a full-fledged dining establishment and features her frocked naughty girls now suddenly consumed by the urgency, drama and brutal stress of Fine Dining.
Dingle's work has been exhibited extensively and she has had several solo exhibitions including shows at the Otis Gallery, Otis College of Art, Los Angeles (1995-1996), The Renaissance Society at the University of Chicago (1996), and the Bell Gallery at Brown University (2000). Dingle was included in the 2000 Whitney Biennial, and her work appeared in a major group exhibition entitled Sunshine and Noir: Art in L. A., 1960–1997, which traveled to several major institutions in Europe. Museums that own her work include the San Francisco Museum of Modern Art, the Smithsonian American Art Museum, the Corcoran Gallery of Art, Washington D.C., the Los Angeles County Museum of Art, The Museum of Contemporary Art, Los Angeles, The Orange County Museum of Art and the Museum of Contemporary Art, San Diego.
Dingle currently lives and works in Los Angeles, CA.
Feminist Artist Statement
I've been an artist since I was a baby. My art is about my inner life, and the pain of it. It's about the very painful process of being alive. By nature I am not an overtly political artist. I know that everything is political, that everything is politicized. But…I don't work at that level. The fact that we walk around…and eat and breathe and have ideas and don't need any batteries or cords is just amazing to me. I mean, what keeps us moving? I'm in awe of it.
"Priss" is like Shirley Temple as a psycho pit bull.
Being a girl is my background. Of course I have a feminist consciousness but I don't think of myself as an artist who has a feminist agenda. No more so than any other artist, male or female.
What about the violence? I am a violent person. Not physically, but that violence is in me. Those children are me, the animals are me. I am them. If you notice, these kids are not bloody or gory. You don't see dead children. You don't see any guts or blood or severed limbs. You just see action, a lot of action, like hair pulling and throttling and stomping and sitting on. And fighting. It's me. It's not me and another…It's just me. They're both me. There's this struggle; it's so private.
When art does it for me, it's a direct plug-in, the actual, living experience of that reality, of being here, of being in the moment, in the direct pipeline. I don't know how it works. But I think that a painting can do that.
Excerpt from an interview between Kim Dingle and David Pagel published in BOMB Magazine, Summer 1995.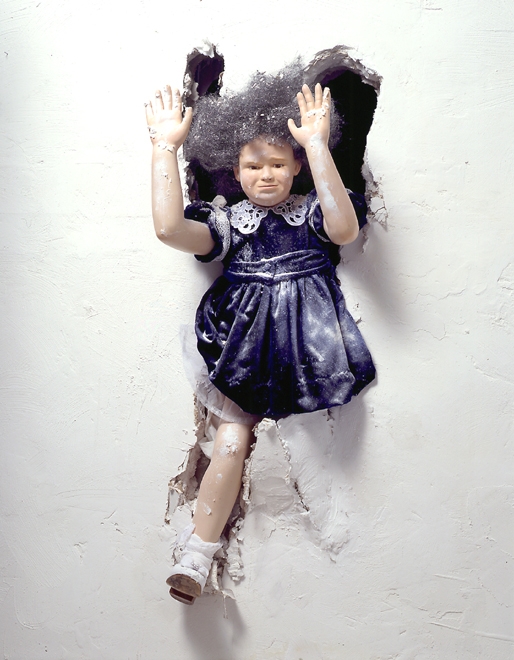 Text, images, audio, and/or video in the Feminist Art Base are copyrighted by the contributing artists unless otherwise noted. All rights reserved.