Lalla Essaydi
New York,
USA
Lalla A. Essaydi grew up in Morocco, and lived in Saudi Arabia for many years. She now lives in New York City. She received her MFA from the School of the Museum of Fine Arts/TUFTS University in May 2003. Essaydi's work is represented by Schneider Gallery in Chicago, by Howard Yezerski Gallery, in Boston, and by Edwynn Hook Gallery, in New York City. Her work has been exhibited in many major U.S. and European cities, including Boston, Chicago, Minneapolis, Texas, Buffalo, Colorado, Houston, New York, Sant Diego, San Francisco, New Mexico, North Dakota, Syria, the Netherlands, Germany, England, Switzerland, and is represented in a number of collections, including the Williams College Museum of Art; The Art Institute of Chicago; the Fries Museum, the Netherlands; The Museum of Fine Arts Houston; The Kodak Museum of Art; The Columbus Museum of Art, Ohio; The Kresge Art Museum, Michigan; The Museum of Fine Arts, Boston; The Santa Barbara Museum of Art, California; The Colorado Museum of Art, Colorado; The Brooks Museum of Art, Memphis; The New Britain Museum of American Art, Connecticut; The Ackland Art Museum, Chapel Hill, North Carolina; The Hood Museum of Art, Dartmouth College, Hanover, NH; and Longwood Center for the Visual Arts, Virginia. Essaydi's art, which often combines Islamic calligraphy with representations of the female body, addresses the complex reality of Arab female identity from the unique perspective of personal experience. In much of her work, she returns to her Moroccan girlhood, looking back on it as an adult woman caught somewhere between past and present, and as an artist, exploring the language in which to "speak" from this uncertain space. Her paintings often appropriate Orientalist imagery from the Western painting tradition, thereby inviting viewers to reconsider the Orientalist mythology. She has worked in numerous media, including painting, video, film installation, and analog photography. "In my art, I wish to present myself through multiple lenses—as artist, as Moroccan, as Saudi, as traditionalist, as Liberal, as Muslim. In short, I invite the viewer to resist stereotypes."
Feminist Artist Statement
The traditions of Islam exist within spatial boundaries. The presence of men defines public space, the streets, the meeting places. Women are confined to private spaces, the architecture of the homes. In these photographs, I am constraining women within space, confining them to their "proper" place, a place bounded by walls and controlled by men. Their confinement is a decorative one. The women, then, become literal with this visual confinement, I recall literal confinements. The house in the photographs is a large, unoccupied house belonging to my extended family. When a young woman disobeyed, stepped outside the permissible space, she was sent to this house. Accompanied by servants, but spoken to by no one, she would spend a month alone. In this silence, women can only be confined visions of femininity. In photographing women inscribed with henna, I emphasize their decorative role, but subvert the silence of confinement. These women "speak" visually to the house and to each other, creating a space that is both hierarchical and fluid. Furthermore, the calligraphic writing, a sacred Islamic art form, inaccessible to women, constitutes an act of rebellion. Applying such writing in henna, a form of adornment considered "women's work," further underscores the subversiveness of the act. In this way, the calligraphy in the images is one of a number of visual signs that carry a double meaning. As an artist now living in the West, I have become aware of another space, besides the house of my girlhood, an interior space, one of "converging territories." I will always carry that house within me, but my current life has added other dimensions. There is the very different space I inhabit in the West, a space of independence and mobility. It is from there that I can return to the landscape of my childhood in Morocco, and consider these spaces with detachment and new understanding. When I look at these spaces now, I see two cultures that have shaped me and that are distorted when looked at through the "Orientalist" lens of the West. Thus the text in these images is partly autobiographical. In it, I speak of my thoughts and experiences directly, both as a woman caught somewhere between past and present, as well as between "East" and "West," and also as an artist, exploring the language in which to "speak" from this uncertain space.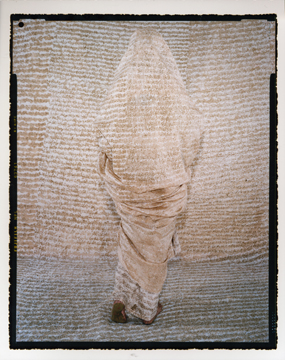 30'x40' C-41 print face mounted on Plexiglas and Aluminum back
Contact
545 West 34th Street, Loft 3E
New York, 10001
USA
Email
Text, images, audio, and/or video in the Feminist Art Base are copyrighted by the contributing artists unless otherwise noted. All rights reserved.