Laurie Simmons
New York,
USA
Born in Long Island, New York in 1949, Laurie Simmons is one of the first contemporary American photographers to create elaborately staged narrative photographs. Since the mid-70's, Simmons has staged scenes for her camera with dolls, ventriloquist dummies, mannequins and occasionally people, to create images with intensely psychological subtexts.
Since her first solo exhibition at Artists Space in 1979, Simmons has had numerous solo exhibitions and her work has been exhibited extensively both in the U.S. and abroad. Her work can be found in the permanent collections of the Metropolitan Museum of Art; The Museum of Modern Art; the Whitney Museum of American Art; The Solomon R. Guggenheim Museum of Art; The Walker Art Center, Minneapolis; The Museum of Contemporary Art, Los Angeles; the Philadelphia Museum of Art; the Corcoran Gallery of Art in Washington DC; the Hara Museum in Tokyo; and the Stedelijk Museum, Amsterdam, among others.
She lives and works in New York City with her husband, the painter Carroll Dunham, and their two daughters, Lena and Grace. She is represented by Sperone Westwater, New York.
Feminist Artist Statement
I first (reluctantly) introduced dolls in a series of pictures that I call "The Early Doll House Interiors" (1976-1978). I started making these pictures after moving to NYC and seeing the way conceptual artists used cameras in a more casual and unselfconscious way to document and record spontaneous acts of art making (artists like Smithson and Bochner and Levea). I'd set up empty interior spaces— miniature rooms and furnishings and lit them with direct sunlight or harsh contrasty theatre lights. I truly felt that they could be mistaken for real places and in this sense became enamored of the camera's ability to tell lies rather than portray the truth. Whenever I found or bought old dollhouses they often came with dolls which I found uninteresting and threw aside. One day I decided to place a doll in one of the rooms. After looking at the first test shots I suddenly found myself more interested in the dolls than the empty spaces. I guess I've been a bit like a dog with a bone in terms of my subject. No matter where I go with my work I always come back to "woman in interior" and it's generally some kind of doll figure.
Excerpt from "The camera lies; or, why I always wanted to make a film," An Interview with Laurie Simmons, from "Imagination Becomes Reality Part V: Fantasy and Fiction," exhibition catalogue, Sammlung Goetz, Munich, Germany, 2006.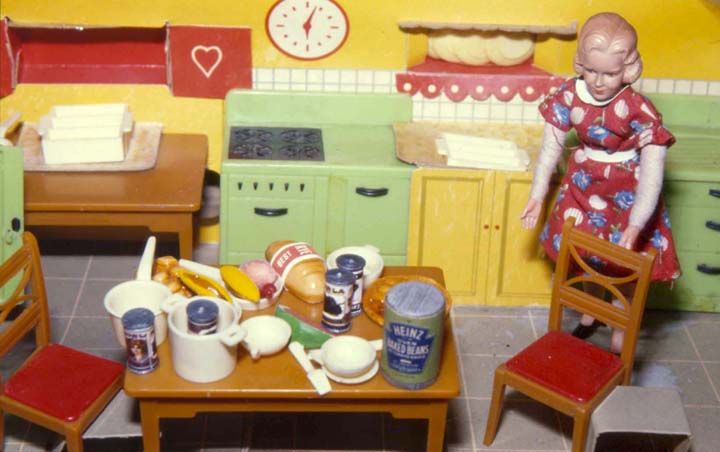 Contact
Laurie Simmons c/o Salon 94
New York,
USA
Text, images, audio, and/or video in the Feminist Art Base are copyrighted by the contributing artists unless otherwise noted. All rights reserved.