Mary Coble
Washington,
USA
Born in North Carolina, Mary Coble now lives and works in Washington, DC. Aside from working as a full time artist, Mary teaches Photography and Performance Art at several Universities and youth organizations.
Feminist Artist Statement
The seriousness of intolerance that I see in our society is one of the driving forces that leads me to create work. I want to challenge people to re-evaluate overly simplified and narrow understandings of a much more expansive reality. As a lesbian I do not always fit into the ideal standards that our society has set for women. I am conscious of the constrictions that people may struggle against. The dichotomies that our society follow, such as feminine/masculine and beautiful/ugly are too narrow and restrict the myriad of experiences that makes up personal expression. Through photographs, video and performances I introduce viewers to individuals and subcultures, such as transgender people, drag kings and the queer community who break societal norms of acceptable expressions. I want viewers to become aware of their responses, recognize the stereotypes they consciously and unconsciously reinforce, and question the biases their choices are based upon. I often use my body as a metaphor and site for questions that involve, as well as move beyond, corporeal matters. These performances establish a sense of vulnerability but also power that is important for the emotional state of mind that I strive to maintain throughout the piece. I do not accept the roles, boundaries and decisions that our culture and society has strategically planned for my community. I strive to confront conventional social constructs that are malleable and will continue to change. I want people to be forced to critically consider their reactions and interactions with social injustices. I have the freedom to explore this territory in part due to the women before who have fought to be recognized. I make art that challenges directives because I look at art by women who do the same and it excites me. It makes me feel strong and I'm honored to be a part of such a community of people who stand up.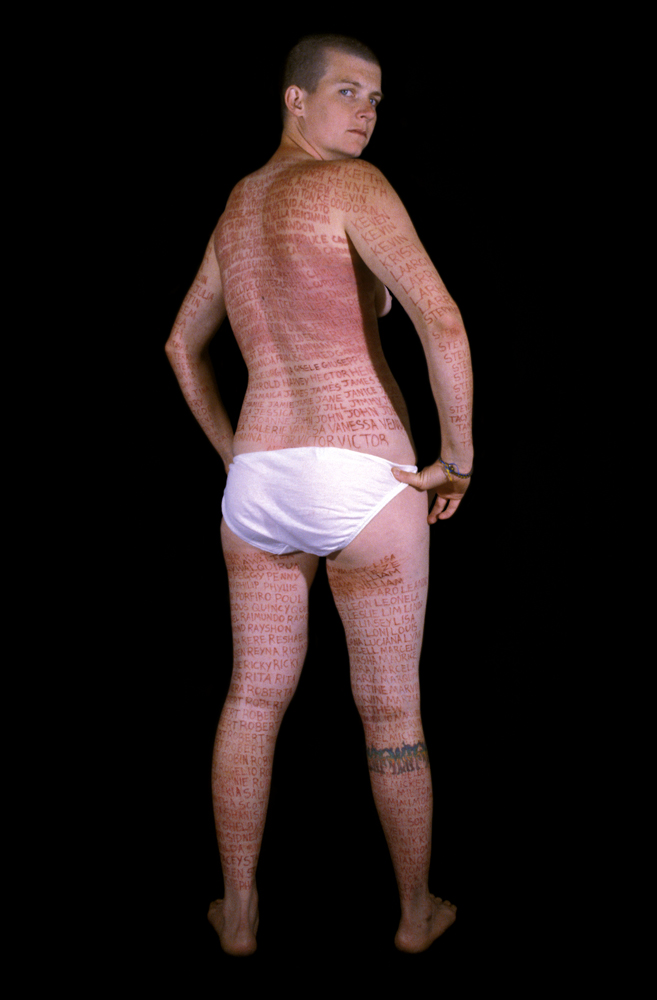 "Note to Self" was a twelve hour performance where the names of 438 gay, lesbian, bi and transgender individuals who were murdered due to hate crimes, were tattooed onto the artist's body using no ink.
Text, images, audio, and/or video in the Feminist Art Base are copyrighted by the contributing artists unless otherwise noted. All rights reserved.