Maureen Kelleher
Hoboken, NJ
United States
I am the eighth of eight daughters of Mary Jo and Jim Kelleher.
My first memory of home: quarters on an army base in North Carolina. After that my dad retired and lots of moves ensued. Mom went off to the mental hospital and dad hightailed it to Colorado to outrun the I.R.S.
Different sisters headed the household at various times in my teens. I lived in many states with them and their families until I was eighteen. I graduated the University of Florida in 1982 with a degree in philosophy and no shortage of confirmation from almost every quarter that I had earned a useless degree.
I turned down a Peace Corps assignment and decided, instead, to follow my heart. I moved to New Orleans and would do whatever I had to do to start my life—on my own, all grown up, and what am I going to do now?
I spent the next twenty-three years in New Orleans. I held many odd jobs, some jobs with some degree of professional shine, and then I ran into a top-notch civil rights lawyer. She seriously got and held my attention. I became a private investigator, with emhasis on criminal fact investigation for lawyers who represent men on death row. It was and continues to be just the right mix for me of good work, serious issues, and dealing with lots of people along the way.
The day before Hurricane Katrina hit New Orleans, I drove out of there with my purse and financial papers. Drove straight north for four days and landed in Hoboken NJ, a stone's throw from NYC. I got work and then I got a studio. I've been working, living and making art in the NYC area ever since.
Feminist Artist Statement
I've never known anything other than being female and living a female life. So I've always been a feminist, although the first official thought of it—what it means, analysis from every which angle, etc.—didn't come unitl I was in college. All that talking about it: I appreciate and participate sometimes, but I fall a little into the shadows as the talking about it and recognizing about it takes center stage. I like to live first and talk about it later.
I come from a strong woman who overcame huge hurdles and constant fatigue. I have seven sisters and many households along the way of my growing up years were headed by a sister or two, in lieu of the absent father and mother. Females ruled the roost; I've never doubted that we are capable.
My art brings the strong women out of the shadows and into the limelight for all of us to see and hear her story and get some inkling of what she lived. I greatly admire the woman's ability to keep going, no matter what. I can't get enough of that energy, that feminine drive, that joie de fucking everything that the strong woman is. Let loose the others, pray they get it one day, and keep on trucking, however way we can and do.
Eyes wide open, stand firm, hips square, and be kind. Say what needs to be said, express what needs to be expressed, and keep going. Tender and tough. That's what I like to share in my art. That's the beauty of the feminine.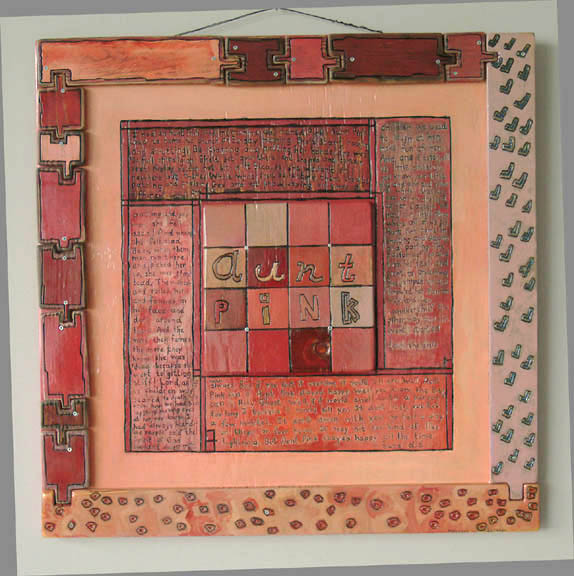 I interviewed a woman about her grandmother whose mother was a slave. Then she told me about her colorful aunt.
An Easter Sunday mass, the children in their holiday finest. They watched as fiery Aunt Pink, in all her glory and joie de vivre, entered church and walked down the aisle.
An excerpt:
"...She jumped up and throwed her fan one way and her handkerchief the other way and she went, started down the aisle patting and, you know, she fell dead!..."
Contact
820 Hudson St., #1-4
Hoboken, NJ
United States
Email
Text, images, audio, and/or video in the Feminist Art Base are copyrighted by the contributing artists unless otherwise noted. All rights reserved.