Millee Tibbs
Providence,
USA
Millee Tibbs (b. 1976) is a conceptual artist based in Providence, RI. She holds an MFA from the Rhode Island School of Design and a BA in Studio Art and Hispanic Studies from Vassar College. She has a broad exhibition record including the New Hampshire Institute of Art, Concord; 55 Mercer and Winkleman/Plus Ultra Gallery, both in NYC; the Hera Gallery, Wakefield; Paul Robeson Gallery at Rutgers University, Newark; University of Massachusetts, Lowell; and the Museum of Modern Art, Santo Domingo.
Feminist Artist Statement
Despite our awareness of the mutability of photographic images, we approach them thinking we know what to expect: something that-has-been, a fixed subject inside a frame. I am drawn to photography because of its ubiquitous presence in our culture and because of the tension between the truth-value photographs infer and their inherent manipulation of reality. I develop my work out of my desire to scratch off the surface of the image and expose its construction.
In the series Self-portraits and This is a picture of me, I use the transgressive space of self-portraiture to upend the canonical power relationship between photographer and subject. Both series are meant to question how a woman is supposed to present herself. In This is a picture of me, the reenactment of childish gestures by an adult body transforms the seemingly innocuous poses into suggestive and sexualized performances that emphasize the unconscious influence of mediated images in vernacular photography. The series Self-portraits points to the ultimately insatiable desire to see the female form. The subject of the photographs is not what is seen but rather what is missing.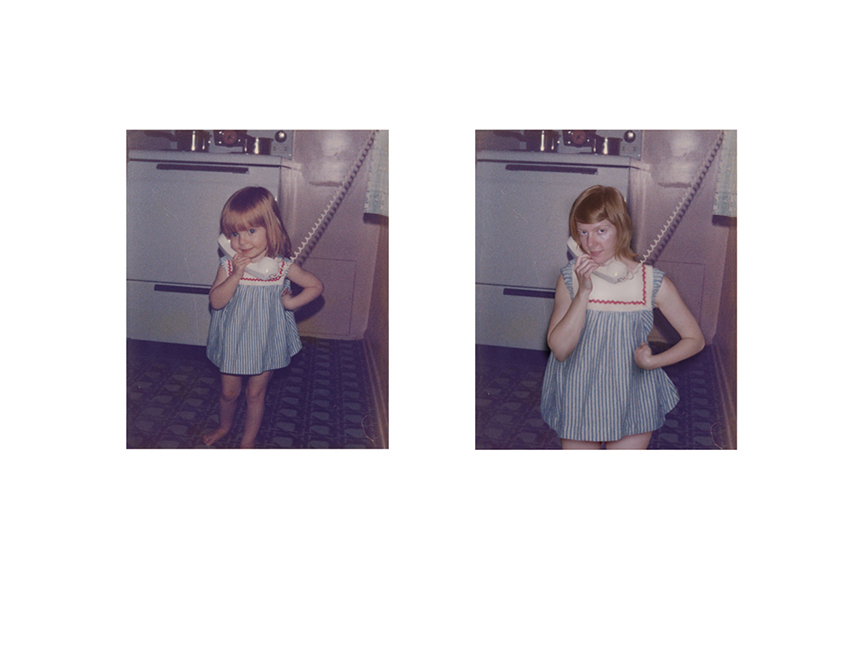 From the series This is a picture of me
Text, images, audio, and/or video in the Feminist Art Base are copyrighted by the contributing artists unless otherwise noted. All rights reserved.