Mimi Smith
New York,
USA
MIMI SMITH
Born 1942 Brookline, Massachusetts
Lives and works in NYC
EDUCATION
1966- MFA - Rutgers University, New Brunswick, NJ
1963- BFA - Massachusetts College of Art, Boston, MA
GRANTS
1998 - Joan Mitchell Grant
1986 - NY Foundation of the Arts Fellowship Recipient
1982 - NYSCA Visual Artist Project Grant with Visual Studies Workshop, Rochester, NY
1978 - NEA Artist's Fellowship Grant
SOLO EXHIBITIONS
2006- "Drawings from the 60s to the Present," Kustera Tilton Gallery, NYC
2004- "Mimi Smith: Selected Works 1965-1999," Ramapo College, Berrie Center, Mahwah, NJ (cat.)
1998-99- Anna Kustera Gallery, NYC
1997- Anna Kustera Gallery, NYC
1994- Institute of Contemporary Art, University of Pennsylvania,Philadelphia,PA (cat.)
1993- Valencia Community College, Orlando, FL (catalogue)
1990- Bound & Unbound, NYC, (catalogue)
1983- Printed Matter, NYC, window installation
1980- The Art Center, Waco, Texas (catalogue)
1980- 55 Mercer, NYC
1980- A.I.R. Gallery, NYC, "From the Newsroom", performance/installation
1979- 55 Mercer, NYC
1979- Douglass College Library, New Brunswick, NJ
1978- Franklin Furnace, NYC, performance: "A Reading of Two Drawings"
1978- 55 Mercer, NYC
1978- Allegheny College, Meadville, PA
1977- Franklin Furnace, NYC
1976- The Institute of Contemporary Art, Tokyo, Japan
1975- Hundred Acres, NYC
1975- 112 Greene St. Gallery, NYC
1973- The New Gallery, Cleveland, OH
SELECTED GROUP EXHIBITIONS
2007-"Claiming Space: The American Feminist Originators," American University Museum at the Katzen Arts Center, Washington, DC
"WACK! Art and the Feminist Revolution," curated by Connie Butler, The Geffen Contemporary at The
Museum of Contemporary Art (MOCA), Los Angeles, CA
2006-"Threads of Memory," curated by Margaret Mathews Berenson, Dorsky Gallery, LIC, NY
2005-"Pattern Language: Clothing as Communicator," curated by Judith Hoos Fox, Tufts University Art Gallery,
Medford, MA
2005-"Artwear: Fashion and Anti-Fashion," Fine Arts Museums of San Francisco, Legion of Honor, San
Francisco, CA (catalogue)
2005-"Artists On the Edge: Douglass College and the Rutgers MFA," Mabel Smith Douglass Library,
Rutgers University, New Brunswick, NJ
2003-"Critical Mass: Happenings, Fluxus, Performance, Intermedia and Rutgers University, 1958-1971,"
organized by Geoff Hendricks, Mead Art Museum, Amherst College, MA traveled to: Mason Gross Art Galleries, Rutgers University, New Brunswick, NJ
2002- "Gloria: Another Look at Feminist Art in the 1970s", curated by Catherine Morris and Ingrid
Schaffner, White Columns, NY traveled to: The Galleries at Moore College of Art and Design, Philadelphia, PA (Jan-
Feb.2003); The RISD Museum of Art, Providence, Rhode Island (Nov. 2003-Feb.2004)
2002-"Obsession/Fixation," curated by Grace Graupe Pillard, Ceres Gallery,NY, NY
Feminist Artist Statement
I began making sculpture in the form of clothing in1965. I saw these clothing pieces not as garments to be worn, but as sculpture, installations, and visual objects. I believed that women knew how to look at clothes and that if I made sculpture in the form of clothing I could say something about events and concerns in my life my life as a young woman and communicate the shared experience of being female in society. Some of the pieces I made at that time were a plastic "Wedding Gown" installation, with a 30 foot train made of carpet runners, an over-sized see through "Bikini" and very thin "Model Dress", a rubber bath mat "Girdle", a plastic domed "Maternity Dress", and "Steel Wool Peignoir", a steel wool, nylon and lace peignoir that I felt combined the reality of my life with the romance of what I thought it would be. In 1968 during my second pregnancy I made "Knit Baby Kit", a knit your own baby kit. A subsequent miscarriage caused me to embroider "The Baby is Dead" on its undershirt. In the seventies, at home with two small children, I started a large conceptual, process piece consisting of life size wall drawings made out of knotted thread and tape measures of the measured furniture, appliances, and architectural elements surrounding me in my house. I felt that the repetitive knotting and measuring process symbolized my existence, both visually and conceptually, which had become machinelike and repetitive.
Since that early time I have continued to make art related to experiences in my life. My more recent work incorporates the subjects of illness and aging. One series portray clothes as a talisman designed to protect one against illness as in "Protector Against Illness: Black Tamoxifen Bra". A new series of drawings, "Timelines", depicts articles of clothing, "Shoes", "Undershirts", and "Underpants", as icons depicting the changes on the different ages of a woman throughout her lifespan.
Although my earliest work was also feminist in both a personal and political sense there was no available vocabulary for it and it often went misunderstood, or in some cases not seen for decades, when I first made it. The word feminism was not a word in my own vocabulary until the early 70's.when its ideas inspired me with hopes and ambitions for things I had not imagined or even considered. – Mimi Smith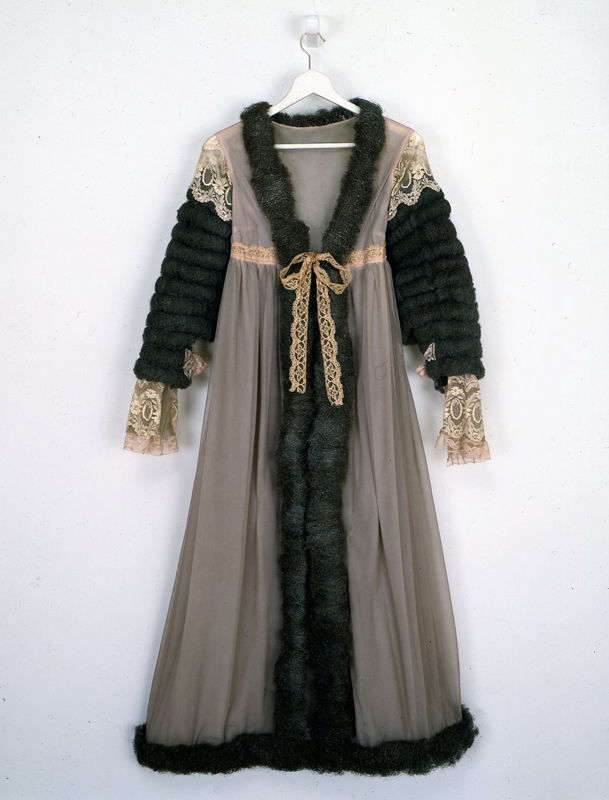 Contact
c/o Anna Kustera 520 West 21st Street
New York,
USA
Email
Text, images, audio, and/or video in the Feminist Art Base are copyrighted by the contributing artists unless otherwise noted. All rights reserved.