Nancy Wilson-Pajic
Nogent-sur-Marne,
France
—-1941 Born in Peru, Indiana. —-1950-59 Classical studies in drawing and painting. —-1959-63 Art school, then studies in psychology. —-1964-77 Lives and works in New York (as Nancy Wilson Kitchel) —-1966 Definitively stops painting. Explores other forms of cultural expression, notably film, sound, text, performance… Creates a media center on Long Island. Center is a laboratory for exploring and exhibiting new art forms. First public performances. —-1968 Installs a recorded voice in a pile of dishes in a kitchen, for a "salon" exhibition. Voice recounts the daily routine of a secretary-wife-mother. Chooses to develop narrative forms within an art context. —-1969 First New York exhibitions. —-1972 Founding member of A.I.R., first women's gallery, in New York and personal exhibition of installations and objects with texts. —-1973 Personal show at Artists Space in New York is first time a sound installation is shown in an art context and inspires an impassioned debate in the art world. B.F.A. degree in sculpture, Cooper Union, New York. —-1974 Text installation at 112 Greene Street Gallery in New York attracts attention. Beginning of participation in the international avant-garde with text-based installations. —-1977-79 Discouraged by the academism of the avant-garde. Sells house in New York and gives away possessions. Marries the video artist Slobodan Pajic. —-1980 Settles in a studio in Paris. Research on the aestheticizing character of the image. Creates a series of pigment printing processes. Works under the name Nancy Wilson-Pajic. —-1983 Solo show at the Musee National d'Art Moderne in Paris. —-1989 Commissioned by the French Ministry of Culture to create a monumental work to commemorate the 150th anniversary of the invention of photography. —-1990-92 Large-scale retrospectives at the Musee National d'Art Moderne in Paris, at the Musee Cantini in Marseille and in two museums in the city of Aurillac. —-1995 Creates, with the art historain Carole Chichet, the virtual artist Penelope Morgan, who makes the most radical works possible using discarded objects. In parallel, shows under that name until 2006. —- Named Chevalier de l'Ordre des Arts et des Lettres by the Minister of Culture. —-From 1990 Numerous exhibitions, commissions and acquisitions by museums in Europe, Asia and the Americas. —-From 1996 Concentrates on developing a text-based statement in installations, text-image pieces and writings. —-2009-2010 Participates in Elles@CentrePompidou, the vast survey of women's art from the collections of the Musee National d'Art Moderne, in Paris.
Feminist Artist Statement
When, in 1966, I quit painting and began to explore other media and other forms of cultural expression, I found myself doubly excluded. First, I was a woman and second, I made the wrong kind of art. The hopelessness of the situation relieved me of pressure to conform and provided me with an extraordinary freedom of action. Exonerated from any hope of entering the mainstream art world, I began to work in non-art spaces, in dematerialized forms, performing and making installations for a growing group of like-minded others. From this vantage point, at the very beginning of the 70s, I began to act within the feminist art movement, where I advocated the construction of parallel structures as a means to precipitate the change of attitude that would permit greater equality, not just of persons, but also of ideas, opinions and modes of expression. For me, the full realization of a women's statement in art required basic revision of both the artist's role in society and of what constitutes an art object. My feminist attitude was and still is based on the unique and positive aspects of women's experience, insisting on the equality of the art made by all groups and individuals, regardless of their personal characteristics or the modes of expression they employ. This attitude requires an enlarged definition of what it is acceptable to do within the context of art, in terms of techniques, of forms and of contents. Sharing personal experience and ideas, pointing out contradictions, as well as attacking artistic or social problems from another vantage point, produces an art with subtle but very basic differences. Women's attitudes, even those born of oppression, introduce a dynamism that renews art practice. In a panel discussion at A.I.R., Lucy Lippard, Rosemary Mayer, Mary Miss, Nancy Spero and I defined the differences between the terms Female, Feminine and Feminist. As I interpret the schema, Female would relate to individual experience, Feminine to socially defined characteristics and Feminist to militant action. It is maybe only after having explored what is uniquely feminine and acquiring a feminist consciousness that one can begin to appreciate and to develop the richness and the artistic possibilities of one's own, individual, female experience.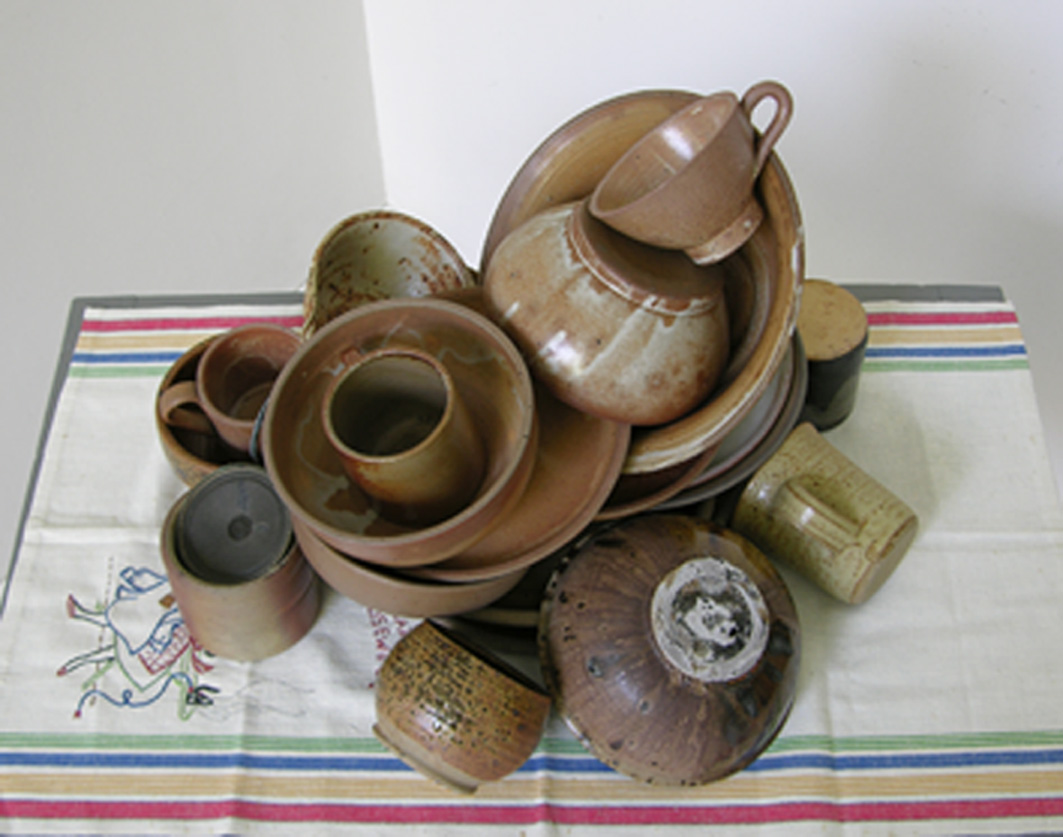 In situ sound installation in a kitchen consisting of a pile of dishes and a voice recounting the daily routine of a wife-mother-secretary. Also shown as a sound sculpture at Cooper Union in New York in 1969 (illustration). ——-TEXT (Excerpts)—-Usually I get up at 6 and make myself a cup of coffee before everybody else gets up.—-Then I wake up the kids and get them washed and give them breakfast.—-While they are eating, I finish packing the lunches.—-Then I wake up my husband and give him his breakfast…—-While he is eating, I get the kids dressed and ready for school, pull on my sweat suit, load the kids into the car and drive them to school. There are a bunch of roughnecks on the school bus and they beat up on my kids all the time; I guess they resent the fact that they are better in school or something. So I drive them, and they are less nervous and do better in school.—-Then I come back to the house and get myself ready for work. My husband has already left by the time I get back because he has been transferred to a town 20 miles further and it takes him longer to get to work. I don't really take enough time with my appearance. With my position, I should have a better appearance, but I just don't have enough time to do my hair and put on a lot of make-up. Sometimes the other girls make comments, so I do try to put on make-up… —-My husband gets very nervous when we talk about money, so it is hard to get anything decided. Usually he gets mad and goes off to bed in a huff while I try to figure something out. —-He thinks I should ask for a raise with all the extra work I do, but he doesn't understand that it isn't work on my level that I do, but it is filling in for secretaries and clerks, so I can't ask for more money. I suppose I should be able to insist that they do it, but there is so much resentment against my having the responsibility that I hate to make more demands than I have to. It's not how much work you do; it's the kind of work you do that gets you more money. I already earn more than any of the other girls in the company. My husband says I am being exploited and that I should stand up for myself better.
Contact
5 av Smith-Champion
Nogent-sur-Marne,
France
Email
Text, images, audio, and/or video in the Feminist Art Base are copyrighted by the contributing artists unless otherwise noted. All rights reserved.