Regina Granne
New York,
USA
Regina Granne earned her BFA from Cooper Union and her M.F.A. from Yale University. She has exhibited extensively both nationally and internationally in solo and group exhibitions. Selected shows include the National Academy of Design, NYC; Tatistcheff Gallery, NYC; Sejong Art Center Museum, Seoul, Korea; Delaware Arts Center, Narrowsburg, NY; University of the South, Sewanee, Tenn.; Lehman Suite, Colombia University, NYC; International Biennial of Painting, Cuenca, Ecuador; 2B Gallery, Budapest, Hungary; North Dakota Museum of Art, Grand Forks, ND; and the Art Academy of Cincinnati, Ohio. Her work has been reviewed by the Boston Globe, The New York Times, Art News, and The Chronicle, among other publications. Granne is represented by A.I.R. Gallery in Brooklyn, New York.
Granne has taught at Parsons School of Design and was the coordinator and a working faculty member of the graduate program in Painting. She was also on the faculty for many years at the Milton Avery Graduate School of the Arts, Annandale on Hudson, NY. This is a cross disciplinary program that includes Photography, Music, Writing, Film/Video and Sculpture.
Her most recent solo exhibition, Elegy/War Games: Drawings was on view at the Olson Gallery of Bethel University, Saint Paul, MN, from January through March of 2009. In May of 2009 at A.I.R. Gallery, Brooklyn, NY, Granne is also having a solo exhibition of drawings, Increments: Drawing 1970 – 1995, to coincide with the publication of Increments: Drawings, 1970-1995, Regina Granne, published by The Crumpled Press, New York, NY.
Granne is part of a group exhibition, Women Forward: Celebrating Women's History Month 2009 at The Williamsburg Art and Historical Center, Brooklyn, NY.
Feminist Artist Statement
The position of women in the arts today is simply a reflection of how women are viewed in the United States and in the world. I am constantly amazed by the unending parade of mostly white males in media and the continued low percentage of women represented.
Abstraction and conceptual thinking were not a part of the initial game-playing that I was encouraged to participate in as a girl. Despite this, it is these more abstract currents that seem to be what fascinate me in painting, combined with the tactility and immediacy of the material. The paintings are a game of the mind and a place to put images that reflect how I think. My work is not self-referential or psychological. It is intensely observed and matter-of-fact. It displays a collision of certain aspects of linear perspective and the constantly changing perspective of real space. I use an extreme point of view and radical-scale change of images to put pressure on the picture plane and engage or even disorient the viewer.
When I first started to use images that could be found in the perceptual world, I used the female nude as a subject in what might be called the game of a figurative formalist. She had no more emotional or political meaning than any other object. She was just another element in the logical arrangement of pieces in the game of image-making. Sometime around 1985, I began to want to deal with imagery that was more subjective and less neutral. This continues to be important in my work and is particularly evident in the pieces that use elements of the canon of white male painting as a strategy, while commenting on its view of the female nude. It is even more evident in the current "war" or rather "anti-war" work.
Drawing is essential to my process. The imagery is layered. Context and identification collide and the images become mutable as they position themselves in the interpretive space of the painting.
I am still making work that I think of as essentially "non-gendered" with awareness that when I put it out there it will be seen as made by a woman. Perhaps the way I see my subject is from a female perspective—I am after all a woman painter—but I have learned it is not an equal playing field for me or for the emerging women artists of today.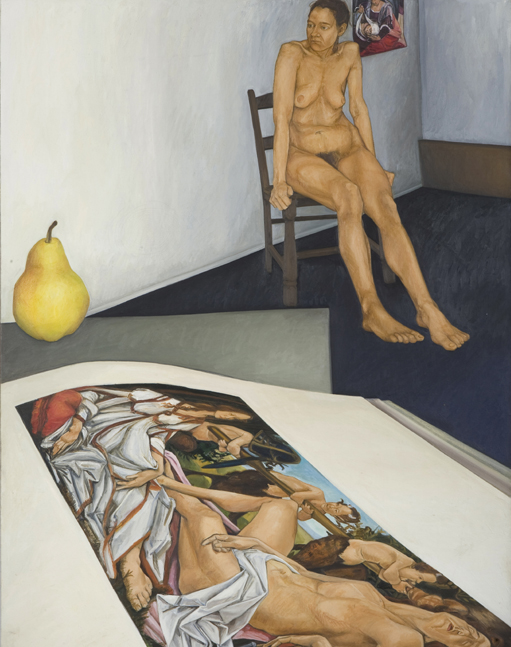 Contact
237 Bleecker Street
New York, 10014
USA
Email
Text, images, audio, and/or video in the Feminist Art Base are copyrighted by the contributing artists unless otherwise noted. All rights reserved.