Sanghee Song
Amsterdam,
The Netherlands
Sanghee Song was born in 1970 in Seoul, South Korea, where she lives and works today. She earned both a BFA in 1992 and a MFA in 1994 in painting from the Ewha Woman's University, Seoul, South Korea. She has had solo shows at Gallery ICON, Seoul; Pool, Seoul; Freespace PRAHA, Sapporo, Japan; and Insa Art Center, Seoul. She has been included in group shows at Seoul Museum of Art; Hokkaido Museum of Modern Art, Sapporo, Japan; Sunggok Museum, Seoul; Total Museum, Seoul; Kunstcentret Silkeborg, Denmark; Kunsthalle Darmstadt, Germany; and Leeum Samgsung Museum, Seoul. She has also participated in the Busan Biennale in 2004, as well as the Gwangju Biennale and the Sao Paulo Bienal in 2006.
Feminist Artist Statement
I'm just interested in myself. Myself here refers to a woman who was born in middle class South Korea, straight, and without disability.
From this point of view I am not an individual. It is very clear that the group to which I belong is a distinct social stratum. It is also clear that there is a collective memory, behavior patterns to be shared and an ethic that can pertain to this group only.
As a member of this group, I continously ask myself this question: Why do you think and act this way? I realize that there are some things in existence. They are systems like skeletons in the closet. These systems always create heavy pressure on me. Here another question is raised: What really are these systems? What power makes these systems work?
Relating these questions to myself, I'm trying to re-verify this system. This process of questioning and verifying is my work.
After all, I'm talking about my identity.
I believe that I can stand up on any place, but that belief in itself may be a source of pressure, and it may well be that I have been floating on a void.
Thus, I came to have a desire to stand up straight on the spot, and such a desire leads me to ask these questions.
This is a collective obsession and common fantasy middle class women have, which is raised from the ideology of the good daughter, and good mother, and good wife that has been forced on them in the patriarchal society in Korea.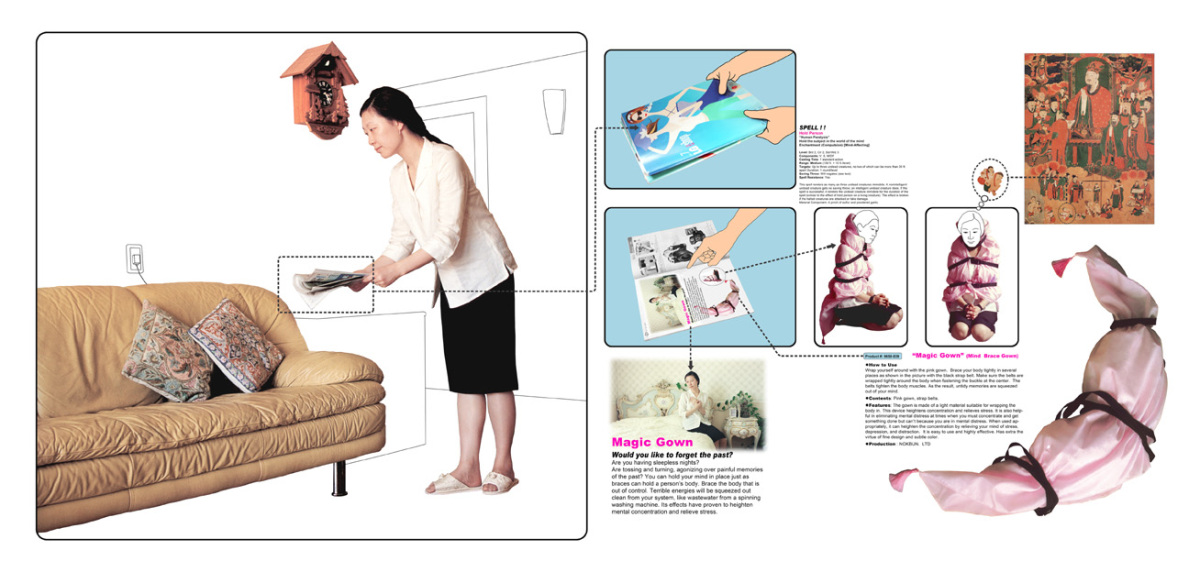 The magic gown has three belts. It is created to erase women's past memories. When a woman puts on this gown with its belts buckled up tightly, her body is twisted by it and then her past memories are vanished.
Contact
Sarphatistraat 470
Amsterdam, 1018G
The Netherlands
Email
Text, images, audio, and/or video in the Feminist Art Base are copyrighted by the contributing artists unless otherwise noted. All rights reserved.