Sarah G Blackwelder
Brooklyn,
USA
Since receiving her MFA from the New York Academy of Art in 2003, Sarah Blackwelder has been developing a series of oil portraits showing the dark side of children's toys. On this series, Sarah was awarded a fellowship at A.I.R. Gallery in Chelsea, where she will had first Solo show in June, 2006. In addition to A.I.R., Sarah has exhibited in various galleries in and around New York City, including Chashama, the Society of Illustrator's Guild Hall, Space Station and Micro Museum in Brooklyn. Sarah was a finalist in RSVP's Dream competition and has participated in other juried shows, including Schoholrie, Art Council's National Small Works Exhibition, the Real Art Ways Slide Slam, and Manifest II at the White Studio Gallery. Sarah currently works and paints in Brooklyn.
Feminist Artist Statement
As a child, toys were my most intimate friends. I gave them names, loved and ascribed them personalities. When I was sad, they were too and I comforted them. When I was angry, I beat them. At the end of childhood, they showed their use — eyeless, hairless, unstuffed. The toys were my "portrait of Dorian Gray". As I moved into adulthood apparently unscathed, they were obviously abused.
The subjects of my work continue to show my deepest emotions: fear, loneliness, grief, anger. All I refuse to display on my surface, I show on theirs — from them, a selfless sacrifice to quiet my inner demons.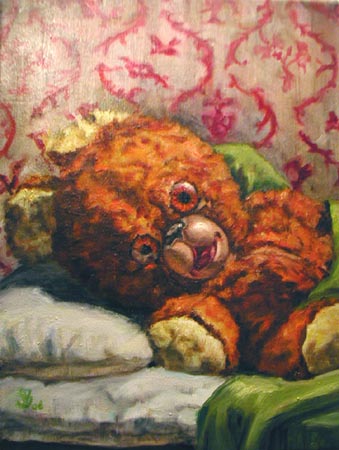 Contact
145 4th Avenue, 2R
Brooklyn, 11217
USA
Email
Text, images, audio, and/or video in the Feminist Art Base are copyrighted by the contributing artists unless otherwise noted. All rights reserved.