Shara Hannah Finerman
Oakland,
USA
Shara Hannah Finerman is a multi-media artist who works with found objects that already embody a history as well as traditional and non-traditional artist's materials. Shara's 2-D and installation artwork often incorporates text, line, and conceptual interplay. Her work has been reviewed and featured in THE magazine in Santa Fe, New Mexico, and The East Bay Express in California.
Shara's artwork has been exhibited in galleries, art fairs, and symposiums in Los Angeles, Orange County, Oakland, San Francisco, Albuquerque, Chicago, and Paris. She is a member of the Brooklyn Museum's Elizabeth A. Sackler Center for Feminist Art: Feminist Art Base, an on-line artist registry. Her artwork is also held in numerous private collections. Shara received a Bank of America Art Excellence Award in 1991 for accomplishments in music, foreign language and fine art. She also received a UNM grant in 2008 for research in the Czech Republic related to her masters thesis exhibition.
Shara was born in 1973 in Southern California. She graduated with a BFA in Drawing and Painting in 1998 from CSU Fullerton. Two years prior, in 1996, Shara studied a semester at the Sorbonne University of Paris and the Otis Parson's School of Design in Paris, France. During her final semester at CSU Fullerton, she moved to The Brewery in downtown Los Angeles: the oldest, legal, live/work artists' community in Los Angeles. Surrounded by over 300 working artists, Shara gained many valuable business and networking skills as well as the pleasure of working amongst a thriving artists' community.
Continuing to answer the call for travel and adventure, Shara moved to Chicago in the fall of 2003 for a one-year post-baccalaureate certificate in studio program at The School of the Art Institute of Chicago. She returned to the Bay Area briefly before relocating to Albuquerque, New Mexico, to study her Masters in Art Education at the University of New Mexico. Happy to be back in the Bay Area, Shara has been living in Oakland since July 2009 exhibiting her artwork and teaching for kids' performing and visual art programs throughout the Bay Area.
Feminist Artist Statement
We all have stories to tell.
I am an artist, researcher, traveler, and art teacher. I am engaged in the process of visually describing my experiences as a woman living in an urban culture of the 21st century. In order to do this I sometimes look to the past for clues. I often start with found photographs and objects that already embody a history.
I am driven to question the familiar, to look below the layers of the everyday. In the tradition of Feminist Theory, I am interested in challenging the gendering and prescribed meanings of objects, language, and behavior. By playing with these accepted cultural definitions, I hope to tease out our assumptions and to expand our potential for compassion, humor, and personal expression. Sometimes a closer look, and listen, is all it takes.
My artwork evolves out of a process of building layers, grouping items, reassigning images to a new context, and tracking and comparing patterns of line and relationship. Language is both a line and an idea: the subject and the descriptor. The human body is also a language, of gesture and memory. I construct visual narratives of line, gesture, and personal/shared memory.
Shara Hannah Finerman
2010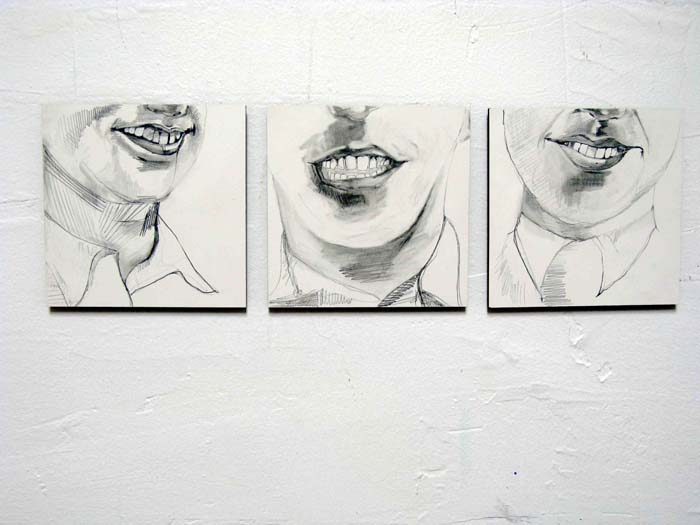 Text, images, audio, and/or video in the Feminist Art Base are copyrighted by the contributing artists unless otherwise noted. All rights reserved.