Shu Lea Cheang
Paris,
France
Shu Lea Cheang is a multi-media artist working within the field of net-based installation, social interfaces and film production. Her net installation works were commissioned and permanently collected by the Walker Art Center (Bowling Alley, 1995), NTT[ICC], Tokyo (Buy One Get One, 1997) and the Guggenheim Museum (Brandon, 1998-1999). She made two theatrical feature films, Fresh Kill, which premiered at Berlin film festival in 1994 and was included in Whitney Biennal (New York) in 1995; another film, I.K.U., produced by Tokyo's Uplink Co., was premiered at Sundance Film Festival 2000. Her recent installation and web projects include BabyPlay (NTT[ICC], Tokyo, 2001), Garlic=RichAir (Creative time, New York, 2002), Burn (Venice Biennale, 2003), Milk (56K bastard TV, 2004), BabyLove (Palais de Tokyo, 2005). She co-founded several collectives: Kingdom of Piracy (based at netspace, since 2001), Mumbai Streaming Attack (based at Zurich since 2003) and TAKE2030 (based at London since 2003). In 2007, she launched MobiOpera, commissioned by the Sundance Film Festival for its New Frontier program, a public cinema collective made with mobile phones.
Feminist Artist Statement
The medium I choose for each project I am engaged in, is itself a feminist statement.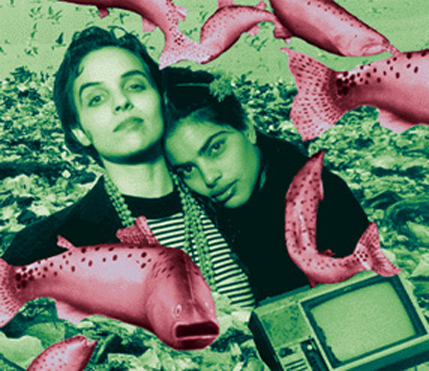 Fresh Kill tells the story of two young lesbian parents, who get caught up in a global exchange of industrial waste via contaminated sushi. Together with kitchen workers, they make an unlikely alliance with activists in the developing world and strike back.
Text, images, audio, and/or video in the Feminist Art Base are copyrighted by the contributing artists unless otherwise noted. All rights reserved.