Sissi
Bologna,
Italy
I was born in 1977 in Bologna. I live and work between Bologna and New York. I graduated from the Accademia di Belle Arti and have taken part in numerous group and solo exhibitions in Italy and Europe (Neuegalerie of Graz, W139 of Amsterdam, Smak of Gent). In 2001 I made a performance at the MoCA in Miami. In 2002 I won the Querini Stampalia Award—"Furla per l'Arte" in Venice. In 2004 the MACRO of Rome presented my solo exhibition: Nidi. My work starts from the body. The body is the soul of my work. All the sculptural elements, fundamental in the performances, are a house the artist builds up for herself; environments for her body, like a butterfly's cocoon. Manual ability is central to my work: I intertwine different materials like wool, rattan, plastic thread and many others to make a new skin. I use it to make my sculpture and to represent an extension between my work and my body in the space.
Feminist Artist Statement
Sentire, sentirsi è quello che sono.
Mi sento dentro al mio corpo e mi esprimo con la gioa di essere donna.
To feel and to feel as myself is what I am.
I am feeling inside my body and I express myself with the joy of being a woman.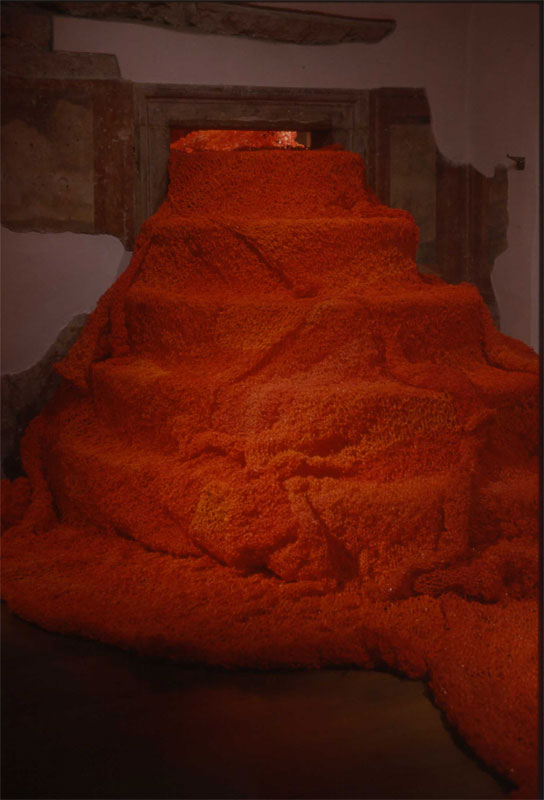 In this work, I lifted the floor of one of the museum's rooms. The space was only accessible through a small window. In the room, I laid very still, covered by section of the sculpture that I created with intertwined red plastic thread. The audience was able to watch through the window only after having walked up the staircase I installed right in front of the only door in the room.
Photo: E.Bialkowska 2003, Rovereto, MART Museum, Italy
Contact
Collegio Venturoli V.Centotrecento 4
Bologna, 40138
Italy
Email
Text, images, audio, and/or video in the Feminist Art Base are copyrighted by the contributing artists unless otherwise noted. All rights reserved.