Skowmon Hastanan
Bronx, NY
USA
Skowmon Hastanan was born in Thailand and lives and works in New York. She received her BFA from School of Visual Arts, 1985 and has won several public art commissions including faceted glass design, 233 Street Subway, NYC MTA Arts for Transit, and floatglass painting, PS 228, NYC Board of Education, Percent for Art Commission, and Chinatown In/Flux, (Philadelphia, PA). Hastanan participated in the following national and international exhibitions: Wave Hill, (NY), Pier 2 Arts District (Taiwan), Jamaica Center for Arts (NYC), Gallery 4A (Sydney), Real Art Ways (Hartford), Fészek Galleria (Budapest, Hungary), Delta Axis Art Center (Memphis), Randolph Street Gallery (Chicago), A Space (Toronto). For Godzilla: Asian American Arts Network she organized "The Curio Shop, New World Order III" (Artist's Space), "Urban Encounters" (New Museum, NYC), and "Why Asia?" (Art in General, NYC). She has collaborated with EMPOWER Foundation, Thailand, a center for the protection of the rights of women in the entertainment sector. This collaborative project was included in the exhibition "Dismantling Invisibility: Asian and Pacific Islander Artists Respond to the AIDS Crisis," 1991.
Feminist Artist Statement
My family migrated from Thailand to United States about 30 years ago. My approach to art is a combination of two cultures. The topics presented in my works are the trafficking of individuals, tourism, and immigration experiences. I explore feminine identity using found images from magazines, stamp collections, historical objects, Eastern religious motifs, and classified advertisements.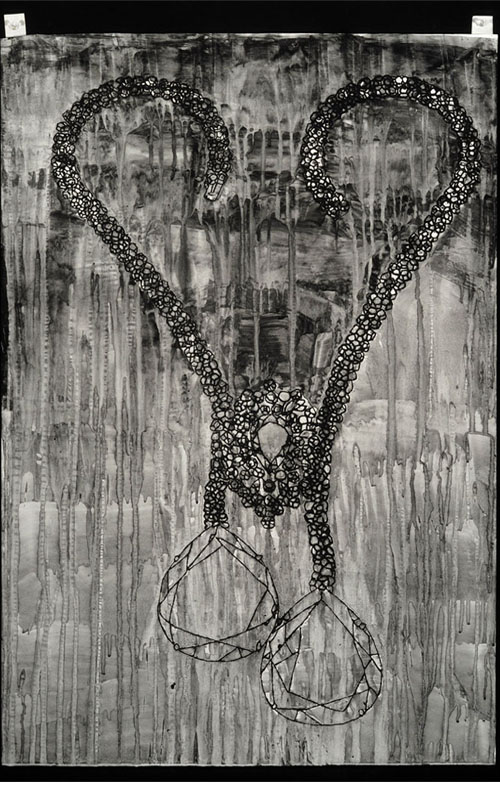 Shaved graphite and metallic powder, acrylic medium, and graphite wash on vellum, 36" x 23 3/4". In "The Property of A Lady," the titles are taken from various estate auction sales. The description and pedigree of the sale objects has as much presence as the actual jewels as well as its anonymous owner. It is a drawing of feminine persona, an anonymous wealthy person whose material inheritance is representing her identity. In this context, colonial reference also comes to mind. These jewels are made from precious stones procured through empirical expansions. The stones, some famous with legend or lore, were acquired through wars, military conquests, and trading, changing hands from kingdoms in the Subcontinent, Africa, Europe and the New World.
Contact
Bronx, NY
USA
Email
Text, images, audio, and/or video in the Feminist Art Base are copyrighted by the contributing artists unless otherwise noted. All rights reserved.