Susan Grabel
Staten Island, NY
USA
I have been doing figurative sculpture and exhibiting for over 35 years and am currently engaged in exploring printmaking, particularly the collagraph. My work on the human dimensions of social and political issues like consumerism, homelessness, alienation and aging women's' bodies is in the humanistic tradition of Kathe Kollwitz.
In the 1970's & 80's I was involved in the figurative co-op gallery movement in Soho. I was married and raising two children at the time so being a member of Prince Street Gallery worked well for me. It was good to be part of a community, have a goal and know I had a place to show.
I have also had solo shows at the Elizabeth Foundation, Soho20 Gallery and exhibited nationally in group shows at galleries, universities and museums. My work has been included in such major surveys as In Three Dimensions: Women Sculptors of the '90's, Newhouse Center for Contemporary Art, Staten Island, curated by Charlotte Streifer Rubinstein and Sculpture of the 70's: the Figure , Pratt Manhattan Center. My work has been reviewed in the New York Times, Art News and the Staten Island Advance.
In the early 90's, galvanized by The Clarence Thomas hearings and especially the Senate Judiciary Committee's patronizing and sexist treatment of Anita Hill, empowering women became my mantra. Between 1992 and 1998, I worked with the Women's Caucus for Art serving as President of the New York chapter, on the national board and later as national Treasurer. Together we created opportunities and stimulation for women to further their art and spirit.
Also in the 90's, I became interested in public art as a means to affect people in their daily environment. I created two public works: The World's Kitchen, a clay mural commissioned by the Staten Island Children's Museum; and, Regarding Women, a sculpture for the Center for Women's Health of Staten Island University Hospital .
For the past six summers, I have been a visiting artist at Chautauqua School of Art. Being in a community where art making is the norm has been very exciting and stimulating to my work.
In the late 1990's, I collaborated with painter, Jenny Tango, on a series of constructions on the issue of aging women's bodies, and have recently co-founded the Collagraph Circle to exhibit and promote the collagraph. Clearly, collaboration and community building has been an important theme in my life and art.
Feminist Artist Statement
Yes, I am a Feminist! I believe that women have the right to full political, economic and social equality and should be recognized and compensated in the same way that men are.
As a young woman growing up in the 50's and 60's, I was angry and confused. I was categorically told by my college philosophy professor that women were incapable of understanding philosophy, emphatically informed that there were no great women artists and had been receiving mixed messages all my life of do well but don't show how smart you are. Still, I plowed on, doing my work.
Then came the Women's movement of the 70's. It gave me a past and a future. It gave me back my history and taught me about the strength and creativity of women of all times. The Feminist Art Movement opened up the art dialogue in terms of subject matter, materials, showing possibilities and issues of collaboration, and it has given me a community from which I have drawn courage and strength to keep reaching, to know that there is a future.
I am a sculptor and printmaker and Feminism has informed all of my work although sometimes more explicitly than others. My early sculpture was in glazed clay – serious themes in a craft medium. There were genre tableaus dealing with personal family subject matter; a series called Caught in the American Dream depicting women strangled by commodities; a series on homelessness; and a series on Alienation - portrait reliefs in boxes with grates and bars in front . My public sculpture for the entrance of the Center for Women's Health of Staten Island University Hospital was designed to humanize the medical environment and to make women feel welcome and comfortable in taking care of themselves.
My current work, The Venus Cycle, in handmade cast paper and collagraph prints about the aging woman's body, began as a collaboration with painter, Jenny Tango. Aging women's bodies have a beauty of their own, yet our standard of beauty is still that of the adolescent male fantasy of what we should look like and it has no relationship to the reality of what see when we look in the mirror. Cast paper enhances the message, giving a sense of solidity yet vulnerability. I continue to work on the issue, trying to change the conventional vision of aging women and validate women's experiences of themselves.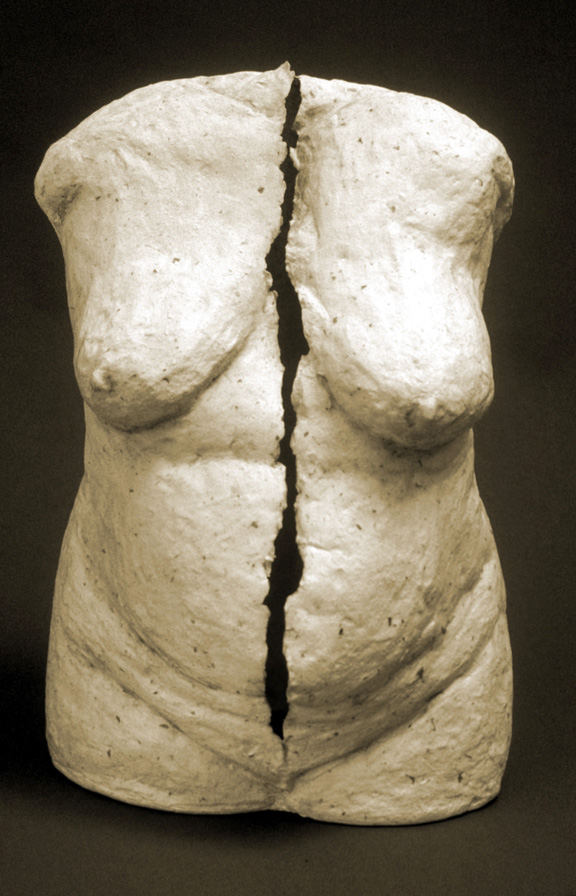 Contact
Staten Island, NY
USA
Email
Text, images, audio, and/or video in the Feminist Art Base are copyrighted by the contributing artists unless otherwise noted. All rights reserved.