Suzanne Wright
Parksville,
United States
Suzanne Wright was born in New London, Connecticut in 1968. She earned her BFA at Cooper Union in 1990 and has continued to live and work in New York City. During her undergraduate she became an active member of ACT UP (AIDS Coalition To Unleash Power), D.I.V.A TV (Damed Interfering Video Activist) and was a founding member the art collective Fierce Pussy. She has shown internationally and across the US with three solo shows in New York, at Dechira-Stewart Gallery in 2000, Stefan Stux in 2001, and Monya Rowe in 2004. Also in that year she attended The Skowhegan School of Painting and Sculpture. In 2006 she was included in exhibitions at Stephen Friedman Gallery, London and at Wizenhausen, Amsterdam. Recently her work was part of the feminist group show Ridykeulous, as well as Shared Women a group show of queer feminist artists at Los Angeles Contemporary Exhibitions in Los Angeles.
Suzanne Wright's work can be seen in many publications including Armpit of the Mole and Into the Abyss by Adam Putnam. For the last two years she has been adjunct teacher for undergraduate and graduate sculpture at UCLA. Her work can also be seen in the main credits of the L Word. In 2006 she and her partner started a bi-annual art event showing the work of contemporary artists at their home in the Catskills, NY called Future 86. They are in the process of creating a summer exhibition space.
Feminist Artist Statement
Within my work the bodies of women are used to pose deep and difficult questions about the history and nature of power within our Western culture. By incorporating architectural structures within them, I expand my feminist dialogue to also talk about the ways in which women have been dominated, subjugated and marginalized by political, religious and social organizations. As a child I was fascinated by the images of naked women in Penthouse magazines, unaware of the power of the 'male gaze'. Now, I use these same images and assert my own 'female gaze' into the picture and create a dialogue with the past. I have always been attracted and seduced by large architectural structures, growing up near a nuclear power plant. For me they have been symbols of man's engineering and technological brilliance. My wall-sized drawings allow the subjects to become larger than life; like giants. The bodies create fantastical environments, landscapes and a psychological space for exploration. The women display themselves in a self-empowered way. They appear to be in control, and fight to dominate the "man-made" structures; they become the architecture and incorporate it into their own bodies. Merging power plants, oil rigs, planes, bridges etc. with these overtly sexual women, I attempt to complicate the question of " who has the power?" This question reveals a long history of male power often expressing itself through destructive means, like the atomic bomb and the military industrial complex, whereas the root of female power on the other hand has always been the ability to create new life. This paradox is at the core of the images I make and is fundamental to the feminist project. These drawings explore my complicated relationships with terrorism, politics, society, my own sexuality and environmental concerns. I want this work to ask difficult questions about the moment in which we find ourselves; post 9/11, in an energy crisis and at war with each other. In contrast, I also hope that it offers the viewer a sense of humor and beauty.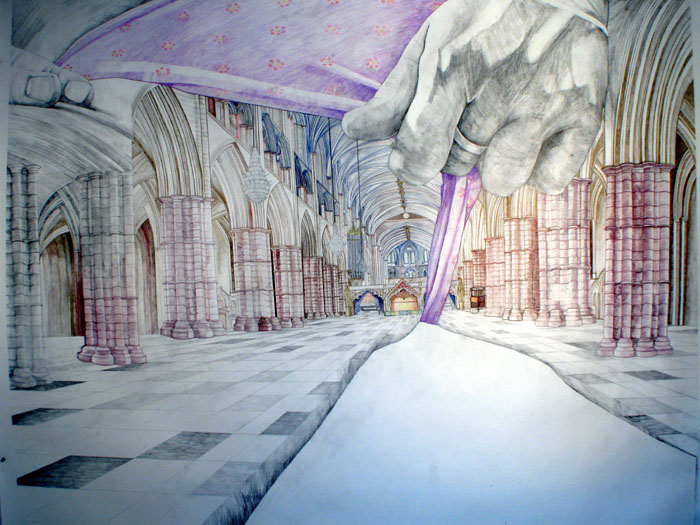 Contact
20 Weiss Road
Parksville, 12768
United States
Email
Text, images, audio, and/or video in the Feminist Art Base are copyrighted by the contributing artists unless otherwise noted. All rights reserved.